The Loop
Jordan Spieth shoots 79 in Northern Trust Open in 'a day to forget'
PACIFIC PALISADES, Calif. — After posting his worst score since the 2014 Tour Championship, Jordan Spieth still could add another stroke to a shocking start in the Northern Trust Open.
The 79 leaves him currently T142 and 16 strokes behind first-round leader Camilo Villegas.
As if the battle with his swing and stroke (34 putts) wasn't enough, Spieth followed a three-putt double bogey at the famous 18th by calling for a rules official prior to signing his scorecard. The reigning Masters and U.S. Open champion was concerned his ball moved after commencing the third shot on the ninth hole. Officials can review the tape overnight and add on to the signed scorecard if they determine Spieth's ball moved.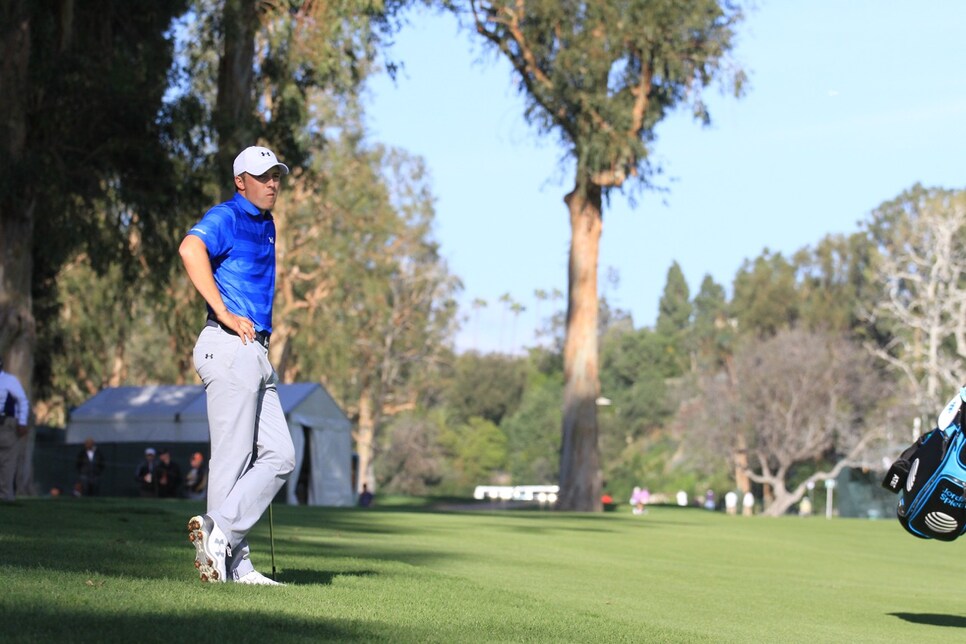 Either way, Spieth talked to reporters in upbeat fashion following a trying round where his iron play (nine of 18 greens) and driving (nine of 14 fairways) left him in too many wrong places.
"I felt like there was a couple rounds last week where I shot two-under and I was more miserable than I was today," he said. "It's just a day to forget."
By the 17th hole when he had already carded eight bogeys, Spieth was laughing with on-course reporter Billy Ray Brown and needling playing partner Justin Thomas after his buddy left an eagle putt short. The attitude adjustment came in part by the "one of those days" antics every golfer can relate to. But there was also an intentional attitude adjustment after Spieth re-assessed his expectation management.
"I tried to do better today, even when it wasn't going my way, to just be quiet, stay focused and try and make the next shot. None of them seemed to go in but at least that's what I was doing."
With extensive experience playing Riviera that includes a T4 in the 2015 Northern Trust and his key role in alma mater Texas winning the 2012 NCAA team championship, Spieth said he struggled with the rain-softened Riviera.
"I found it very difficult to trust the way the golf course is playing, and that really -- I didn't get off to a good start because of that. I've never played the golf course soft. I've always played where you have to kind of float it on to the front of the greens and let it bounce, and I just never trusted the adjustment."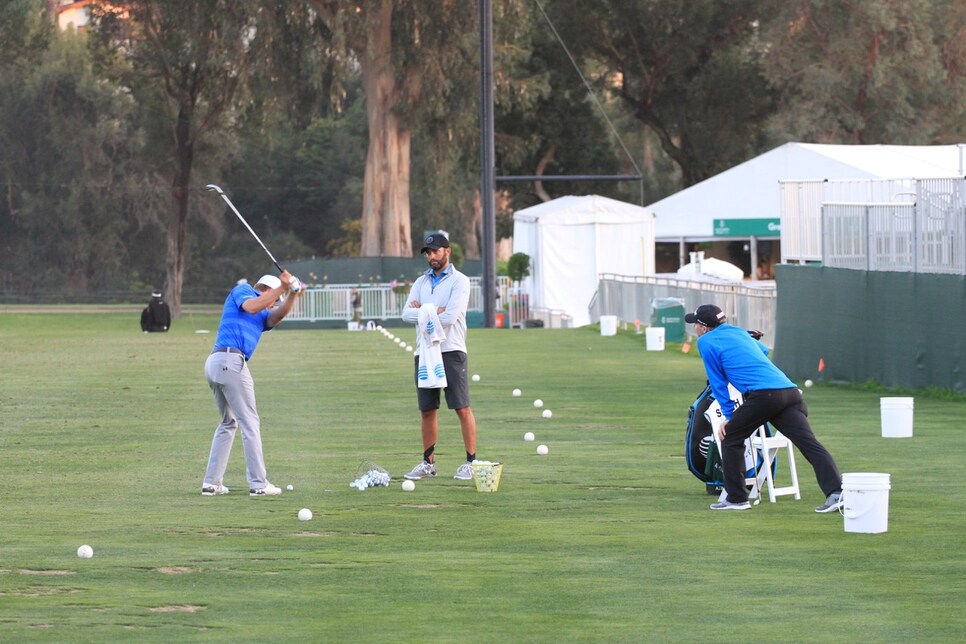 Following press obligations where Spieth handled himself with the buoyancy of someone who had just posted a low number, the World No. 1 met instructor Cameron McCormick for a range session. Against the low dusk light, Spieth was the last player hitting balls as day one play was called with 14 players having not complete their round.
Only Steven Bowditch with an 80 posted a higher score than Spieth.