The Loop
Jordan Spieth says he might kill time reading a book, rest of the tour dumbfounded
AUSTIN, Texas -- A tour player reading? Say it ain't so, Jordan Spieth!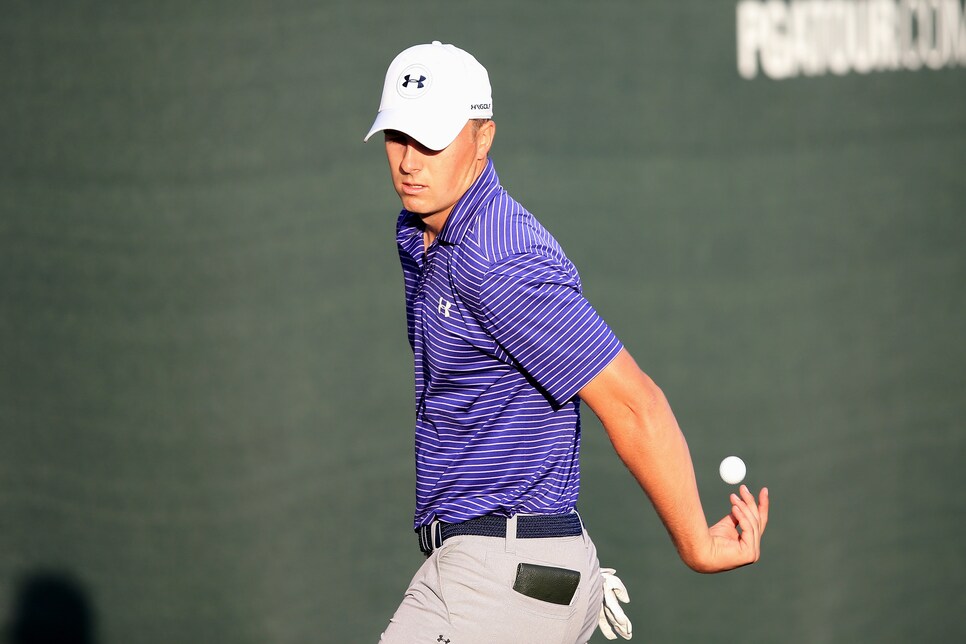 Following his minor social media run-in two weeks ago in Tampa, the World No. 1 arrives in Austin for the WGC-Dell Match Play with plans to apply his major championship week downtime approach. The plan to stay off Twitter and Instagram is distinctly retro and might even expand his mind in utterly non-millennial fashion.
"I just need to take that model into the rest of the PGA Tour golf now, which is just stay away from kind of all the outside influences, whether it's TV, where you see yourself, or it's social media, whatever it may be, just do less of it and find something else to do," he said. "Whether it's reading or whether it's discovering a new place, going out in your car that week, instead of just sitting around. Because then you're tempted."
Reading. As in books? Print? Stop the presses!
More pressing is the state of his game just two weeks out from the Masters. Spieth sounded excited to be returning to his college alma mater's town and a course vital to the Texas men's golf program. But he's a little unsure what to make of staying in a downtown hotel.
"I used to come back here and stay on my buddies' couches when I came back," he said. "I haven't really stayed downtown before, stayed overnight downtown. But it's cool. I've got spots I love to go to eat and kind of hang out and get to do this week, which makes me feel more at home."
One other minor issue from Spieth's last appearance that needed clarification: his relationship with caddie Michael Greller after Spieth's post-Valspar final round comments announcing that "We are going to take the fall today."
Spieth and his sidekick cleared the air last week in a phone call. He noted that their record of 11 top 20s and two wins in his last 12 events puts the two "in a good place." Greller took it in stride.
"He's like, 'Listen, there's peaks and there's valleys. If you're considering this a valley, then we've got a lot of peaks coming,'" Spieth said. "That's a pretty nice valley to be in, if that's our stats the last 12 events. If we look at it that way, we're in good position."
As the only player in the field with extensive experience at Austin County Club and a firm bed to stay in downtown, Spieth is certainly in a good position.