News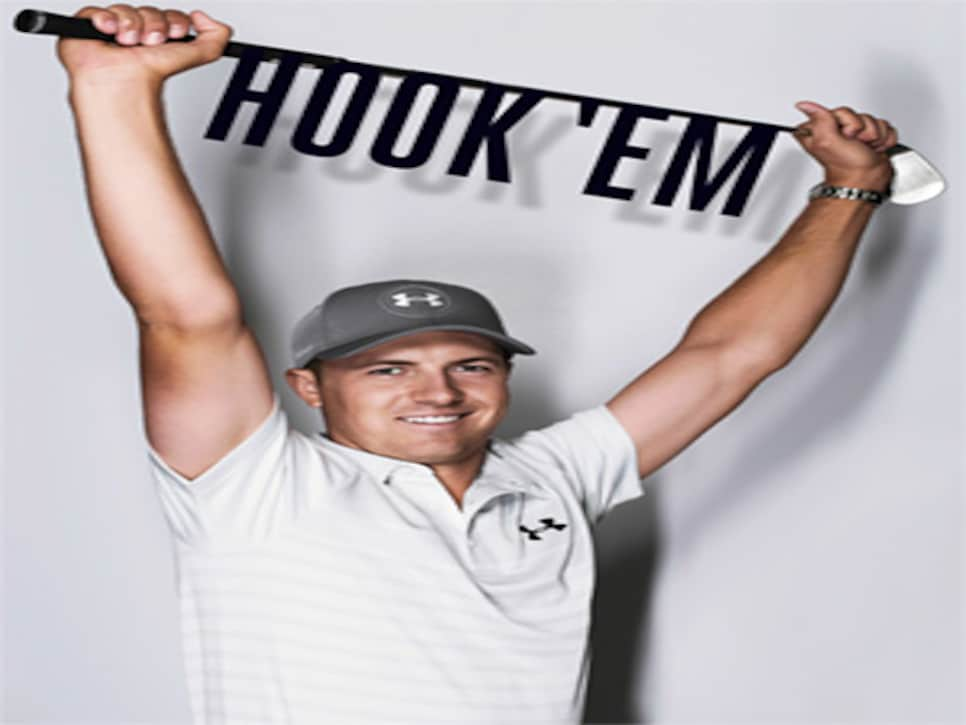 The label of Next Big Thing often ends up being a useless weight. It's shiny and attracts attention, but it gets heavy in the form of expectation, scrutiny, distraction and criticism—and, sometimes, disenchantment.
The irresistible force that was the 20-year-old Tiger Woods only adds to the load. After Woods shouldered the NBT burden with such ease that he was immediately moving on to become golf's Biggest Thing, his supposed successors have been overwhelmed by the implied task of doing something remotely similar. Even Rory McIlroy, who won two majors by eight shots by age 23, has seemed weighed down.
The current NBT, by a fair bit, is Jordan Spieth. Though he had a birthday on July 27, it was only his 21st, which givesSpieth a chronological "boy wonder" edge over Patrick Reed, who has two more PGA Tour victories (one in a playoff with Spieth) but is three years older. Matteo Manassero is also 21 and has four victories on the European Tour but has struggled in America and in majors./p>
More than victories, it is Spieth's consistent high quality, and an ability to rise to the big occasion, that has inspired faith among admirers that he is the young player best prepared to follow Woods' path.
Spieth did just that in his first steps to prominence, winning the U.S. Junior Amateur twice to join Woods as the only multiple winner of that event. As a 16-year-old, Spieth tied for 16th in the Byron Nelson Championship, finishing higher than Woods ever did as an amateur in a PGA Tour event. In Spieth's only year at the University of Texas, the Dallas native led the Longhorns to a national title, something Woods didn't do at Stanford.
Spieth finally had a misstep when he missed the second stage of Q school at the end of 2012. But he accessed his clutch gene by turning sponsors' exemptions into strong finishes, earning temporary member status on tour. A few months later he won the John Deere Classic at 19 years, 11 months to become the youngest PGA Tour winner in 82 years, went on to finish second at the Tour Championship, and was picked for the Presidents Cup team.
This year has been even more dramatic. In his first try in the Masters and the Players Championship, Spieth led on Sunday before stumbling in the middle of the rounds to finish T-2 and T-4.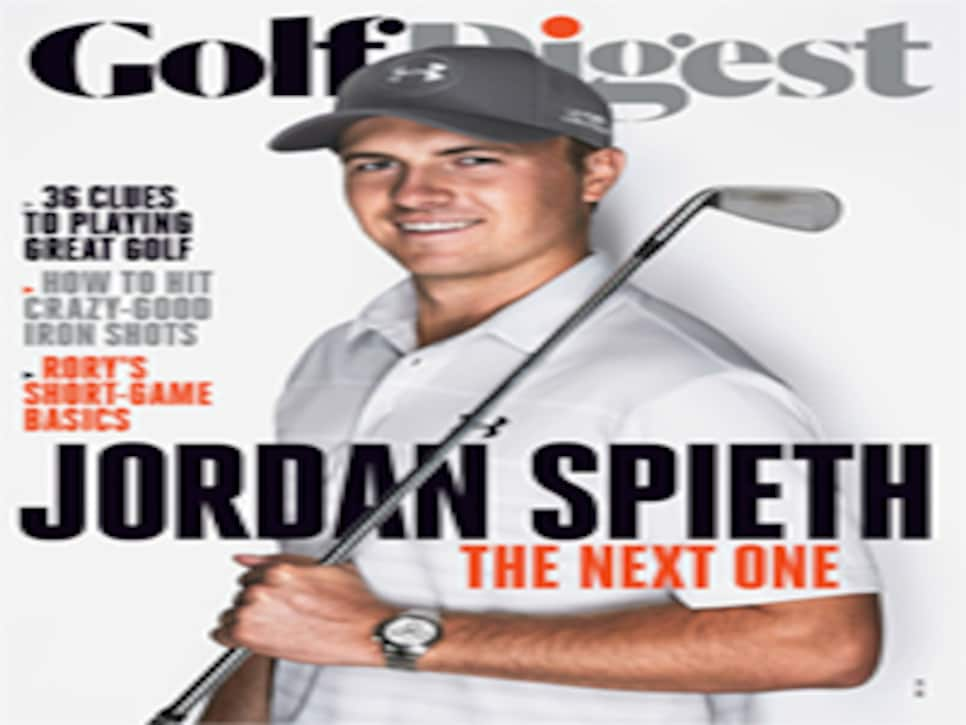 Though very young, Spieth seems much older, partly because he has gotten so ingrained in the golf landscape over the past year, but mostly because he's so seemingly together. Says Paul Azinger, a perceptive observer: "Jordan Spieth comes off to me as a grown man."
The components are there. All lean muscle at 6-1, 185 pounds, Spieth possesses a thickness through his neck and upper torso that makes him look more like a veteran baseball player than a willowy young tour pro. His features have the All-America symmetry reminiscent of actor Mark Harmon as a youth, any adolescent gawkiness long gone. For good measure, when Spieth takes off his hat on the final green to shake hands with playing partners, he reveals a slightly receding hairline.
With a microphone in front of him, Spieth has an easy poise and a winning way of blending confidence with humility. "That ultimate goal of becoming No. 1 in the world is still out there, and I'm off to a good start in achieving that," Spieth said before finishing T-17 at the U.S. Open. "But it's going to take that extra step that nobody else is taking... that's how I guess I stay focused and stay grounded, because I'm not winning. I've won once out of almost 40 [PGA Tour] tries now going back to amateur days, and those percentages aren't very good. That's humbling to me, and so I've just got to stay patient, and my time will come."
The most grown-up part of Spieth is his game. He has a sophisticated toolbox, saving strokes with intelligent shot-shaping, sound judgment, an artful short game and a brave putter. When he's on, he can go low, as he did with final rounds of 62 and 64 in last year's FedEx Cup. But he specializes in getting the most out of his rounds when he's slightly off, steeped in the ability—to borrow a bromide from Bobby Locke and Jack Nicklaus—to "play badly well." It's why Spieth has finished among the top 20 some 27 times as a pro.
The superior management is imperative for Spieth because, so far at least, he has not shown the power that is the seductive strong suit of most of the tour's young hotshots. His 2014 statistical rankings present the raw outline of a medium hitter who isn't particularly precise: 90th in driving distance, 137th in driving accuracy, 150th in total driving, 122nd in greens in regulation. His clubhead speed of 111.92 miles per hour ranks 115th on tour. Yet in what he considers a so-far sub-par ball-striking year and an average one putting (24th in strokes gained), Spieth is eighth in scoring.
Substance over style is what garners him high grades from the tour's elite. "He's awesome," says world No. 1 Adam Scott. "He's got it all happening right now to go to the top." Phil Mickelson, who implored Fred Couples to use a captain's pick on Spieth in last year's Presidents Cup, calls him "a very rare talent." Woods, typically terse in his comments about another player, revealingly used a magic word: "I think he can be great."
Not surprisingly, sage veterans are enthused by a young player with old-school skills.
"Jordan's got it upstairs. He knows how to play golf," says Lee Trevino, a fellow Dallas resident who has had some conversations with Spieth. "He learned in that Texas wind, like I did, so he kind of shuts the club and holds on to keep the ball low. He knows where it's going, so no reason he has to change. Maybe if it turned out he needed more height or distance to handle Augusta, OK, then maybe change. But he went after them pretty good at Augusta."
Azinger, another shut-faced player, is more effusive. "Jordan is my favorite player to watch," he says. "I think he's a superstar. I like how quiet his club is at the top—it gives him a transition that seems unflappable. Whatever the situation, the pace of his swing doesn't change, he doesn't walk faster, the look on his face doesn't change. Some of these kids with a lot of physical talent, you feel they're sitting on a powder keg. Jordan Spieth never gives you that feeling."
Not that the young man is without flaw. Spieth's on-camera reactions can be off-putting when things aren't going his way. But even at his worst, during a 4-and-2 quarterfinal loss to Ernie Els at the WGC-Match Play in which he was admittedly whiny, Spieth won over critics with self-effacement. In a post-round interview, he called himself "a little mental midget out there," and followed up by tweeting, "I'm embarrassed about the way I acted on the course today. Played like the 13-year-old version of myself mentally."
For the moment, the 21-year-old version is golden. Earlier this year, Spieth and his girlfriend since high school, Texas Tech senior Annie Verret, attended a White House reception for the Presidents Cup participants. President Obama knew whom to use as a foil for a relaxing opening laugh.
"Spieth told me that this is the first suit he's ever bought," the president said, drawing laughter from players who have also had their fun needling the tour's youngest player. "I'm pointing out Jordan now because they might card him later at the reception."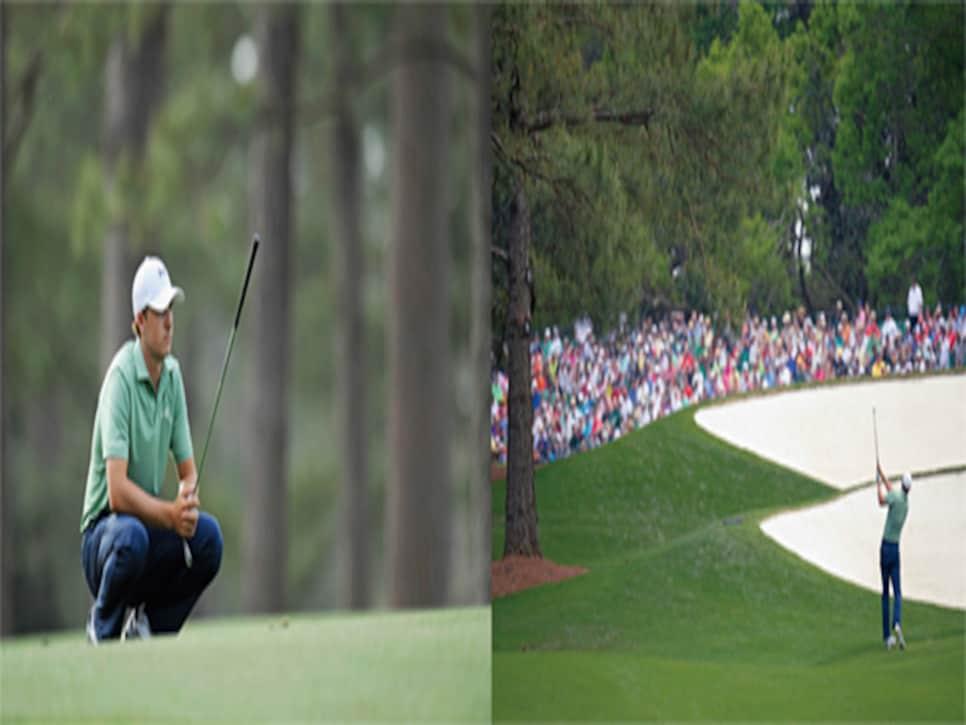 Spieth is the product of a remarkable upbringing. His parents were both college athletes: his father, Shawn, a left-handed pitcher at Lehigh in Pennsylvania; his mother, Chris, played basketball at neighboring Moravian. Even as Jordan was slapping a golf ball around as early as age 4 and getting more serious about the sport after his family joined Brookhaven Country Club when he was 10, he was playing all sports with friends and his little brother, Steven, who has grown into a 6-6 shooting guard at Brown.
"We wanted them to have fun first, but also to learn different skills," Shawn says. "Too many kids in sports are single-dimensional too early. Whatever sport he was playing, I would encourage Jordan to get better at something every month. Learning to do that helps in your whole life."
From fifth grade through high school, Spieth was part of a group of friends—including Jeff Schoettmer, now a starting linebacker at North Carolina, and Brian Wetzel, a starting wide receiver at Fordham—who remained teammates in every season in the competitive Dallas youth-sports environment. Says Shawn: "It turned out to be a valuable opportunity for them to learn how to win with a skill set other than the one in their first sport, rather than just dominate."
"A few guys were extremely talented, so we won a lot in different sports," says Jordan, who through eighth grade excelled as a left-handed pitcher with a variety of pitches as well as a shooting guard in basketball. "To be able to have winning in your blood growing up, whether it was pounding my little brother or trying to beat my dad in something, or just competing on teams with my friends, it was nonstop. And I think that's what shaped me to desire to have that each week. And it's why I believe in golf, even when things seem impossible, that I can always get it done."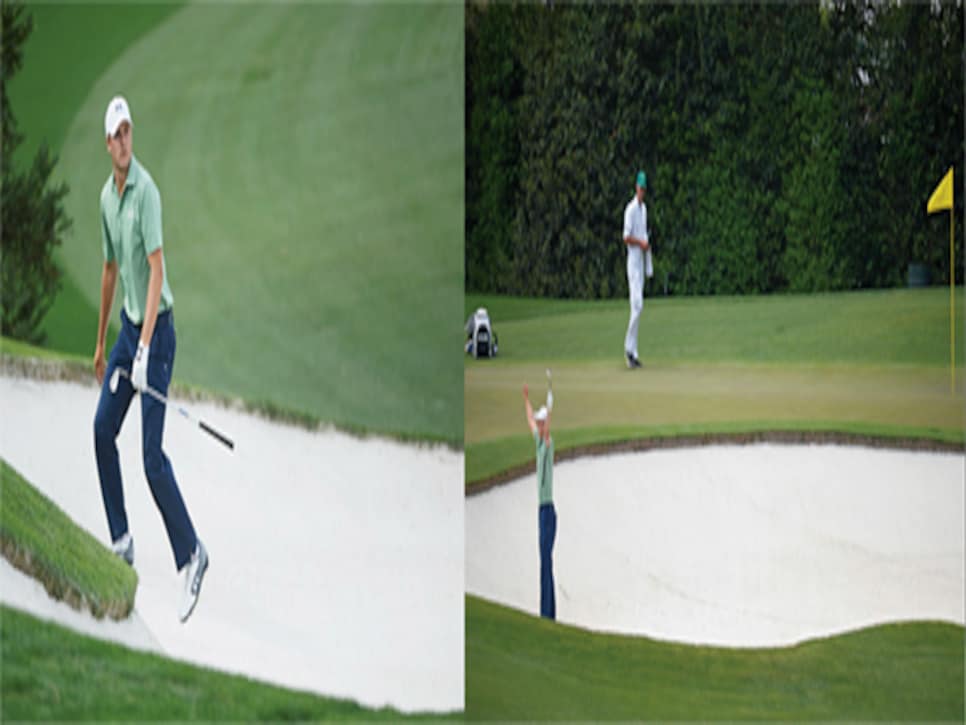 Another major formative influence in Spieth's life is his younger sister, Ellie, 13, who was born with a neurological disorder. Jordan calls her "the best thing that ever happened to our family," and though he now lives a few miles from the home where he grew up, he visits frequently and always brings Ellie something from his latest tournament stops.
"Growing up with Ellie has helped Jordan and Steven both have that quality of not being self-centered," Shawn says. "In sports, there are certainly some benefits to having everyone and everything focused on you. It can help get you there faster, and usually that's what it takes to be the very best at anything. But it can also be harmful. Over a long career, I think balance and perspective, more times than not, will make you happier, whether you end up being the very best or not. If Jordan doesn't ever become No. 1, he'll know that's only a piece of life, not all of life."
Lanny Wadkins is a friend of the Spieth family through his son Tucker, who played junior golf with Jordan. "They're wonderful people who taught their two boys some great values because of Ellie," Wadkins says. "It's really easy when you're really good at something to take it for granted. Because of his sister, Jordan really appreciates what he has, and it helps him work harder. To be honest, I think that's a big part of what makes him so special."
The person who oversees Spieth's work is his coach, Cameron McCormick. A 41-year-old native of Australia, McCormick came to America to play college golf but lost his game by making what he considered proper technical form more important than function. "The way I tried to get better is not the way people get better," McCormick says. He went on an "educational odyssey about the pillars of performance" with an emphasis on how humans best learn motor skills. For the past decade he has given lessons at Brook Hollow Golf Club in Dallas, where Shawn brought a 12-year-old Jordan a few weeks after the boy had shot 62 on a regulation course. The two have remained a team, with no indication they will stray from the kind of lifelong relationship Nicklaus had with Jack Grout, and Ben Crenshaw had with Harvey Penick.
McCormick's approach is to make constant progress while respecting Spieth's swing "fingerprint" and making what already works more repeatable. They address his most recurring bad habit—a sliding of the right hip away from the target on the backswing, leading to an overly upright plane—but basically leave alone the quirky grip and radical rolling of the left foot through impact that can offend purists. Spieth is developing speed with gym work rather than altering the distinctive "chicken wing" action of his left arm designed to inhibit clubhead rotation.
"A key to our success has been a complete trust because we've known each other for so long," Spieth says. "I'm able to explain what I believe is going on, and Cam's so great at relating to me that he'll suggest a drill that creates a solution. Or if there are certain things I'm working on that I'm not liking, I'll voice it to him. Maybe it comes off immature from me at times because I'll be very frustrated about what happened on the course. But I know he's going to give me another way to look at it that will let me take it to the course the next day."
McCormick says he does a lot more listening than talking, and he likes to give Spieth plenty of leeway for self-discovery. It was the student's idea to switch to a left-hand-low putting grip at 13, as was his sudden decision last year to sometimes look at the hole while stroking short putts. When McCormick does suggest something, it still has to be assessed through Spieth's filter. "A tour player and his teacher have a delicate balance between proficiency and improvement that we're trying to weigh all the time," McCormick says. "What is the cost of getting better in terms of time and performance? What's worth it, and what isn't? Jordan does that calculation very well. It's ultimately not about what I want, but what he wants and thinks he can do that is most important."
What Spieth most wants is correcting whatever caused his late fades at the Masters and the Players. "That's the frustrating thing now," he says, "because I'd been able to close out more often in whatever I did than I am now."
Of course, Spieth might be too hard on himself. Nicklaus watched him lose to Bubba Watson at Augusta and related it to when he was 20 and lost the final-round lead at the 1960 U.S. Open, finishing second to Arnold Palmer.
"You get to the pinnacle at age 20, it's hard to keep growing and believe in your mind that you need to work," Nicklaus says. "So it was the best thing that ever happened to me."
Adds Wadkins: "Jordan should let himself settle in and not put too much pressure on himself. Once he wins a tournament with a lead going into the last day, he'll learn that there's a knack to that."
Then again, neither apathy nor lowered expectations have ever been part of Spieth's approach. He has pushed hard and aimed high, but none of the rewards or burdens on the way to becoming the Next Big Thing have proved too heavy. Perhaps even the greatness he craves won't be.