PGA Tour
Jordan Spieth swears he will improve on one key part of his game next season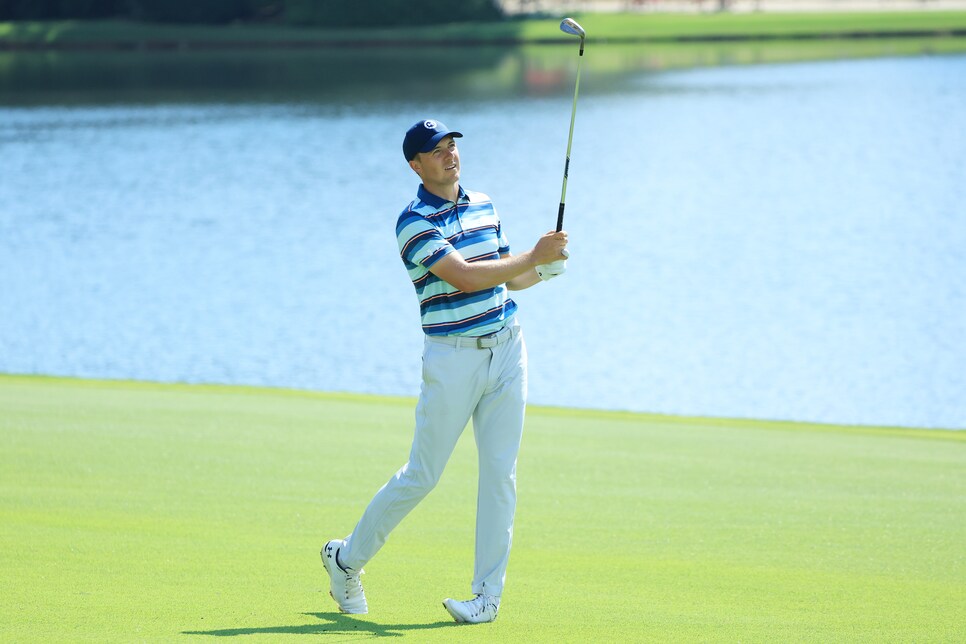 Jordan Spieth plays a shot on the eighth hole during the third round of the Tour Championship.
Sam Greenwood
ATLANTA — If you're a Jordan Spieth fan—and there are a lot of you—the following will be music to your ears.
"Going into next year, I should putt a lot better," Spieth told Golf Digest on Saturday after finishing his third-round 69 at the Tour Championship at East Lake Golf Club. "I found some key stuff to work on in the offseason, and then continue to get better in the full swing as well."
Spieth, tied for 20th when the round was suspended by weather, is one Tour Championship round away from finishing a season he marks "seven out of 10." There was a victory at the RBC Heritage at the iconic Harbour Town Golf Links—his 13th on the PGA Tour—and runners-up at the AT&T Pebble Beach Pro Am and the AT&T Byron Nelson. He cracked back into the top 10 on the World Ranking after the Heritage win and now sits at No. 13. There were three other top-10 results coming into the season-ending Tour Championship.
"Probably like a 7.5," Spieth said when asked to grade his 2021-22 campaign. "I wish I was more consistent this year. I struck the ball better than last year and felt I putted better, too. I just felt like I couldn't really get anything to go in this year. Kind of one of those years."
The majors held considerable weight in the 29-year-old's self-assessment. Spieth's best showing was a T-8 at the Open Championship at St. Andrews, but there was a missed cut at the Masters and only top-40 results at the PGA Championship and U.S. Open.
"I normally judge it off majors, and this was my worst majors season by far," the three-time major winner said. "It was just weird. … I felt everything was in place, but I just didn't score well."
But Spieth is upbeat about next season, particularly because he feels confident of turning around his putting performance from his current rank of 153rd in strokes gained/putting. The former World No. 1 has turned around lackluster putting years before, like in 2018-19, when he was second in putting after ranking 123rd the season prior.
Spieth said the key was discovering a couple of inconsistencies within the early part of the putting process—some technical and some fundamentals.
"Yeah, a bit [technical] but really a lot of set-up stuff and the start of the stroke; for a while I was having to save it a bit and now I feel a lot better," Spieth said. "I got really off in 2018, finished [123rd] in putting, was in top five the next year. But this [year] was different than the '18 year. I felt way more comfortable felt my stroke was a lot cleaner. Some tournaments, you get the ball going in from the beginning and I didn't seem to get many of those."
With another chance to complete the career grand slam at the PGA Championship (the only major he hasn't won) and a Ryder Cup in Europe, there are plenty of golf fans who want to see Spieth putt well in 2023.