The Loop
Jordan Spieth near lead again, but this time with his agent caddying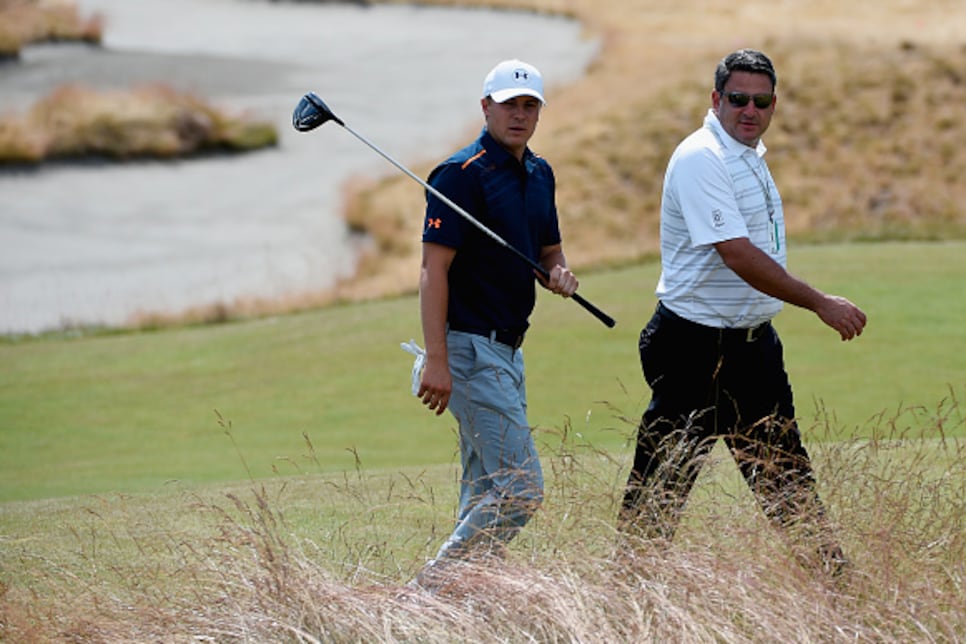 No matter the country, no matter the caddie, Jordan Spieth continues to live near the top of the leader board. Playing in the Singapore Open this week, Spieth shot an opening 67 that leaves him just one shot behind Keith Horne and Barry Henson. And Spieth played his usual mistake-free golf despite normal looper Michael Greller off for the week.
Instead, Spieth's agent and manager, Jay Danzi, carried the bag and helped guide Spieth to a bogey-free round.
"I thought Jay stepped in extremely well," Spieth told reporters in Singapore. "It's a tough place to caddie when you are not used to carrying the bag, with the weather, but he took it like a champ."
Spieth powered through like a champ as well. Last week, the World No. 1 admitted to being "beat up, mentally and physically" by all his world travel of late. His last five tournaments have taken place in five different countries.
"It won't be something I do in the future, to bounce back and forth from Asia as much as we did. Or Australia," Spieth told the Associated Press in Abu Dhabi.
After injuring his ankle in Abu Dhabi, Greller is getting some rest -- something that Spieth is looking forward to as well.
"I'm excited to get home," Spieth said last week. "I'm excited for rest."
UPDATE: Spieth remained at four under when a storm caused the second round to be suspended. He's currently six shots off the lead.