Vagaries
Jordan Spieth vs. Keegan Bradley was everything good (and bad) about match play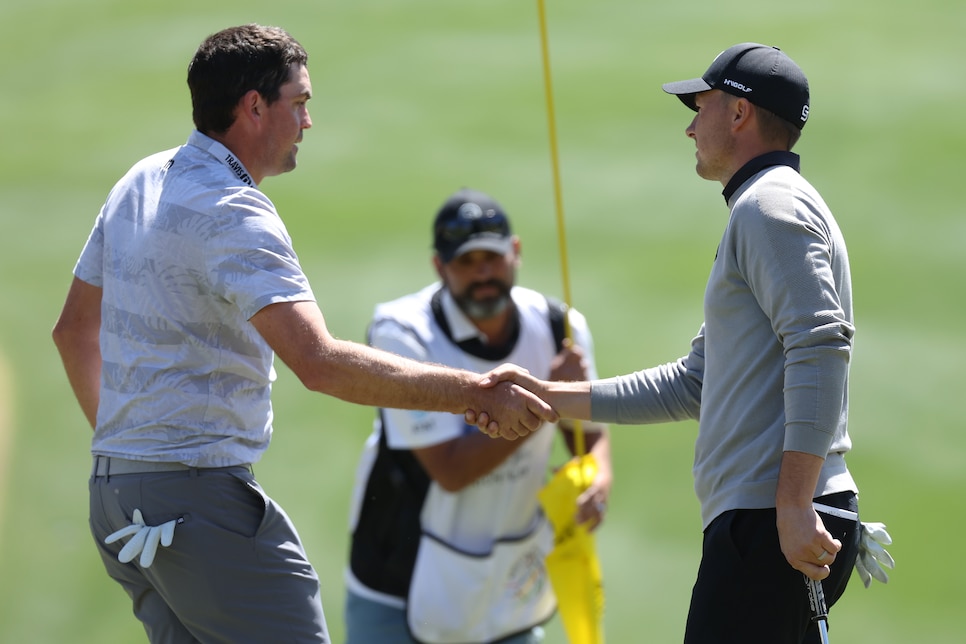 Golf Channel's Justin Leonard called it "scratchy." Twitter critics called it "ugly." Match-play appreciators likely channeled their inner-dad from "Rudy," calling it "the greatest sight these eyes have ever seen."
However you want to describe the Jordan Spieth vs. Keegan Bradley match on Wednesday at Austin Country Club, there's no doubting that the slugfest/pillow fight/who-messes-up-less affair was everything that's good—and bad—about the WGC-Dell Match Play.
It started as most matches do at Austin CC's gettable par-4 first, with one player making birdie to grab a 1-up lead. That player happened to be Bradley as the two played in the day's first match.
Bradley's birdie proved to be one of the few highlights from the match between the two major champions. On the front nine alone, five holes were won with pars. Other than the par-5 sixth, which Bradley won with an eagle to Spieth's birdie, it was pretty pedestrian golf. After nine, Bradley led 1 up, thanks to a par that beat Spieth's bogey 5 at the ninth.
The back nine featured much more of the same, Spieth the only one of the two to make a single birdie between holes 10 and 15. At the par-5 16th, Spieth took advantage of Bradley's messy double bogey, making a birdie to take his first lead of the match. From there, they tied the 17th with pars and then Spieth's par at the 18th won him the hole and closed out the match, 2 up.
The final tally: Four combined birdies for Spieth and Bradley, plus one eagle from the former, and six holes won with pars. Maverick McNealy, who badly beat Joaquin Niemann, 8 and 6, made four birdies by himself … on the front nine. He needed only one more at the 12th to finish off the match.
Of course, the Bradley-Spieth sloppiness is what makes match play such a great format, not only for the best in the world but for us weekend hackers. You're never out of a hole, never out of the match, some other cliché about match play, etc. You can have your C+ game and still be standing on the 18th tee with a chance to halve, just like Bradley was on Wednesday. The counter argument is that it doesn't necessarily identify the best golfer, but for one week out of a long season, we can all live with that.
It's also the perfect format to potentially get Spieth out of his recent rut. Instead of being upset with his not-so-great play, he's 1-0-0 and in the driver's seat to make a run at the Round of 16, which he's only advanced to twice in six attempts in this format.
"It wasn't a pretty match," said Spieth, who is now 12-4-3 while competing in group play at the WGC. "But when somebody is in position like [Bradley was] every hole, it makes it a little bit challenging mentally for who's playing with him, especially when I did not drive it particularly well, as good as I have been.
"Didn't lead until 16 and once I won 16, then I felt in control there briefly," he added.
On Thursday, Spieth gets Justin Rose, who started the event with a 1-down loss to Adam Scott, another match that, let's just say, wasn't pretty. Should Spieth win that, he'll be in either a win-and-you're-in scenario or a scenario in which halving his Friday's match could get him to the weekend, depending on how Scott and Bradley's match goes on Day 2. The only thing we should expect is much more match-play vagaries to come out of this group.