For one extraordinary year, Jordan Spieth provided an uncanny flashback to early Tiger Woods: a year of surpassing brilliance that even reintroduced the Grand Slam to serious discourse.
Spieth, 22, could have been the PGA Tour Player of the Year by acclamation. Instead, he was voted the honor by his peers in a year in which he had, in reality, as few as one: Jason Day.
Spieth won five times, including the first two legs of the Grand Slam, the Masters and the U.S. Open. He missed a playoff at the Open Championship by a shot and finished second in the PGA Championship. He set a PGA Tour earnings record with more than $12 million and won the FedEx Cup and its $10-million bonus.
Spieth, meanwhile, repaid the bonus in kind by achieving all that without ever spiking the ball, so to speak. Humility generally does not partner with success in sports, yet Spieth won (and lost) with such grace and dignity that he did not leave a single enemy in his wake. How refreshing as well that the best player in the game is Rated G, with "gosh" his go-to four-letter word?
Who could have seen this coming? Obviously, Spieth was good, but good does not provide separation from the majority on the PGA Tour. He was potentially great, but potential and reality don't always align, especially in professional golf. Coming into this season, he had only one tour victory on his scorecard, the John Deere Classic in 2013.
Yet there were signs, none of them advising to proceed with caution. He led the 2014 Masters in the final round only to finish tied for second. He earned $4.3 million last year and made the U.S. Ryder Cup team. Then he went to Australia and put the golf world on notice, winning the Australian Open with a final-round 63 that made him realize that Sundays weren't an enemy, either.
"In Australia, I putted incredibly well on Sunday," he said, "and proved to myself that I could do that when I was in contention. Prior to that I struggled with those five-, six-footers or even four-footers that I needed."
Winning begets winning -- he won the unofficial Hero World Challenge by 10 strokes the following week -- and given how often Spieth was in contention in tour events this season (15 top 10s in 25 starts), it was no longer whether he would win again, but how often. He won the Valspar Championship in March, the Masters in April, the U.S. Open in June, the John Deere Classic in July and the Tour Championship in September.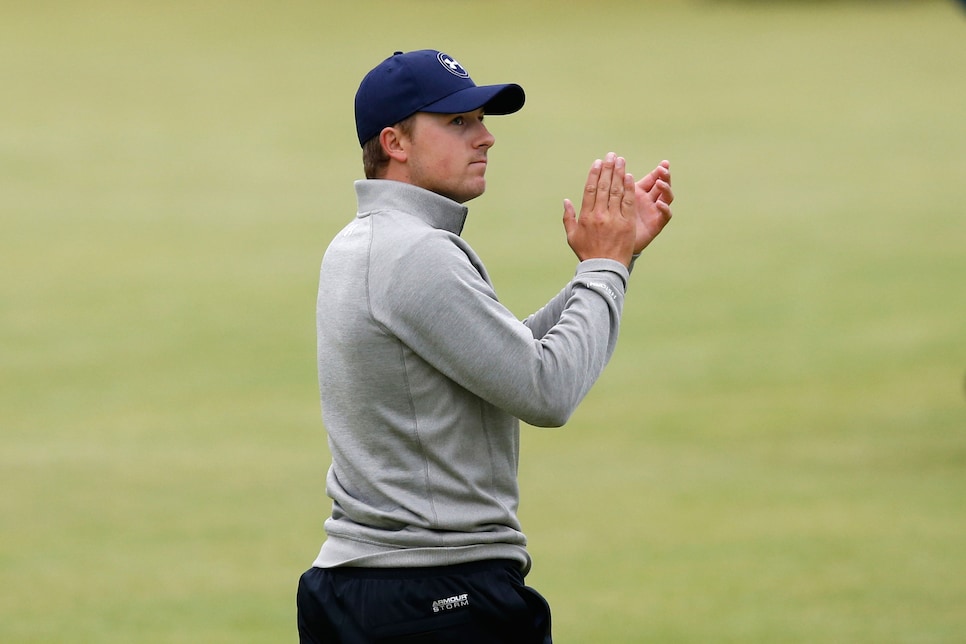 His break-out season provided a reason to pay attention to golf in the absence of Woods, to help fill the void created by the realization that Tiger is mortal. Spieth is not yet the transcendent star that Woods still is, even in infirmity, but if this year proves closer to the rule than the exception, Jordan just might get there.
It's a tall order. Spieth is not long by tour standards, not the most accurate iron player. He has a swing that he did not learn from a textbook. But what he does have is a world-class short game and a determination to bludgeon his opponents with it.
This also warrants noting, only as a public service: Spieth, who won't turn 23 until July 27, 2016, already has six victories, two of them majors. When Woods turned 23 he had seven wins, two majors.
It would be unreasonable to expect Spieth to maintain the pace Woods set in the years that followed. That said, underestimate Spieth's ability at your own risk. Just ask the players who he dusted in 2015, the same ones who voted him the PGA Tour Player of the Year.