News
Jordan Spieth is moving on
The disappointment of last year's back-nine collapse follows him at this year's Masters. But it doesn't keep him from being a favorite—if not the player to beat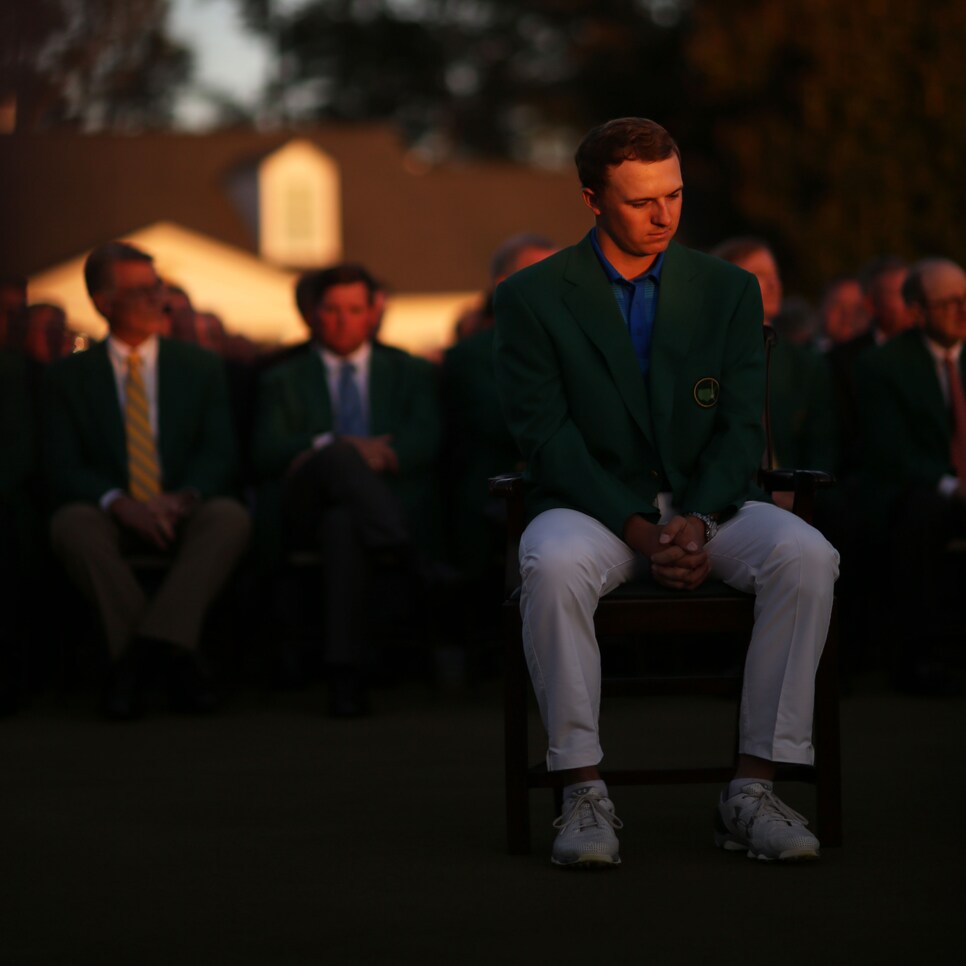 After this week, the worst of it will finally be over for Jordan Spieth. Probably, anyway.
He won't have to answer (a lot of) questions about the 2016 Masters anymore. About losing a five-stroke lead on the final nine with a nightmarish 41. More specifically, about rinsing his 8-iron into Rae's Creek on the 12th hole, then chunking a lob wedge into the same hazard on his way to a killing quadruple-bogey 7 that left him with too much to make up on eventual winner Danny Willett.
It would have been bad for anybody, but seemed that much worse because it was Spieth, the super-precocious 22-year-old with the Mensa-level golf IQ. The kid who can handle the moment. Who always avoids the big mistake. The master of the Masters. Who takes his confidence in the internal certainty of those very attributes.
As he put the green jacket on Willett in a surreal aftermath, Spieth had either won or gone down to the wire in five straight major championships. But the feeling that this Sunday trauma might derail history was impossible to ignore. In truth, Spieth's next three major finishes have been T-37, T-30 and T-13. And the biggest question lingers: Will he ever be quite the same?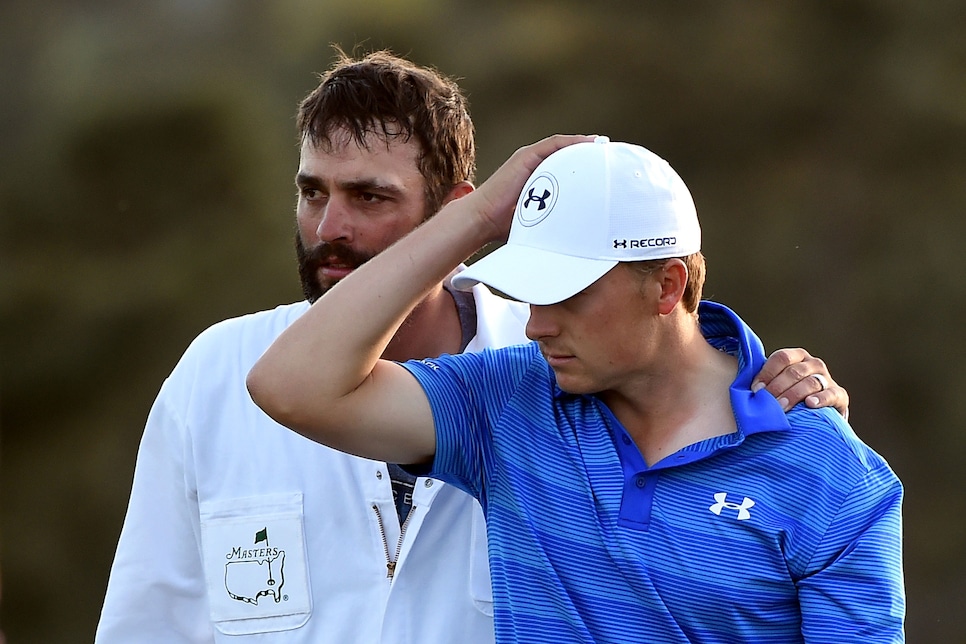 Even the perpetually positive Spieth has admitted he will be relieved when this Masters ends.
"Whether I can grab the jacket back or I miss the cut or I finish 30th, it will be nice having this Masters go by," he said two weeks ago at the WGC-Dell Technologies Match Play. "The Masters lives on for a year. It brings a non-golf audience into golf. And it will be nice once this year's finished from my point of view, to be brutally honest with you."
Of course, Spieth hasn't crumbled. Six weeks after finishing three strokes behind Willett, he won at Colonial. Then in November he won his second Australian Open, and he opened this year with a convincing victory at Pebble Beach. But he's also dropped from No. 1 in the world in March 2016 to sixth.
And the specter of the 155-yard demon that is Augusta's 12th hole continues to follow him. Intensely self-aware, with a distinctive self-assurance when it comes to tackling questions that tread on treacherous psychological terrain and verbally "going there," Spieth made a point in revealing how he had played the hole when he went back to the course for the first time in December. Upon stepping on the tee, he made a mock-show of announcing to the two members he was playing with that his next shot would be cathartic. He then hit another 8-iron, this one to 15 feet, and made the putt. The next day, he stiffed a 9-iron to birdie the hole again. "Demons gone," he said.
But wipe away all the drama, and assess some key facts, and Spieth, to me, is the favorite to win at Augusta.
The betting favorite is rightfully Dustin Johnson—the new World No. 1, coming off three straight victories, with a power game seemingly made for Augusta—at 5 to 1. But Johnson only has two top-10s in eight appearances at the Masters, a T-6 in 2015 and a T-4 last year. He's trending, especially with improved wedges and putter, but he's not close to Spieth's amazing record at Augusta.
"I think we know that we will strike fear into others." —Jordan Spieth
In Spieth's three Masters, 12 rounds total, he has finished second, first and T-2. He's held the lead or a share of it seven of the last 8 rounds. Indeed, he's had a piece of the lead at some point in each of his last 10 rounds, a consecutive run exceeded only by Arnold Palmer's 11 from 1959 through 1961. And Spieth also holds, with Tiger Woods, the 72-hole scoring record of 18-under-par 270. No one has ever been so good at Augusta so fast.
So unless his three appearances have been a false indicator, there is something special about Spieth at the Masters.
He knows it, as do those who will put money on him this year at 7 to 1. Even as Spieth was missing the cut at Houston last Friday, a bit of justifiable bravado leaked out. "I think we know that we will strike fear into others next week," he said.
Just what has Spieth got at Augusta? Well, Augusta, for all it's length, remains primarily a "touch" golf course. It's why the players with the most dexterity around the greens—Seve Ballesteros, Phil Mickelson, Tiger Woods, even the relatively short-hitting Nick Faldo—have won so often. And nobody in golf today has demonstrated more touch on the biggest occasions, especially around and on the greens, than Spieth.
He has also been an exceptional iron player. Not in terms of hitting towering shots that can find the most remote targets, but more in terms of shaping the right percentage shot the right distance, especially when conditions are fast and firm. Along with his short game, it's been part of his advantage over the much longer Johnson, Jason Day and Rory McIlroy.
But last season Spieth slumped with his irons, dropping from 11th to 87th in strokes gained/approach to green on the PGA Tour, and to a dismal 145th in GIR. His deficiencies were somewhat masked by being second in strokes gained/putting, but they were exposed at Augusta, especially on his slightly-but-fatally flared 8-iron at the 12th.
"I had my B-minus game tee to green," he said after the final round, "and I made up for it around the greens with my putter. Ultimately you have to have your 'A' game every single part, and I just didn't have those iron swings, as it showed on the back nine."
But after a lot of work with his coach, Cameron McCormick, Spieth is back track. This season he ranks first in strokes gained/approach to green and third in GIR.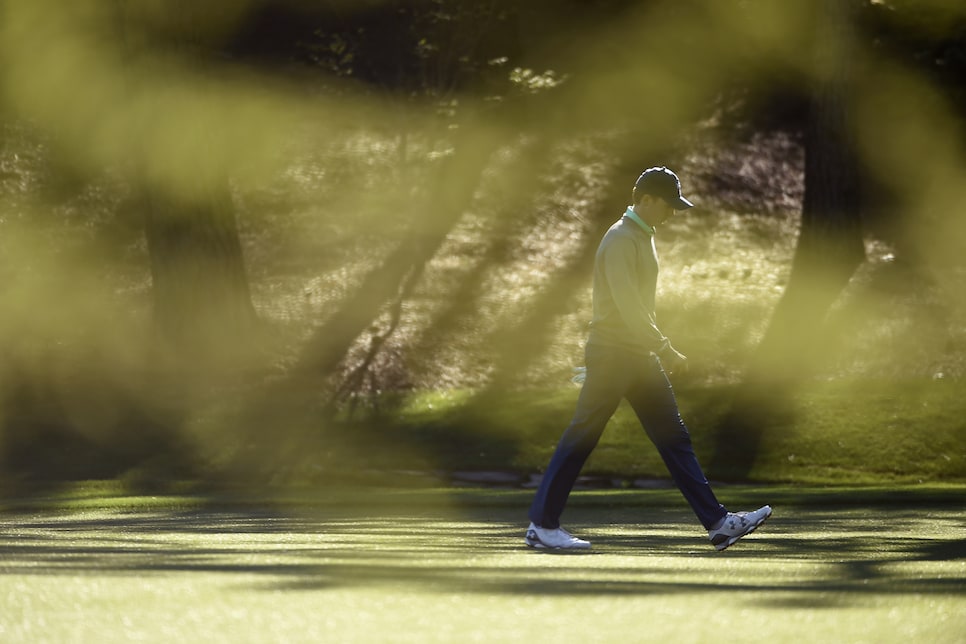 Spieth has always been best at handling the mental part. No doubt that will be a challenge this week. Perhaps the extra time from Houston will help. He said as much, and said he has found something with his putting, which so far this season—with a ranking of 39th in strokes gained—has been relatively flat.
And here's the other thing: Spieth has been in this spot before. In 2014, he had a two-stroke lead on the front nine on Sunday, but gave it up in losing to Bubba Watson. The experience, which was to some extent reprised a month later at the Players, put him into a funk for several months. "The holes looked smaller," he admitted.
But Spieth gathered himself, returning to Augusta in 2015 and opening with a 64 before going wire-to-wire. "Being in contention twice on Sunday on the back nine, having the lead—it's rare," he said before last year's tournament. "So I look at it as somewhat of a home-course advantage. Which is the coolest thing for me to say about that place."
Spieth goes into this year being in the hunt on the back nine three straight times. And even though last year ended in disaster, he should feel that his home-course advantage has grown.   For all the positive reinforcement he heaps on himself, there is something quietly knowing about Spieth that has me thinking he's going to win this Masters. If he can pull it off, it will feel like he righted history.