The Loop
Jordan Spieth hopes playing faster will help him play better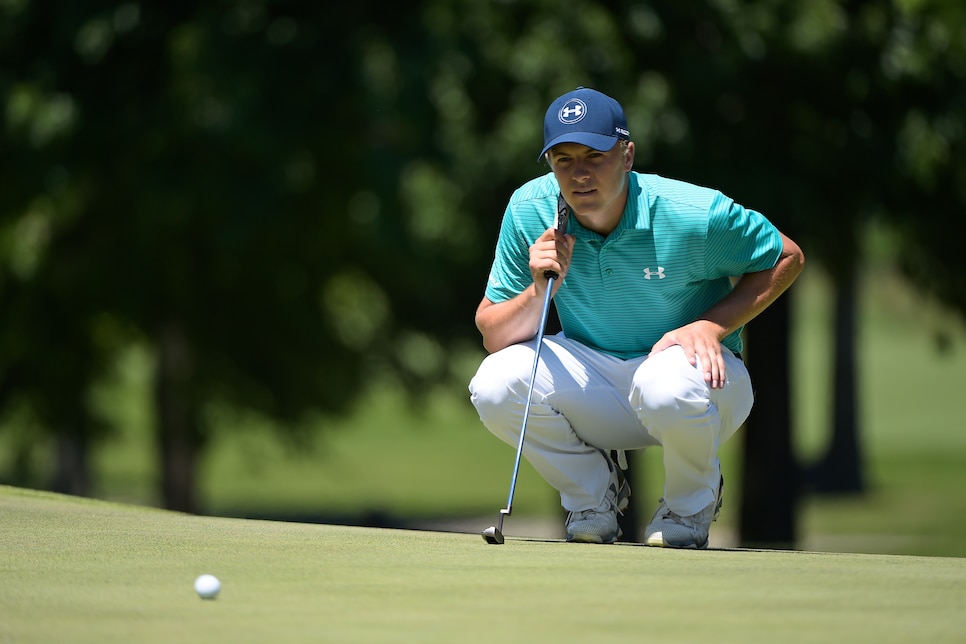 Stories of interest you might have missed…
Jordan Spieth is aware of the criticisms that he is too deliberate in his approach to each shot (read: too slow) and is attempting to pick up his pace, with the idea that it might help him play better.
"Along with his swing instructor, Cameron McCormick, Spieth knew what people were saying about his pace of play," ESPN's Jason Sobel writes.
"I noticed and I'd get plenty of comments on it from other people," Spieth said. "But Cameron also mentioned, 'Hey, I think you're going to play better if you just step up and swing.' So I'm trying to do a bit of that."
PGA Tour vs. European Tour
"If ever a week could highlight the fractured nature of global professional golf, it is this one," Costa writes. "On one side of the Atlantic Ocean, 61 players will gather in Akron, Ohio, for the [WGC] Bridgestone Invitational, an event designed to bring the world's best together on one course. Meanwhile, some of the very players who fit that description, including Rory McIlroy, will be in Paris competing in the French Open, leaving the Bridgestone with its smallest field since 2001.
"This weekend's schedule is the result of an unusual confluence of events. To accommodate the Olympics, the PGA Tour moved the date of the [WGC] Bridgestone [Invitational] from August. The European Tour balked, withdrawing support for the World Golf Championship event that is ostensibly a cooperation between the world's major pro tours. But the clash is symbolic of a larger one."
Why golf should not be an Olympic sport
"The vast majority of athletes who will qualify for August's Rio Games, an Olympic gold medal is the end all and be all in their sport. There is nothing greater for a runner or gymnast or fencer than reaching the Games after putting in four years (or more) of excruciating effort, clinging to a lifelong dream of perhaps winning a medal, maybe even gold.
"For most professional golfers, however, Rio is either a nuisance or a lark. They would much rather win the Masters or the U.S. or British Opens. An Olympic gold medal? Perhaps that ranks right up there with the John Deere Classic, perhaps not."