Waste Management Phoenix Open
Jordan Spieth explains why being 'disappointed' with shooting four under is a 'good sign'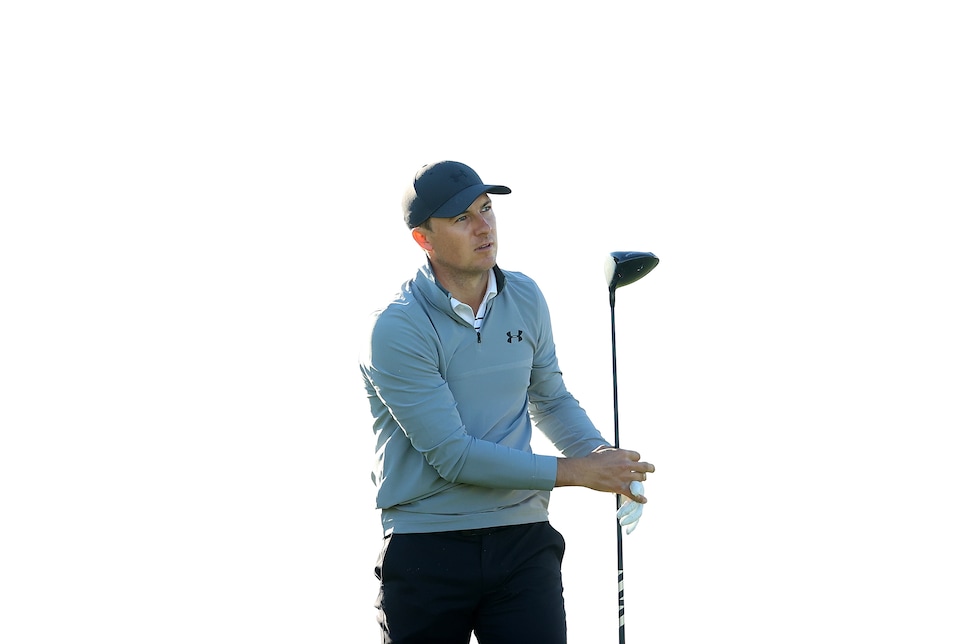 Jordan Spieth hits his tee shot on the 11th hole during the second round of the Waste Management Phoenix Open.
Abbie Parr
Jordan Spieth shot the same score for the first two days of the 2021 Waste Management Phoenix Open, but the three-time major champ felt a lot different following Friday's round. In a good way.
Well, for the most part. When Spieth spoke to reporters following Friday's round he was still stinging a bit from a closing bogey, which was made worse by the fact he only had sand wedge for his approach on the par-4 ninth. Still, there was even a positive to take from his finishing hole thanks to a perfect tee shot that capped his best driving day in a long time.
"Really, I putted out of my mind yesterday," Spieth told reporters after his round. "I think I gained almost four shots, and it was really all on the back nine, too. And then I hit good putts today that didn't quite go in. But the putter saved it yesterday, so I really wasn't going to get much confidence tee to green off that."
But it's easier to feel confident after hitting 11 fairways—quite a difference from the two he hit on Thursday. He also hit 16 greens, a welcome sign for the 27-year-old star who ranks a dismal 204th on tour in strokes gained/approach and 206th in strokes gained/off the tee.
Other than the closing bogey where he missed an eight-footer, Spieth's only other blemish came with a three-putt on the par-3 16th after sticking his tee shot to 12 feet. He made four birdies and an eagle on the par-5 third.
"It really was a fantastic day where I started to tap in a little bit into those feels," said Spieth, who at eight under was only three shots behind co-leaders Steve Stricker and Keegan Bradley when he finished. "It felt like a six- or seven-under day, and this is one of the first times I've almost been disappointed shooting four under in a round in long time, and that's a good sign. Versus yesterday it was one of those, like, all right, I shot 4, but I got away with murder. It was a tale of kind of two different days, and what I like about it was I just went to trusting more and more today off the bat, and I hit just great shots."
Now, of course, the key will be to continue trusting that swing into the weekend. Incredibly, it's been 3 1/2 years since Spieth last won a golf tournament at the 2017 Open Championship. That drought, coupled with a brutal start to the 2020-2021 PGA Tour season, has caused the former World No. 1 to fall to 92nd in the Official World Golf Ranking.
In his seven previous starts entering this week, Spieth has four missed cuts with a T-38 at the CJ Cup, a limited-field event, his best finish. The 11-time PGA Tour winner acknowledged he doesn't have his "A game" yet, but he knows it's in there somewhere. And he believes it's just a matter of time before it surfaces again, even if it's not this week.
"I'm as hard on myself as anybody is on me and I'm as confident in myself as anybody is in me at different stages," Spieth said. "It's really just—I love the game. I want to play with freedom. I want to win golf tournaments and I want to get myself back. I've put in the hours. It's just a matter of kind of working really smart, working on the right things, and then again, trusting it and just being okay with that patience of not having to see results right away. It's a new thing for me."