The Loop
Jordan Spieth calls Olympics choice "the hardest decision I've ever had to make"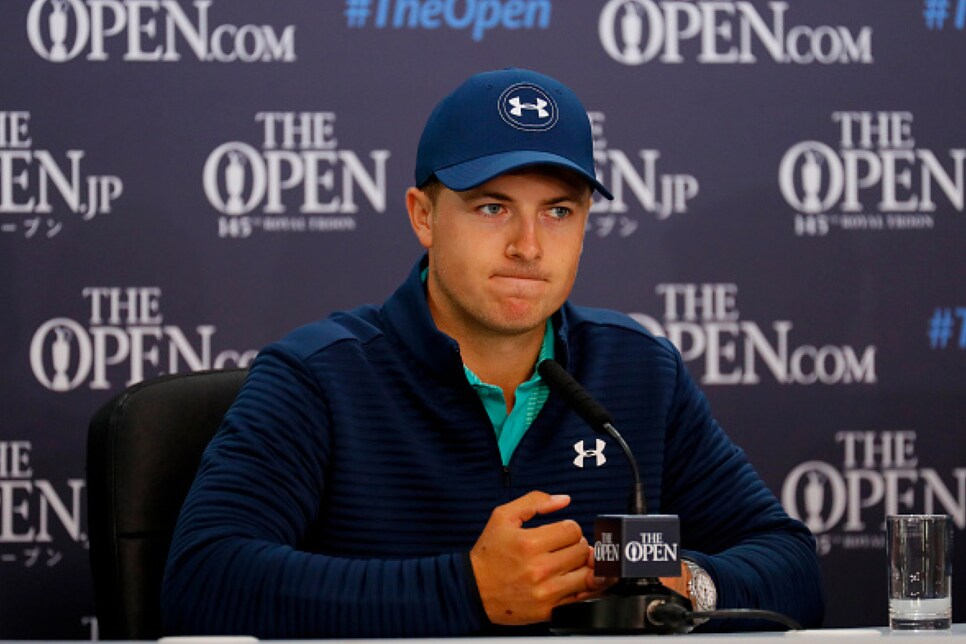 TROON, Scotland -- No matter what you think about Jordan Spieth's choice to not play in the Olympics, one thing became clear on Tuesday: The young star struggled mightily with the decision. Speaking at his pre-Open press conference, Spieth said his choice will "loom over him," and called it the "hardest decision" of his life.
OK, so he's only 22. And we should all be so fortunate to have turning down playing in a golf tournament as the most stressful decision we ever have to make. Sophie's Choice it was not.
But Spieth agonized over it. And he came to the Royal Troon media center prepared to talk a lot more about the Olympics than this week's Open Championship.
"Why was it so hard? Because I'm a huge believer in Olympic golf. I'm a huge believer in playing for your country, showing I absolutely look forward to Summer and Winter Olympics. It's the most exciting sporting event for me to watch on TV and to have a chance to be a part of it is something I definitely look forward to trying to do," Spieth said. "This year I just had to try and weigh a risk that doesn't present itself every year, and just at the time that I had to make the decision, I just felt this was the right move for me. Not everybody's going to understand. Nobody's going to understand what it's like in my shoes. Few people -- as you can see, a lot of golfers are trying to decide for themselves. Mine came down to just a very personal decision that, again, I don't expect anybody to understand, but trust that I believe I'm making the right decision for myself for my future and for those around me."
Those risks -- which Spieth declined to go into details about -- ultimately caused Spieth to inform the International Golf Federation he would not be traveling to Rio. After waiting until Monday's deadline to make up his mind, he texted his buddy, Rickie Fowler, and told him he's sorry he won't be joining him.
"He said, 'No worries. I know you had to make it just for you. You're just going to be jealous when I get that gold,'" Spieth said.
Unfortunately for the IGF, Fowler is one of the rare stars who will play in golf's return to the Olympics after its 112-year absence. Bubba Watson, No. 5 in the Official World Golf Ranking, is the highest-ranked golfer competing, and just nine of the world's top 30 players will tee it up in Rio next month.
"I don't know if it will affect it to the point they don't bring it back, but it will certainly impact it. You guys know however many of the top 30, 40 in the world are not there. It may impact the structure of it, too, if they don't fully take it away, and they may restructure how it's played," Spieth said. "That has absolutely nothing to do with my decision. But I'm not sure what will happen with that. I certainly hope they vote to keep it. Because, I believe it can be very beneficial for the game and I would love to be a part of benefiting the game with it."
But for now, Spieth will be on the sidelines. He also announced he will not defend his title at the John Deere Classic, which is being played opposite the Olympics.
"I don't think it would be appropriate given our decision on the Olympics," he said.
And it wasn't a decision influenced by similar recent announcements of Jason Day, Rory McIlroy and Dustin Johnson. But it was one that Spieth anticipates lingering with him.
"I will continue to carry it with me through these games and for a while, I think, personally. It's that tough, yeah," Spieth said. "It will loom over me throughout the Olympic games, for sure. I will be, I'm sure at times pretty upset that I'm not down there. I thought about all this ahead of time. When I watched the opening ceremonies, that's going to be a big bummer. Then when I watch these guys competing on the golf course."