The Loop
Jordan Spieth, Bobby Jones and the Grand Slam? The way this is going...
UNIVERSITY PLACE, Wash. - He won in the paradise called Augusta National and now he has won in Chambers Bay's chamber of horrors. He's the youngest this and he's the youngest that. Whatever comes next for Jordan Spieth, this much is certain: his name belongs in a sentence with Hogan and Palmer, Nicklaus and Woods. They, too, won the Masters and, two months later, won the U.S. Open. Next up, the British Open at St. Andrews. The way this is going, there'll soon be a sentence involving Spieth, Bobby Jones, and the Grand Slam.
By winning at Augusta, where every blade of grass has its own personal attendant, and winning at Chambers Bay, where grass is tolerated but not encouraged, the 21-year-old Texan has proven he can win anywhere, and perhaps especially can win at St. Andrews, where the gods of golf sip sherry while deciding if it is time to reach down and tap a kid on the shoulder.
They had a good look at Jordan Spieth in the 18th fairway at Chambers Bay on Sunday. There he stood with a 3-wood in hand, 284 yards to the flagstick, playing a hole that he had insulted only two days before. "The dumbest hole I've ever played," he called it. Proving that even gods have a sense of humor, they arranged for him to be on the 18th again - needing a birdie 4 on the par-5 hole to win golf's most important tournament. And he would need to strike that 3-wood perfectly immediately after making a mess of the 17th, where he three-putted for a double bogey.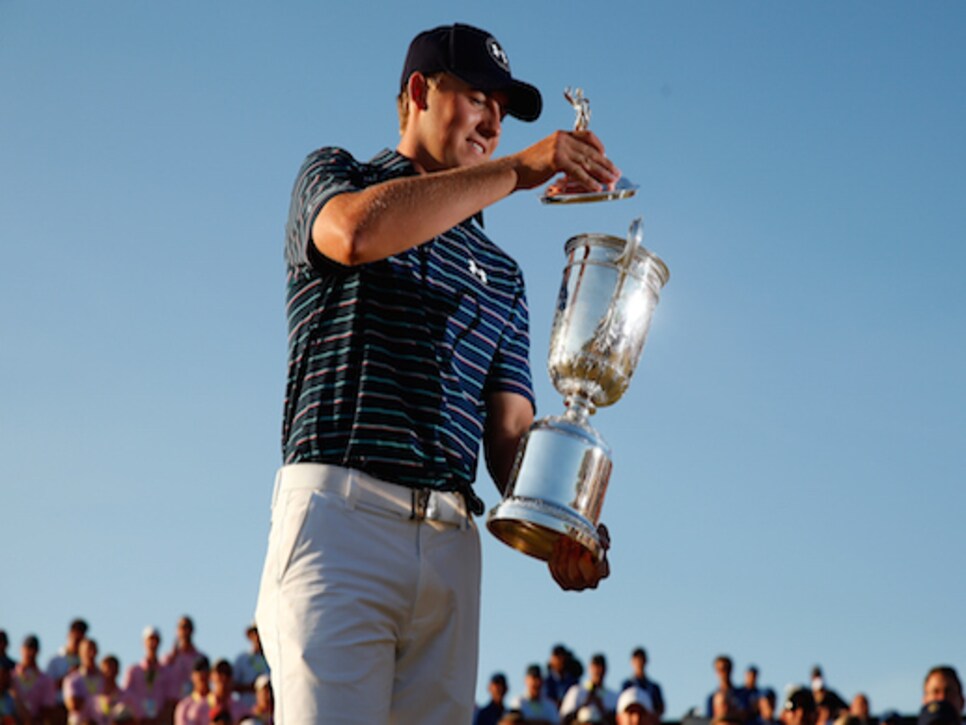 Oh, my. He thought he had won the tournament with a long, curling birdie putt at the 16th. Then he thought he might have lost it at the 17th. At the 18th, if he mis-hit the 3-wood and had to settle for par, he would lose if Dustin Johnson came home with a birdie there, as he almost surely would do.
"That was very, very much intense there on the back nine," he said, for there the implacable Johnson was in charge until he wasn't, and major champions took turns firing warning shots across Spieth's bow: Adam Scott with a six-under-par 64, Rory McIlroy 66, Louis Oosthuizen 66, Charl Schwartzel 66.
Of all the things Spieth might have done under pressure with a 3-wood from 284 on the 72nd hole of an U.S. Open - bunkers, gnarly green side weeds, and, remember, Tiger Woods cold-topped a 3-wood from about the same spot Thursday - Spieth did the precisely perfect thing. His shot rolled to a stop 15 feet from the cup. Two putts gave him a 69 and a one-shot lead with Johnson coming to the green.
But Johnson's 5-iron from 247 yards had left him with a 12-footer for eagle and the big, silver trophy with all those big, shiny names on it. It was 1926 when Bobby Jones made a birdie at the 72nd hole to win the U.S. Open. No one had done that before or since. And an eagle? No one ever had done the thing that Johnson now might do from 12 feet. Even if he missed the eagle putt, he surely would tap in the second and he would go against Spieth in a playoff Monday.
But my, my, the gods of golf do love themselves some Jordan Spieth. Poor Dustin Johnson. "On the last green, just talking to my brother, I thought this was exactly why I'm here," Johnson said. "This is why I play the game of golf. I've got a chance to win the U.S. Open on the last hole." But he rolled that first putt maybe four feet past. Then he missed the little comebacker as well. "I had it just inside right," he said of that killing putt. "I don't know, I thought I hit it pretty decent. Just missed left." The assembled thousands in the majestic grandstands around the 18th green had roared in thanks when Spieth made birdie for them. Now, when Johnson slouched toward his third putt, finally causing the ball to disappear, not a sound was heard. As he left the green, his fiancé, Paulina Gretzky, handed him their child, a boy, Tatum, five months old.
"Golf is golf, and family is what's important," he said. "My trophy at the end of the day is holding up my little man."
The big, silver trophy stood alongside Spieth when he spoke to reporters.
"It's amazing," he said. "It's incredible. It really is. It's incredible to win a major championship. You only get a few moments in your life like this, and I recognize that. And to have two in one year and to still be early in the year, that's hard to wrap my head around."
Someone called the roll of the club Spieth has joined. Only Craig Wood, Ben Hogan, Arnold Palmer, Jack Nicklaus, and Tiger Woods have won the Masters and the Open in the same year. The sainted Bobby Jones was invoked more than once.
"That's a piece of golf history, and as a golf historian, that's very special and it gives me goose bumps," Spieth said.  "Those names are the greatest that have ever played the game, and I don't consider myself there - but certainly off to, I think, the right start in order to make an impact on the history of the game."
Oh, and what does he think of his Grand Slam chances?
"I'm just focused on the Claret Jug now," he said.
I believe I just heard a clinking of sherry glasses.