AT&T Pebble Beach
The big thing Jordan Spieth can take from Pebble despite coming up short for a second straight Sunday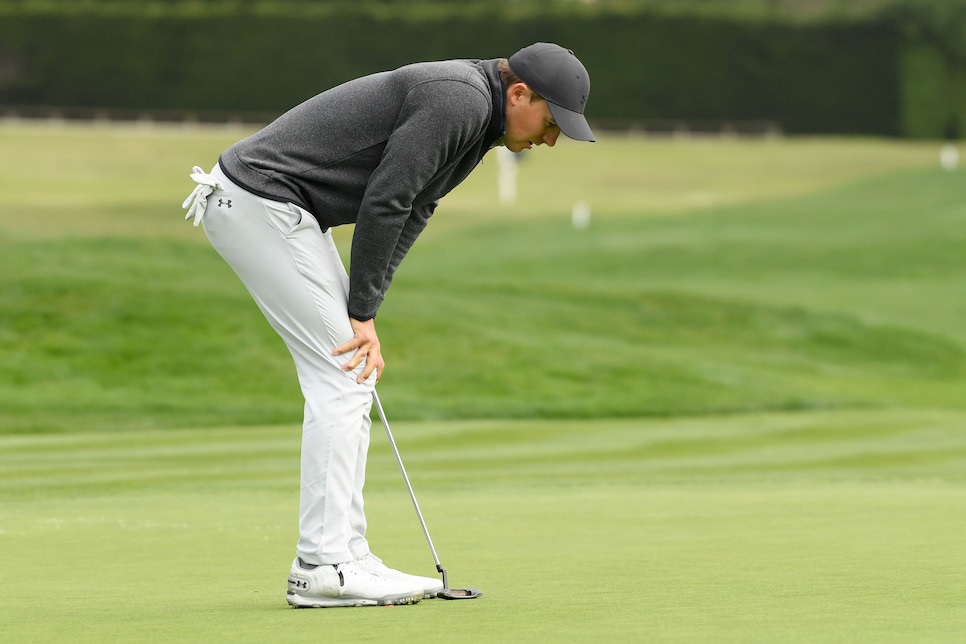 Jordan Spieth reacts to his missed birdie on the 13th green during the final round of the 2021 AT&T Pebble Beach Pro-Am.
Harry How
PEBBLE BEACH — Jordan Spieth needed a Jordan Spieth moment. Two back, in a divot in the 14th fairway, a wedge in his hand on the par 5 and his chances on life-support at the AT&T Pebble Beach Pro-Am, this would've been a fantastic time for a third hole-out eagle of the week. He'd have settled for a birdie, of course, given how rare those have been for him on Sundays of recent vintage.
Spieth's longtime caddie/professional listener, Michael Greller, suggested one club more. It was a complex calculation, at least by golf's standards, the type that laughs in the face of a rangefinder. In the more-club corner: uphill, into the breeze, soft greens, false front. In the less-club corner: adrenaline, the type that comes when you're trying to punctuate the sport's most talked-about slump.
The player is always right in these back-and-forths, so when Spieth said "I like this one," the back-and-forth was over.
He went with the shorter stick, and it made all the difference. Spieth's approach ballooned into the wind, just as Greller feared, landed a good five yards short of where they wanted and kicked back down into the rough. He needed three from there, and that bogey assured that this comeback party will have to wait.
For the second straight week, Spieth entered Sunday with the 54-hole lead. And for the second straight week, Spieth left the course without the trophy, his two-under 70 putting him three back of fellow 27-year-old Daniel Berger's winning total of 18 under.
"I didn't feel as good over the ball today as I did in the back nine yesterday, to be honest," Spieth said. "And that's going to happen. I just didn't quite have a great groove early in the round to where I could trust some of the shots that I wanted to hit."
Yet Spieth fans take solace. There is reason for continued optimism—after these past two weeks, there is plenty more reason to believe that his 2017 Open Championship victory will not be his last. It will just take more time. As the hype train gained speed throughout the week, Spieth urged caution. He knew his swing tweaks haven't quite taken yet, that he doesn't feel as comfortable with his move as he did at his world-beating best.
Even so, this recent stretch cannot be seen as anything but monumental progress. Last week, at the Waste Management Phoenix Open, he chipped-and-putted his way to a T-4 finish. Which is fine, of course—it's not how, it's how many—but it wasn't exactly a stripe-show, nor did it feel particularly repeatable.
This week, then, went a long way toward assuaging any ball-striking fears. Spieth finished 39th for the week in strokes gained/off the tee, 10th in strokes gained/approach and 46th in strokes gained/putting. Whereas he seemed to squeeze every last stroke out of his game last week, he left more than a few out there on the Pebble Beach Poa.
Especially early in Sunday's final round. Spieth had an eight-footer for birdie on 1. Par. An uphill 15-footer for eagle on 2, the perfect opportunity to jump-start the round. Miss. Another eight-footer for a crucial par save on 3. Bogey. This was Berger's day, with an eagle on 18 wrapping up his closing 65, but Spieth didn't do himself any favors with the flatstick.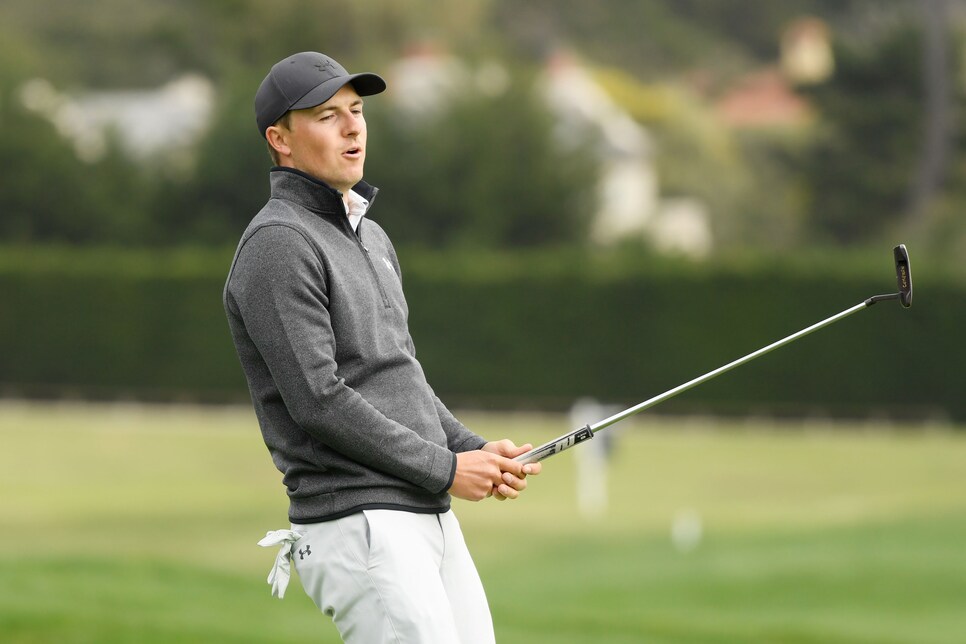 Unlike the first three days for Spieth, birdie putts didn't want to fall in the hole on Sunday at Pebble.
Harry How
Spieth has now squandered his last three 54-hole leads—this week, last, and the 2018 Open Championship—and played those rounds in a combined five over par. And yet, he leaves the Monterey Peninsula feeling better about his game than any point over the last three years. It's one thing to trust a new move on the range, another to do it in competition, another on the back nine on Sunday, with the Pacific Ocean begging for a ball.
"I'm as confident as I've been in a long time," Spieth said. "Not only the current outlook but also looking forward. So it's still mechanics. It's still dragging on. It's still going too long and therefore getting late into the ball and I made some really, really good swings this week under pressure and I made some not so good swings under pressure and there were more good ones than there were last week."
The good news for Jordan Spieth is that he's Jordan Spieth, and he's somehow still just 27 years old. This is not a win-now-or-else situation, because Spieth is not a prisoner to our collective restlessness. Would he have liked to win this week? Of course. There are no bad wins on the PGA Tour, especially when you haven't done it in ages. Disappointed, yes, but hardly discouraged. On to the next.