The Loop
Jordan Spieth and the Grand Slam: 'Nobody knows fail-safe blueprint'
Stories of interest you might have missed…
Johnette Howard of ESPNW examines the different approaches that Jordan Spieth and Serena Williams are taking in their quests to win Grand Slams in the their respective sports. "Spieth's way of dealing with his chase of history seems to be a fallback a lot of athletes choose in high-pressure times: Stick to your normal routine," she writes. "Do what you'd normally do. Don't change a thing…A lot of variables go into making history. But nobody knows the fail-safe blueprint to complete a Triple Crown or Grand Slam. As Williams said, There's a reason it happens so rarely.'"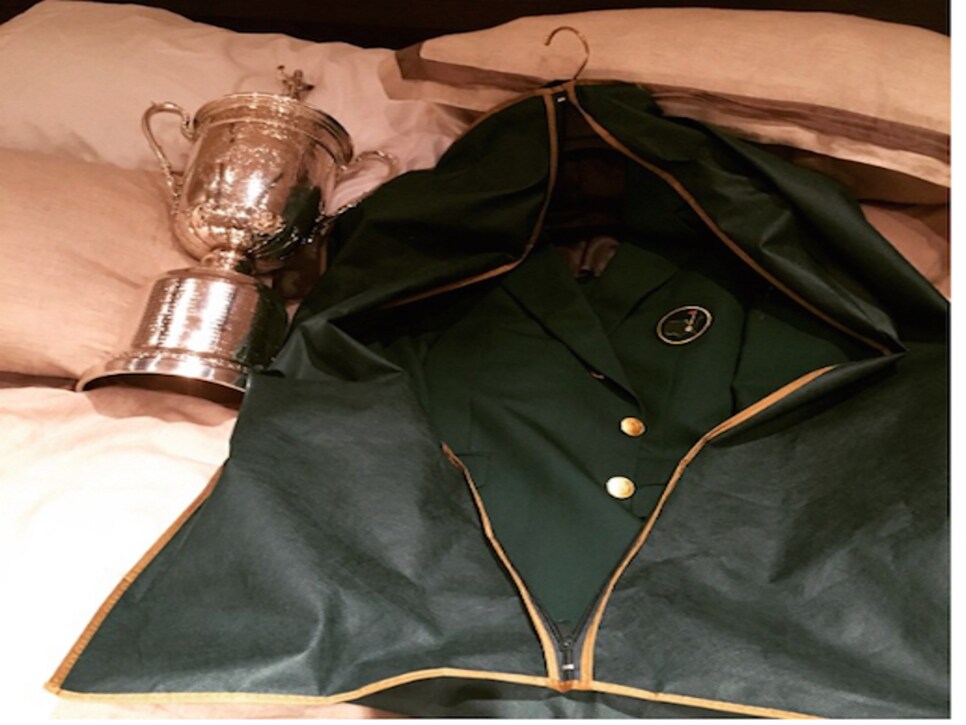 Jordan Spieth's U.S. Open trophy and Masters green jacket
"The Challenge Awaits...' is the slogan for this year's Aberdeen Asset Management Scottish Open. For the European Tour and its players, the wait for that challenge has been exactly 12 months. For Gullane Golf Club, you could say it has taken more than 350 years to come around," Martin Dempster of the Scotsman writes on the Scottish Open giving Gullane top billing for the first time in its long history
Former U.S. Open champion Graeme McDowell is in a slump that has him searching for answers, Brian Keogh writes at the Irish Golf Desk. "I've got a lot of technique in my head, I've got to be honest, and I have to strip that out," McDowell said. "I'm having problems stripping it out. I've got to get  back to basics a little bit and try and clear the mind  a little bit. Just been working too hard on trying to  get the technique fixed and making it worse…I've got a lot of golf to play. Just need courage in my pocket, get out there and work it out. I know it's in there."
"One of the earliest books of formal golf rules is expected to fetch up to £50,000 when it goes up for auction," Murray Spooner writes in the Scotsman. "Rules of the Thistle Golf Club, written by James Cundell, was one of only six books of printed rules published prior to 1830."