Courses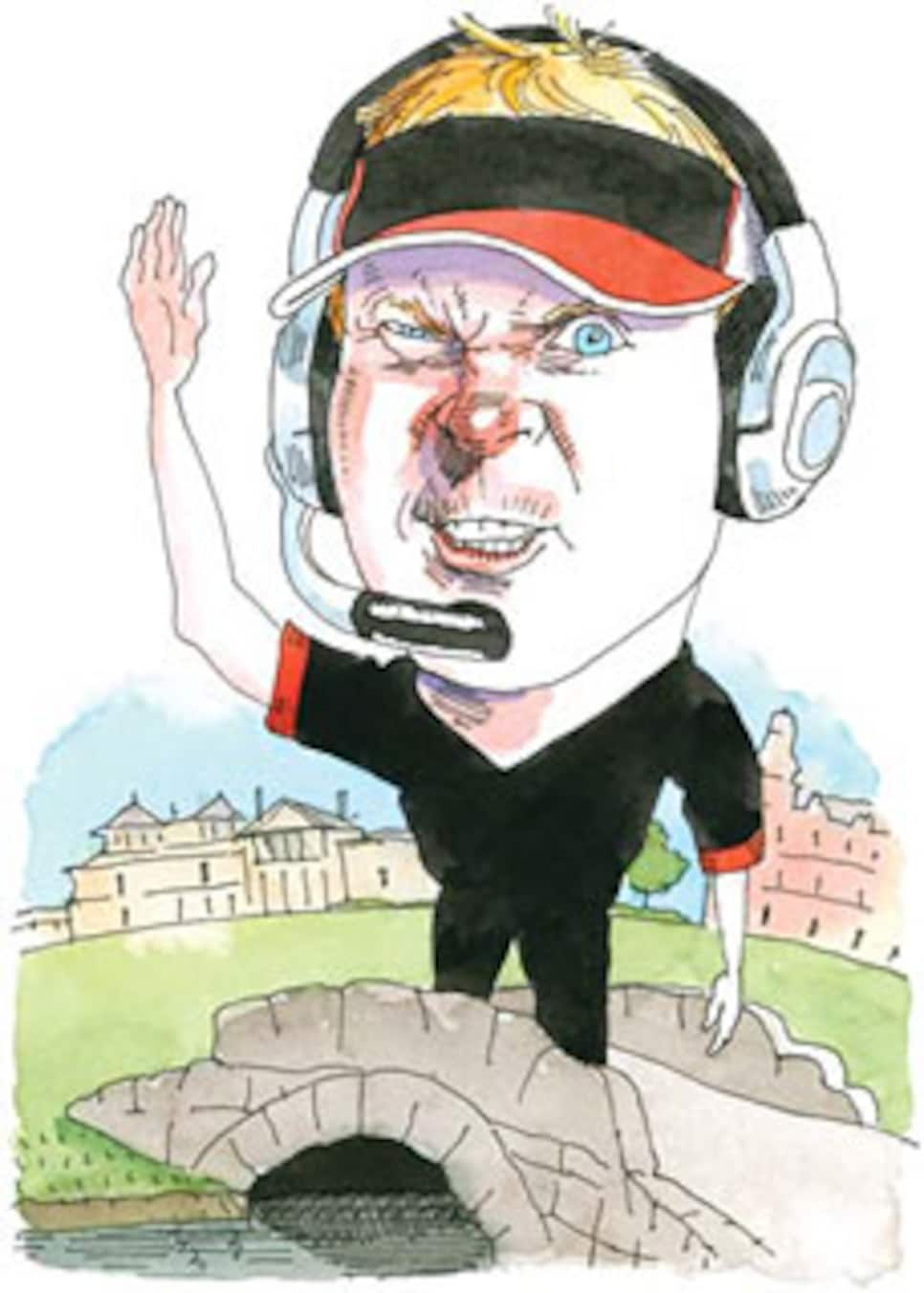 "I'm going to try and get to the British Open. If I can carry a cord, shag balls, wipe clubs; I want to be an assistant at one of these events. Tour players are my idols."
Jon Gruden, 46, just finished his first season as a "Monday Night Football" analyst. Gruden says he's coming back to coaching this spring, he wants to win a Masters and he's willing to work a British Open. He talks about Jeff Fisher's snoring, Donald Trump's gold clubs and the ramifications of carrying John Daly's bag.
What's your first memory of golf?
My dad is a very good player. When he wasn't coaching, he was playing golf. In the off-season I grew up being his caddie, going to the golf course with him. When he was coaching at Notre Dame we lived on the 7th hole of Knollwood Country Club
. I learned how to swing a club at a young age and I entered a few junior tournaments. I had a pretty good swing for a while, but ever since I got into coaching, you can see what has happened to my handicap.
I carry a 15, but I try not to make that public knowledge. I'm still negotiating strokes from my friends.
I've broken 80 twice in my life; once at the Cascades
in Bloomington, Indiana, and once I did it at Canton, Ohio when I was a freshman in high school. I was a pretty good player back in the 8th and 9th grade, but ever since I started playing football and coaching the game, my skills have diminished.
Where do you live and are you a member of the club?
. It's a heck of a course. I live on a par five and I call it "The Gruden Hole."
On a par five, are you more inclined to go for it in two or do you like to lay up?
I usually go for it because I'm better when I take a full swing. When I get 80-yards shots around the green, that's when I get frustrated. I look at a par five as an opportunity to make a birdie. I can hit it off the tee pretty good and my 3-wood is the best club in the bag.
What are you working on now?
My short game. Fortunately at Avila we have a great practice facility. They have chipping ranges. Those are the challenging shots for me because every course you play you get a different lie. The better golfers you play with, the less lenient they are with you rolling the ball over, you know what I'm saying?
Do you have a hole in one?
I do not. I've done my best, but I'm still in search for one.
What's in your bag? Are you an equipment junkie?
I really like equipment. I play TaylorMade Burners. During a pre-season game in New Jersey, we played at Trump National
with Donald Trump and he was my partner. We played good as a team. He carried me. He was hitting the dog out of the ball and I asked, "What are those things?" He had TaylorMade Burner irons, and of course he had gold plates on those things. About a week later he sent me a set of those irons, so that's what I'm using.
Did they come with gold plates?
No, he didn't put the gold plates on there.
Being from Ohio, are you a Jack fan? Yeah. I can't help that. When my Dad played in the Cleveland Amateur, and some other major amateur tournaments in Ohio, Jack played in some of the same tournaments. I'll never forget my Dad said, when he watched Jack play a few holes, that's when he realized he was never going to make it on tour. Jack is legendary worldwide, but in the state of Ohio, there's not many people bigger than Jack Nicklaus.
At one point I saw you had Tiger on the sideline of a Bucs game, are you Tiger over Phil?
I'm a big fan of these guys. When I was a head coach of the Bucs, I got a call: Tiger wanted to come by and meet me and have dinner with me. I thought it was a prank call. Sure enough he called that night again and we had a chance to sit down and have dinner and he gave me a chance to ask him questions about his mentality, not just about golf and tips. We became friends and he came to several Bucs games. He would call me and leave messages when we lost, he'd be getting on my case. But I'm a huge Tiger Woods fan because he's the ice man, he's the ultimate clutch competitor and performer that I've seen in my lifetime.
Were you able to extract some of his mental aspects of the game and use them in your coaching style?
Absolutely. I asked him if I could ask him questions and he said, "Sure. Go ahead." So I reached into my desk and pulled out my yellow pad, and I pulled out a list of about 25 questions. I only got to five of them. I asked about his preparation. Do you know how many sand shots this guy hits to get good at hitting sand shots? Do you know how many hours he works on five-foot putts from a downhill lie? His preparation is incredible. And more than that, when he enters a tournament, he's not there for the pre-game function or the post-game function. He's there to win it. He's there to dominate it. And he saves the best for last. So, finishing, preparing and performing when it's time to perform, those really resonated with me. And he was good enough to go into the linebacker room, the secondary room, the defensive line room, the quarterback room, and we were all star struck. He has quite a presence as you know.
__If I offered you an all-expenses paid trip to Pebble Beach
, which one would you choose?__
I'd be thanking you from the bottom of my heart for any of those, but I'd probably pick Pebble Beach. I got a chance to play that in 1990 and then I went across the street to play Spyglass Hill
. I didn't even want to play golf. I wanted to sit there and take pictures of the course. You can't comprehend Pebble Beach until you see it. The first few holes, I was like, "This is Pebble Beach?" Then, all of a sudden, every hole is like a painting. We videotaped our round. We had a graduate assistant come and film our shots. We interviewed each other on the tees. It was great. I've never had more fun in my life.
Tell me about caddying for John Daly at the Pods in 2008? How did that come about?
I went to the golf tournament and I sat in the Hooters Owl's Nest and I was watching the golfers come in. All of a sudden, about 45-minutes into my day, lightning struck and they suspended play. I was disappointed because I didn't get a chance to get out and see the tournament. I had never met John Daly but during the rain delay he came up into the Owl's Nest and visited with the fans. We met each other and we began talking. In spite of what people want to think, we weren't partying or anything. But we sat up there for an hour and a half, we were signing visors and having a good time with the crowd, and it looked like it was going to be game over for the day. But then the official of the event came up and said, "John, you have 20 minutes to get into position. We're going to try to play four or five more holes before dark." And John couldn't believe it. He hadn't been playing for over two hours and it was cold and nasty and it was getting dark. He looked at me, and I was wearing his caddie's bib because his caddie gave it to me for when we were posing for pictures, and John says, "Well, you're the caddie, let's go." I said, "Are you kidding me?" So we jumped into the cart, he went and warmed up, and I remember Davis Love and Lee Westwood came by, and they saw me holding the bag and they said, "You're not going to do this are you?" And I said, "I guess I am." All the fans had left. I carried his bag for about four holes before dark. That was as good a time I've had in my life. I didn't intend to make anybody mad or offend anybody. I'm sorry about that and it will never happen again.
I hear Butch Harmon referenced you caddying for John as one of the reasons why he quit as John's swing coach.
I don't really get involved in other people's business. John lives half the time down in Tampa. That's where the girl he dates lives and he comes down to see her. When he comes down, we go out and play golf at Old Memorial
. I'm pulling for him. I want him to come back. As an ex-coach, I'm trying to help motivate him, assist him in getting his confidence back, getting his approach back to being a champion again, and being a competitor every weekend. I feel bad it got taken the way it did. John has had his moments where people have questioned his decision making; I just want to be there for him as a friend and try to help push him to where he can go as a golfer and as a person because he's a hell of a guy. Butch Harmon takes it the way he takes it, that's not the way I feel about John Daly. Not only is he a hell of a guy, he's a great talent.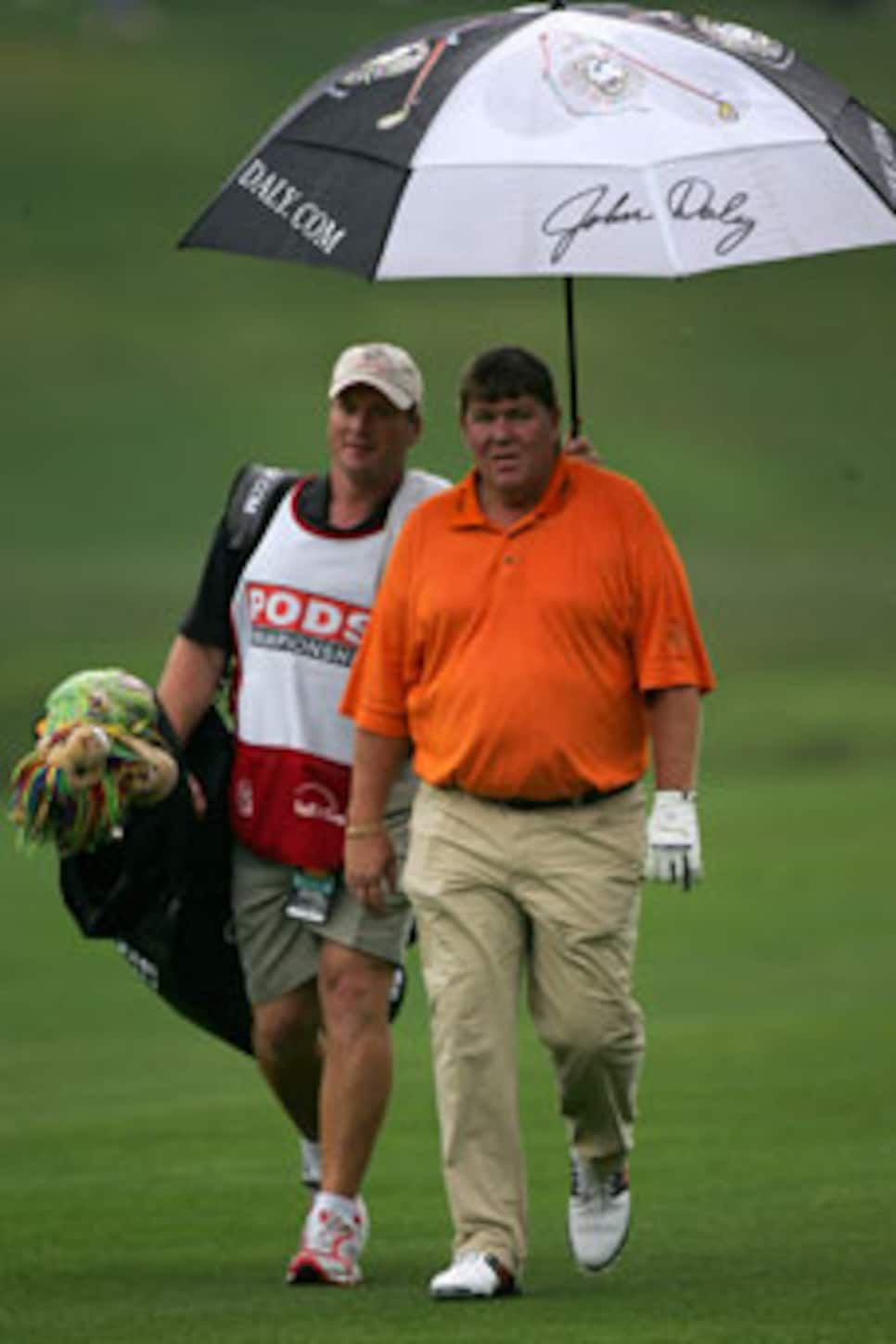 Recently I asked Tom Izzo about how he would've handled Van de Velde at the 1999 British Open. From another coach's perspective, and with your background as a caddie, how would you've handled that situation?
In golf, you're playing an individual game and we coach team games. In golf, you're talking to an individual who's making all the shots. Your preparation up to that event, and the 71 holes you play before that final hole, that speaks for itself. I really don't know if you need to do a lot of coaching other than, "Just relax, take a couple of deep breaths, don't over think the situation, do what you've done to get you here. Just finish. Do what you've done to get you here and have some fun with the moment." I think sometimes we overanalyze, we try to think too deep, and when you get in the deep water, some of us drown.
If I gave you the choice of winning the Masters and winning another Super Bowl, which would you choose?
I'd rather win the Masters. My first experience at Augusta
was this year. I took my Dad. I had no idea it was that beautiful and how much detail and manicuring that go into the course. To be able to hit every shot for four days and to beat that field, that would be pretty sweet. I'd just like to make a par at Augusta.
Are you open to being an announcer at the British Open?
I would love it. Mike Tirico has become a real good friend. I'm going to try and get to the British Open. If I can carry a cord, shag balls, wipe clubs; I want to be an assistant at one of these events. Tour players are my idols.
How did the "Monday Night Football" crew get around the country?
I left Saturday morning from Tampa and flew to the site of the game. On the Tuesday morning after the game, I flew home. Accommodations were great. We got to visit with both teams. It's commercial airlines, unless you're Ron Jaworski. He gets the private jet. At least that's the rumor I'm hearing.
Do you have a favorite city?
When it comes to football, I'm more of a traditional guy. I love going to Green Bay. If you haven't been to the new Texas Stadium, wait until you see that. That should be one of our national monuments. That was the greatest thing I've ever seen. I love the Seattle Seahawks stadium. I think that atmosphere is phenomenal.
Are you an efficient packer?
No. I'm not good at Blackberrys, cell phones or packing. All of these things are new to me. I've been wearing sweatpants and tennis shoes for the past 25 years. Just to get cufflinks on my shirt is a challenge. When you get to these rooms, you don't realize how wrinkly your shirt gets, so now you have to iron it. That's another problem. So I'm a package of struggles when it comes to packing, traveling and getting ready for these games.
How do you kill time on a plane?
I usually read and use it as preparation time. I rarely sleep as it is, let alone sleep next some stranger. I keep my eyes peeled. When you get fired from coaching you have a lot of enemies out there and you have to make sure none of them are on the airplane.
One movie on a long flight?
I'm a real sophisticated guy. I'd probably go with "Lethal Weapon." I love that Mel Gibson.
Do you prefer a window or an aisle?
I tend to be an aisle guy. I tend to go to the bathroom two or three times, I have a lot of nervous energy.
If you could make one change to the airline industry, what would it be?
I can't stand the announcements -- teaching you how to put on a seat belt? All these interruptions with these announcements drive me crazy. "Gate 26 is Cleveland, gate 27 is New Orleans..." We can look at the sign when we land.
I saw you went to Iraq to visit the troops. How was that trip?
I think it took us 20 hours, including a few layovers. There's about an eight-hour time difference. Me and Bill Cowher, John Harbaugh, Tom Coughlin and Jeff Fisher all stayed in the same room for five days and shared the same shower and shared the same toilet.
That sounds like travel trouble.
That was travel trouble, but you know, when we sit in our houses and thank our troops, there's nothing like going over there. When you see where they stay and what they do, you get a totally different perspective. It's like being in a jail cell over there. There's nothing to do, the weather is horrific and they're fighting for a cause. I got a whole new outlook on the reality of that situation.
Do you see any signs of golf over there? Are the troops using the game as a way to get away from the harsh realities and a way of passing the time?
Absolutely. We stayed in a palace of Saddam Hussein. They converted it into a military base and right in front is a huge lake. They laid some mats in front of it and some people in the states have sent over practice balls and clubs. We'd hit the balls into the lake or over the lake. We had long drive contests with some of the military. We had a blast. They use golf as a diversion, there's no doubt.
Of that group of coaches, who snores the loudest?
No question it was Jeff Fisher. We thought there was a wounded animal in the room one night. Cowher was on the top bunk, I was on the bottom bunk. We'd try to sneak off and go to bed early, before Fisher got in there. No matter how sound of a sleeper you are, Jeff Fisher can wake you up. He can do some magical things when he's sleeping.
I would think so. I know I'm going to coach this spring. I'm going to coach my 12-year old son's flag football team. So I'm going to coach, but what level I don't know. I love helping players and I feel like I have something to offer. But this is a brand new day for me and I'm really enjoying life as an analyst. If I'm any good at this, I'd like to continue. If I'm not good at it, I'll have to do something else. I love coaching, it was away of life for me, I miss a lot of it tremendously, but I'm really enjoying this. And I'm going to take advantage of this opportunity.
Being an analyst, if and when you go back to coaching, will it make you a better coach?
No question. Experience is a great teacher. When I was in New Orleans I got a chance to sit down with Tom Brady, Drew Brees, Bill Belichick and Sean Payton, I got to see the Saints practice, I got to see their facility. The next week I went to Green Bay, I saw Aaron Rogers and Charles Woodson. You meet the best players and get to compare the two teams. You get a different perspective. It has been eye opening for me.
Howard Cosell, Keith Jackson or John Madden, all in their prime, who would you like to be in the booth with?
I'd rather be with Howard. We imitate Howard and Keith Jackson. No disrespect to Coach Madden, but in the back yard, how many times does a "Whoa Nellie" come up? And everyone tries to imitate Howard Cosell's voice. And being with "Monday Night Football" too, I've heard a lot about Cosell moments, so I would love a chance to sit in a booth with Howard.
Your ideal foursome, alive or dead?
I'd take Tiger Woods and he would be my partner. That's for sure. Arnold Palmer would be in my foursome. Probably Mohammad Ali, I'd like to meet him. I'd go that route if Jennifer Aniston weren't available.
A 3-foot putt for your life, would you putt it or would you call Tiger to putt it for you?
I'm calling Tiger. He never misses. That's a no-brainer.
Al Davis. Is he good or bad for football?
Great for football. He's one of the founders of this game. He's a Hall of Famer and don't forget that. It's hard to criticize a Hall of Famer.