News
Jon Rahm's Tiger fixation yields another memorable moment, a win in Woods' Hero World Challenge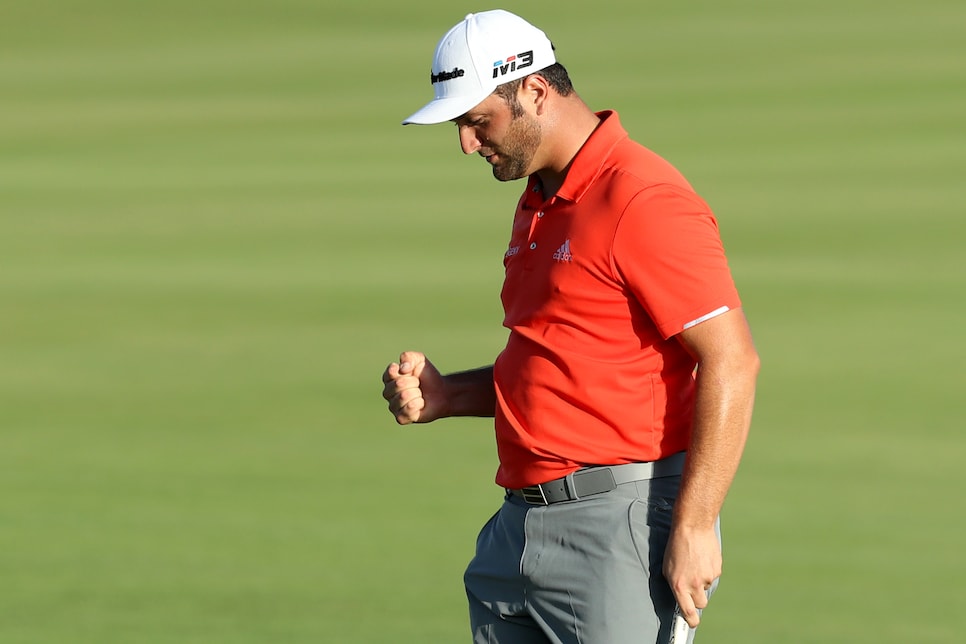 Jon Rahm was happy to accept "a little Tiger trophy" from host Tiger Woods on Sunday at the Hero World Challenge. Actually, it was his second Tiger trophy this year. He got Tiger's scalp at the Ryder Cup in Paris, beating his golf hero in singles competition.
This win didn't bring tears to his eyes like the one on Sunday at Le Golf National, but it was meaningful nonetheless for the power-hitting Spaniard, who belted his way to a four-stroke victory over Tony Finau at Albany Golf Club in Nassau, Bahamas.
Exhibiting the kind of long-ball efficiency that dominates the current pro golf landscape, Rahm fired a bogey-free 7-under 65 to coast to his third win of the year -- but his first since the Open de Espana on the European Tour in April. On a breezy afternoon, Rahm, 24, was his own hurricane, blowing away the other 17 men in the field with a 20-under 268 total in his first appearance in the event. It was the kind of performance that has largely gone missing from Rahm for much of the year.
"Ball-striking wise, it's pretty much about where I want it to be," said Rahm, who converted a tournament-best 25 birdies. "It was about as perfect as it could have been today. I played so solid tee to green. I didn't make any mistakes. If you can capitalize on the five par-5s and the two drivable par-4s, which I did on all of them today, you're going to have a good chance."
He gave no one else much of a chance after beginning the day in a three-way tie with Finau and Henrik Stenson. Rahm, who claimed that he didn't miss a shot over the final three rounds after opening with a 71, never trailed Sunday after Finau made a bogey on the par-3 eighth hole. Rahm proceeded to birdie the ninth, 11th, 13th and 14th holes to extend his advantage and enjoy a second chance to spend some time in Woods's company.
"That Sunday with Tiger is still most emotional and most important moment of my golf career," Rahm said, recalling his 2 and 1 win over Woods. "I pretty much started crying when I was shaking his hand because that meant so much to me to play against Tiger. A couple months later, to win his event, it's really special.
"It's been great to be around him."
As for the host, it was a forgettable week that capped an anticlimactic stretch following his victory in the season-ending Tour Championship. Since winning at East Lake for his 80th PGA Tour title, Woods went 0-4 in the Ryder Cup as part of an American shellacking, lost out to Phil Mickelson in a potential $9 million payday in their head-to-head match, and finished second-to-last in his own tournament.
With a final-round 1-over 73, Woods, nursing sore ankles, carded a 1-under 287 aggregate score, which was 19 strokes behind Rahm and the farthest in arrears he had finished in relation to the winner all year. Nevertheless, considering he ranked 1,199 in the world when he began his comeback in this same event last year and he'll leave this edition 14th, he had few complaints.
"It was an incredible year, to go from where I was at this point last year to where I am now," Woods, 42, said before heading to Australia to promote next year's Presidents Cup, where he will serve as U.S. captain. "To have the ability to actually play and compete again in the game and do it consistently is quite amazing."
Equally amazing is that while Rahm had things sewn up, there was drama on the final hole. Albany resident Justin Rose made three birdies and an eagle in his final eight holes for a 65 to surge into a tie for second that would propel him ahead of Brooks Koepka for world No. 1. But Finau sank a 10-foot birdie putt for a 69 for solo second place. Rose could still finish the year No. 1 depending on his performance in two weeks in the Indonesia Masters.
"Yeah, you know, it's not a huge goal for me, but when you have these opportunities you want to take them. Obviously anytime you get to number one you want to stay there. It's a nice feeling," Rose said. "I have other goals next season rather than just focusing on the number one spot. The number one spot's always a by-product of achieving probably your other goals, to be honest."
As for the fiery Rahm, now No. 6 in the world, he was hoping that his victory in the Bahamas augured bigger things in 2019. Yes, bigger than beating his idol.
"Jordan Spieth won this event and went on to win two majors the next year," Rahm noted, "so I hope it does the same thing for me as well."