ORLANDO — Jon Rahm doesn't need to remind the golf world that he's feeling confident in his game. His fellow PGA Tour players can see, from the five wins he has recorded worldwide in the past five months, that the Spaniard is feeling muy bueno.
But on Tuesday at the Arnold Palmer Invitational at Bay Hill, the World No. 1 took the opportunity to humbly remind the elite 120-player field that he's running hot. Rahm was asked if any player can beat him when he's playing his best. Without hesitation, Rahm answered: "No."
What could have his peers on tour looking over their shoulders, however, is the fact 28-year-old Rahm is developing confidence in his inability.
Leaning on the advice of 15-time major winner Tiger Woods advice, Rahm is learning to trust in his own knack for winning without having his "A-game" for all 72 holes of a tournament. Woods was notorious for finding a way to win with what he called his B and C game.
"The thing is, you don't need to be firing on all cylinders to win," Rahm said ahead the latest $20 million "designated" tour event. "I actually had a conversation similar to this with Tiger. I asked him, out of the 82 wins on the PGA Tour … how many times do you think you played your best all four days? And he said, 'Three at most.' A lot of those Sundays he played his best, but the whole week, very few."
Naturally, the follow up was whether Rahm asked Woods which three wins did he feel in complete control for the entire tournament.
"Well, 2000 U.S. Open and 2000 Open Championship ," Rahm said of Woods' 15-shot and eight-shot wins at Pebble Beach and St. Andrews, respectively. "And I think you can pick any other 2000 win," added Rahm, referencing Woods' nine victories that year.
Rahm has been on a phenomenal run since the PGA Tour's Tour Championship at East Lake last August. In 10 events across the PGA and DP World tours since East Lake, Rahm has not finished worse than eighth. In that span, Rahm won twice on the DP World Tour last fall and three times on the PGA Tour this year, including the Genesis Invitational at Riviera two weeks ago. He leads a host of statistical categories on the PGA Tour from scoring average (68.39) to birdie average (5.58 per round) to greens in regulation (75.69). He has already collected $9.86 million this season and the calendar is only flipping over to March.
One could be forgiven for thinking Rahm has had his best stuff all four rounds at least once since August. But he says he hasn't. Not in almost two years, and even then, it wasn't four rounds.
"The one time I can say I was firing on all cylinders I didn't get to finish the tournament, so I would have wished to see what that was like," Rahm said tongue-in-cheek of the 2021 Memorial Tournament, when he led by six strokes through 54 holes only to be forced to withdraw due to a positive COVID-19 test. Rahm isolated for 10 days before winning the U.S. Open at Torrey Pines.
"I think we play close to that A-plus game a lot, but we don't give ourselves quite that grade for all four days. That's why probably Tiger said maybe just a few times in his career."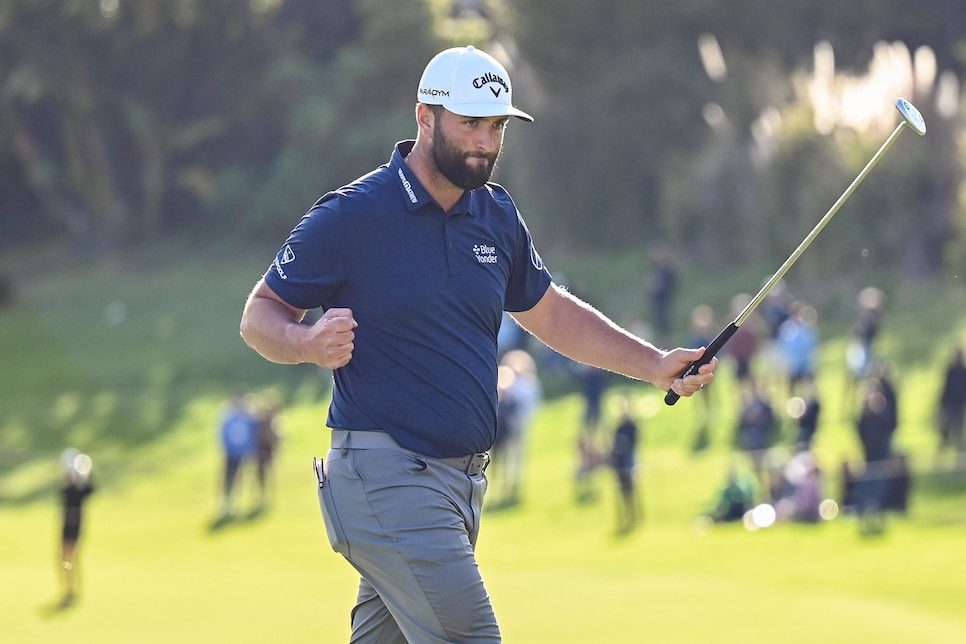 It's Rahm's confidence in his inability that should have his peers worried.
Keyur Khamar
Rahm then said the best he's ever felt striking the ball from tee to green was his maiden PGA Tour win at Torrey Pines in 2017. "But I didn't have the week on the greens until the back nine on Sunday," Rahm said modestly of making two eagles and a birdie in his last six holes to win by three that year.
"There are weeks where you think, 'Oh, this part of my game is great, this other part was amazing.' But for every part of your game to be a hundred percent all four days, yeah, that's nearly impossible to happen."
But Rahm will need to find more weeks that are close to perfect if he wants to stay atop the Official World Golf Ranking, a spot he reclaimed with his win at Riviera, especially given that No. 2 Scottie Scheffler is the defending champion at Bay Hill. Rory McIlroy, a 2018 Bay Hill winner, is also in top form having won four times worldwide since last summer, including the recent Dubai Desert Classic.
"There's a lot of satisfaction that comes when you get to be No. 1 and the other players have been playing great golf as well," Rahm said. "Scottie had a great year last year, Rory had a great year last year, and then towards the end of the year, I picked up.
"I heard [a statistic] ... I would have to be No. 1 until [May] 2035 to reach Tiger's record, which is great."