Scottish Open
Lamenting bad breaks, Jon Rahm says that if there's golf karma, he's going to have a good week at St. Andrews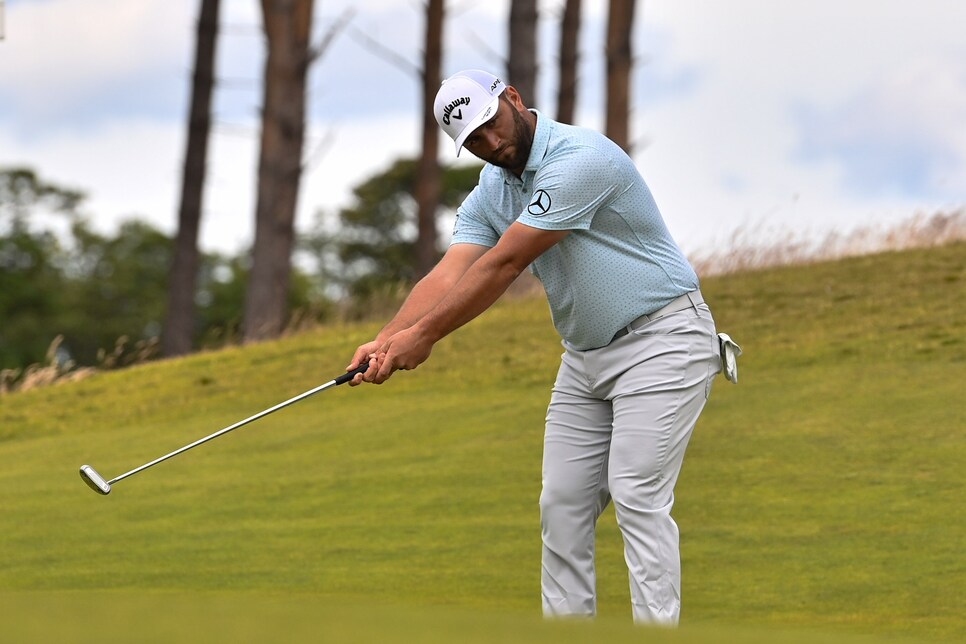 Jon Rahm urges his putt on first green in third round of the Scottish Open.
Paul Devlin - SNS Group
GULLANE, Scotland — It was the proud boast of the Genesis Scottish Open. "Strongest field ever" was the headline, with 14 of the top 15 players in the world teeing-up at the Renaissance Club. World No. 2 Rory McIlroy was the only absentee from the elite group. Well, he was until Friday evening. By then, exactly half of the starting 14—Scottie Scheffler, Collin Morikawa, Justin Thomas, Viktor Hovland, Will Zalatoris, Hideki Matsuyama and Billy Herschel—were on their way across the Firth of Forth to Fife, the Old Course at St. Andrews and earlier than anticipated preparations for the 150th Open Championship.
For the more magnificent seven (this week at least)—Jon Rahm, Cam Smith, Patrick Cantlay, Sam Burns, Matt Fitzpatrick, Xander Schauffele and Jordan Spieth—two more competitive rounds on a good but not great course lay ahead. And, as ever when the subject at hand is golf played outdoors in Scotland, varying levels of success and failure were the order of the weekend. While the likes of Schauffele, Cantlay, Fitzpatrick and Spieth played their way into final day contention and presumably derived the traditional benefits from such performances, Smith, Rahm and Burns were mired back in the pack.
Take Rahm. Just under 90 minutes before the leaders teed off on Sunday, the World No. 3 was completing a frustrating week with three putts on the 18th green. That lapse represented the fifth of five bogeys littering the Spaniard's card as he shot 71, his five-over-par total good enough only for a distant 55th-place tie. Was that relatively futile exercise, one wondered, more useful to his Open Championship warm-up than missing the cut, then disappearing unobtrusively to St. Andrews?
"You'll have to give me about 45 minutes before I can tell you what I got out of this week," said Rahm with a dismissive shrug that spoke only too clearly to his feelings about his performance. "A lot of good swings I made today ended up in bad spots. I felt like a lot of drives were good and the result of good swings. I hit some especially solid shots around the turn. But all ended up being a little stroke of luck away from being in good positions. If karma is a real thing I'm going to have a lot of good luck next week.
"Hopefully, the weather in Fife has been like here [a safe bet]," he continued. "If so, the Old Course will be getting nice and firm, as this course is. So in that respect, playing here in competitive conditions should prove helpful next week. Besides, I wouldn't have gone to St. Andrews as early as Saturday. I would have stayed here in East Lothian and played the likes of Muirfield, North Berwick and Gullane. That would have been a lot of fun and given me plenty of links experience. So going or staying? I think you can find positives and negatives in both."
True. And seven days from now we'll know which one turned out to be the better of the two.