PGA Tour/Saudi PIF deal
Jon Rahm opens up about PGA Tour-LIV deal, takes new, tougher stance toward Jay Monahan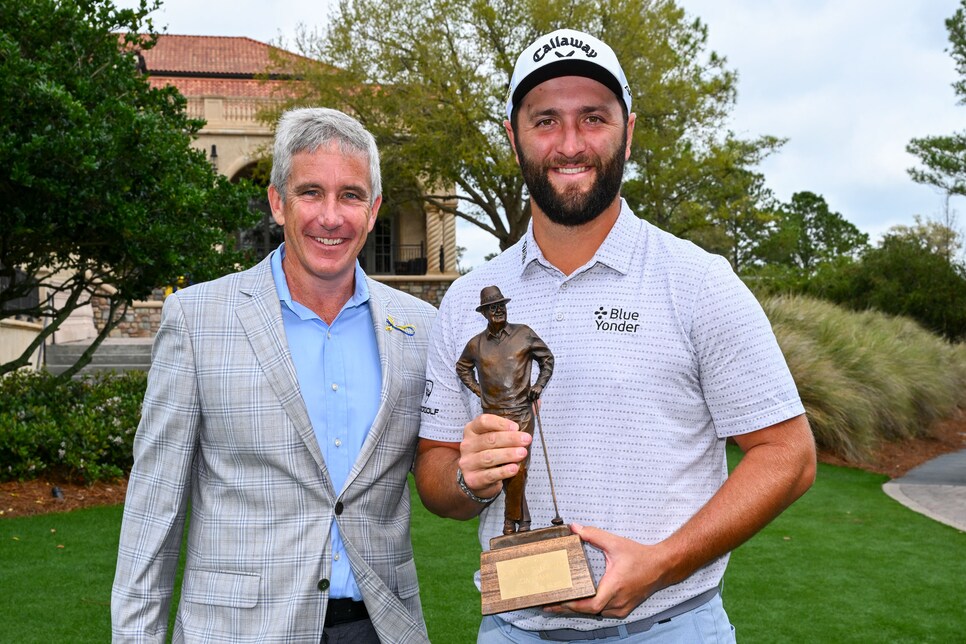 Rahm, the No. 3 player in the world, said Monday on the Spanish language podcast Golf Sin Etiquetas that Monahan and Keith Pelley, CEO of the DP World Tour, "have to earn trust again. When they say that the tour is of the players and—regardless of whether what they did is good or bad, without speaking to anyone from the Board of Directors, Rory McIlroy or whoever is there—they do that business with LIV, they have to earn that respect again."
When meeting the media prior to the first round at the Open Championship, Rahm threw his support behind Monahan. It came while other top players such as Scottie Scheffler, Jordan Spieth and Xander Schauffele suggested that their trust in the embattled tour commissioner had waned after Monahan revealed the surprise deal June 6 in which the PGA Tour, DP World Tour and the Public Investment Fund of Saudi Arabia—the group that funds the rival LIV Golf League—had struck a framework agreement that would potentially result in more than $1 billion being invested in the two tours.
"Jay has behaved so professionally and so well with me and my family,'' Rahm said at Hoylake. "In that sense, he's a really good man. Now, as it comes to what he's been doing for us and the PGA Tour, I think he's done a fantastic job. I would say it was unexpected what happened. The turn they took without us knowing was very unexpected, but I still think he's been doing a great job. And right now, after that happened, I only think it's fair to give them the right time to work things out.
When he was asked if he's lost "trust" in Monahan, Rahm said, "My trust? No."
During the podcast (co-hosted by former tour pro Gonzalo Fernández-Castaño), Rahm went on to explain how he learned of the framework agreement between the three organizations just minutes before the deal was made public.
"Two minutes before the announcement came out, someone from the PGA Tour contacted me and told me everything. I thought it was a joke," Rahm said. "And this is what they should have done from the beginning. Instead, they generated division then decided to come together again. I hope they reach an agreement. Looking ahead? I hope they manage to reach an agreement. I think LIV will continue, from what I understand and from what I've talked to their players. None of them intend to return, and that's why they left the PGA Tour. They left for a reason."
Rahm was optimistic that the LIV investment meant upgrades to both the PGA Tour and the DP World Tour.
"Hopefully, with all this capital that can come, we can create a PGA Tour that is better for everyone, that the week is better, that the gym is better, that there is a recovery area, that the physiotherapists have better conditions, that the food is more consistent and the best (week after week), that there is a charter flight for the players (between the weeks of each tournament), that having the PGA Tour card implies that you have a minimum of money, so you can make your life as a golfer. I say this last thing because the fact that you can lose money on the PGA Tour being in the top 150, is criminal. And I have told the PGA Tour many times. There are many things that they could improve, apart from the money for FedEx and whatever.
"And for the DP World Tour I think the same," Rahm continued, "thinking of those who want to continue playing at home, with a better tour. Now, I have no idea what they want. And I hope that whatever they want doesn't conflict with this. And I'm not the only one who thinks so. I understand most of those who went LIV."
Rahm, 28, who has won four times this season on the PGA Tour and leads the FedEx Cup standings heading into next week's playoffs, said that the LIV Golf League concept never appealed to him that. He acknowledged he had one conversation with LIV CEO Greg Norman in Mexico in early 2022 after receiving a message well before LIV launched last June. "Instead of convincing me with the history of golf, with what I love, he started sending me numbers, numbers and numbers. And my answer was 'Talk to my manager," and we'll talk in the future. It was the only time I spoke to him on the subject. In turn, I told my manager that this doesn't appeal to me."
That said, he had no problem with Phil Mickelson, a close friend, and countryman Sergio Garcia leaving for the rival tour, and he added that he often jokes with them about wearing shorts, the 54-hole format and playing out of golf carts. "Phil respects my decision and I respect his decision," Rahm said. "He has told me that I have no reason to go to LIV. And he has told me that several times."
On recommendations he has made to Luke Donald regarding captain's picks for the European Ryder Cup team that will compete next month in Rome: "I have Luke Donald that we have Pablo Larrazabal, who has won two times in the DP World Tour. And if you need to make a two-meter putt to win on the 18th hole, Pablo has the balls to make that. You have someone who knows how to win, when he is in that position."
On who he would choose for the European Team from LIV: "With all the respect for European players, the only one from LIV that I would choose would be Sergio Garcia, even if he was missing a leg."
On being paired with Tyrrell Hatton at Whistling Straits during the 2021 Ryder Cup and that the Englishman is one of three players whom he might be paired with in Rome: "I played in the last edition. And we did well. He had started well and then I think between the 12th and 13th I had to say, 'I'm going to call you Tyrrell, with the American accent—I know he doesn't like it at all—until you make a f-----g birdie. And he didn't talk to me anymore. Then, he almost birdied 17 and birdied 18. So it was well."
On whether or not U.S. Ryder Cup captain should select struggling Justin Thomas: "If I am Zach Johnson, I would choose Justin Thomas without a doubt. It is the same case as Sergio Garcia in 2018."