Rahm ready
British Open 2023: Jon Rahm doesn't feel he's owed for PGA Tour loyalty, says commissioner has done 'fantastic job'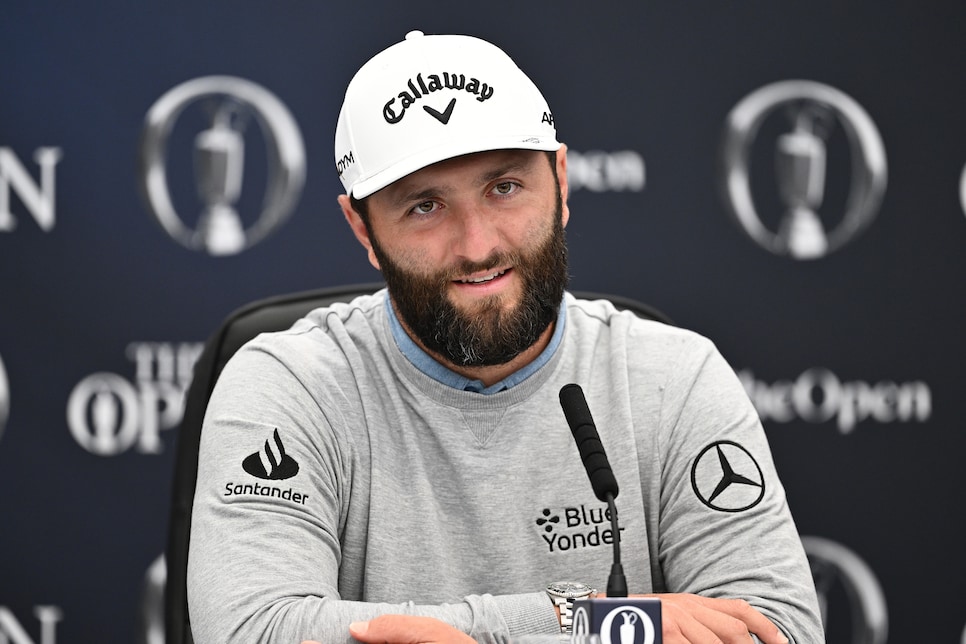 HOYLAKE, England — Here's the thing about Jon Rahm. Great player that he is, the burly Spaniard is perhaps just as impressive in a press conference setting. Unlike some who shall remain nameless, Rahm is a thoughtful individual who, quite simply, does his best to answer questions put to him. It was no coincidence that the interview room at Royal Liverpool was all but full when the Masters champion made his entrance. The word on Rahm—and his propensity to be both interesting and forthright—is clearly out.
So it was that the questions ranged across a variety of topics, from his own golf to the golf of others and, inevitably, the politics of the game. Still, after three weeks off—he was the eligible golfer in the World Top 10 to miss last week's Genesis Scottish Open—Rahm was clearly up for almost anything. Fresh and eager summed up his mood.
"When we did the schedule early in the year, we purposefully added this three-week break," he said. "We knew there was going to be a lot of golf going into this, then afterwards we have the playoffs, Wentworth, the Ryder Cup and the Spanish Open. We all need a little bit of time to rest. And because of the schedule we had this year, I haven't been able to have as much as I would have liked. It was nice to be at home and be dad for a change without having to think of golf for a few weeks."
That relaxed head space didn't last more than a few minutes into what turned into a half-hour session conducted in English and Spanish. What does Rahm think of the new par-3 17th hole, one former U.S. Open champion Matt Fitzpatrick described as "interesting," but not in a good way?
"I see what they tried to do," Rahm said. "The old 15th was the complete opposite of the hole. You had a short downhill hole most likely downwind with basically all the edges sloping towards the center of the green. I thought it was a good hole. You could make a birdie, and if you miss the green, a bogey was lurking. This time they made a really difficult turtle shell par 3. If you hit a good shot, put it on the green, you have a clear look at birdie. If you miss the green, you have a clear look at bogey. It's hard to say it is fair or unfair because it's so short. But I would say it is fair. Because it's unfair to everybody. It is golf and it is life. It can't be unfair if it's the same for all of us. Simple as that."
Then it was into the politics. Last week Jordan Spieth and Xander Schauffele discussed players' trust issues with PGA Tour Commissioner Jay Monahan. Rahm's feelings on the subject of the deal struck with the Saudi Public Investment Fund was always going to come up.
"There has obviously been big changes for all of us," Rahm said. "I did get a text from Jay, but I haven't been able to speak to him. He has behaved so professionally and so well with me and my family. In that sense, he's a really good man. As to what he's been doing for us and the PGA Tour, I think he's done a fantastic job. It was unexpected what happened, but I still think he's been doing a great job. Right now, I think it's fair to give them time to work things out. I still think they have the best interest of the players at heart. All we have right now is a framework agreement. It's an agreement to have an agreement. We really don't have anything right now that allows us to judge what they've done."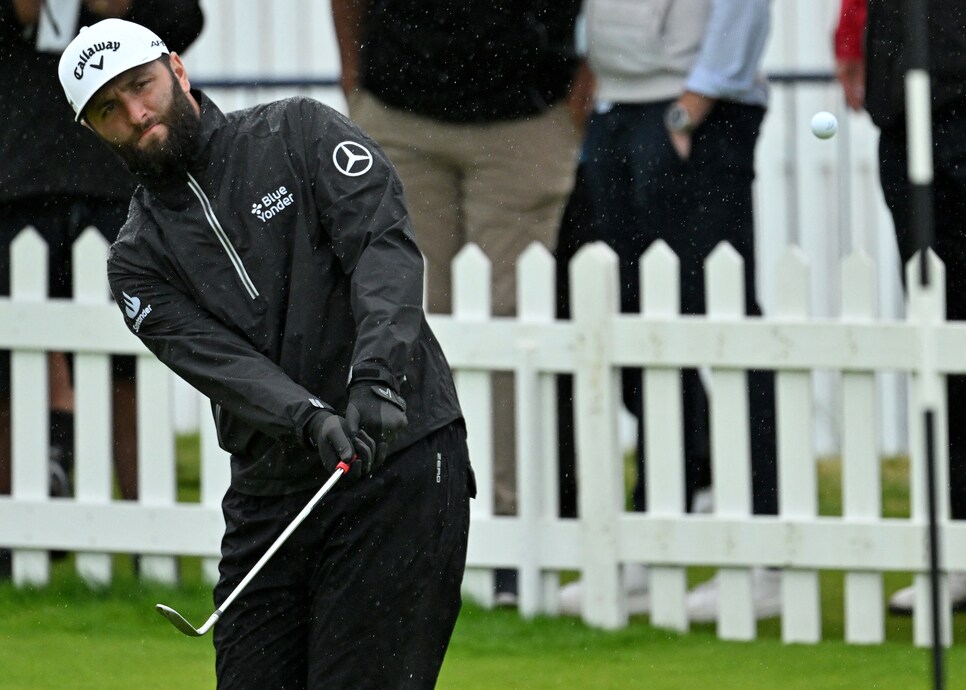 Perhaps thankfully, the back-and-forth then drifted back to the golf that will be played at Hoylake in the 151st Open Championship. Rahm is not without experience of links golf, he is a two-time winner of the Irish Open and has a decent record in the Open.
"My first round on a links was right before we played the British Boys at Royal St. George's," he said. "My dad and I played Royal Cinque Ports. I had driver in hand on every hole and he's like, 'yeah, you might want to hit a 3-iron.' The first hole was downwind. I hit 3-iron and saw the ball bounce once and twice and three times. It just kept on going. I was more used to seeing balls bounce backwards. So it was a really fun experience.
"I've done OK in links golf. I've played some good golf, and I enjoy it every time. It is, in my mind, golf in its purest state, no matter what the weather is. There's so many ways of getting it done. There's just so many possibilities that makes it even more fun."
It was a brief respite, however. Next up was the mildly controversial question of whether players, like Rahm, who opted to stay with the PGA Tour rather than jump to LIV should be compensated for their loyalty. Rahm was having none of that.
"I understand the tour wanting to do something for those players who helped and stayed," he said. "But at the same time I wasn't forced into anything. It was my choice to stay. So do I think there must be a compensation? No. I stayed because I think it's the best choice for myself and for the golf I want to play. Now, with that said, if they want to do it, I'm not going to say no."
On the other side of that coin, should those LIV players who want to re-enter the fold of the game's establishment be punished before being allowed to do so?
"That's one of the things that the agreement needs to sort out," Rahm said. "From what I hear, they don't really want to come back. So I don't know. It's tricky. I can understand people on the PGA Tour not wanting those players back. But I can also understand why some of them want to come back. I do believe that some punishment should be in order, but I don't know what. I'm not a politician. That's not my job. That's for the disciplinary board to do that."
Time for more golf. Much has been made of the amazing consistency shown by Scottie Scheffler over the last few months. The World No. 1 hasn't finished outside the top 12 in any event since last October. But is that an overrated aspect of the game at the highest level? Isn't it more about winning, something Scheffler has done twice this year? For once, Rahm steered a middle road in his response.
"If you're consistent, you're going to give yourself more chances to win," Rahm said. "Tiger didn't only have an incredible win percentage. His top-10 percentage and top-five percentage were even higher. I'm a fan of what Scottie has done. I've prided myself in the past on consistency, even though this year has been a little bit less. With that said, I'll take four wins and play a little bit bad for a couple months. I think if you ask him, he'd probably give a couple of those top-fives away for an extra win because that's what we're here for. Nevertheless, it's really impressive what he's done."
A Rahm victory this week would perhaps be even more impressive, given recent events. He arrives at Hoylake short of competitive golf and short of his best form. His last win was at Augusta National, and he has not been close to winning either of the two majors since, although a closing 65 at the U.S. Open did hint at a corner being turned. No matter, like all champions, Rahm clearly thinks he can get it done Sunday evening and he knows exactly the historical context a victory would fill. Not since Seve Ballesteros claimed his third Open title at Royal Lytham in 1988 has a Spanish name been etched on the claret jug.
"To be the first one to win an Open since Seve for Spain would be quite special," Rahm said. "It's amazing to me that some of the great golfers we've had haven't been able to do it. It would be a true honor to get to three majors and be the second on the Spanish list. No matter who wins, it's going to be a great championship. I'm excited to get it going, and it would be absolutely amazing to be sitting back here on Sunday."
Indeed. And we'll be listening intently to what he has to say.
Is it the British Open or the Open Championship? The name of the final men's major of the golf season is a subject of continued discussion. The event's official name, as explained in this op-ed by former R&A chairman Ian Pattinson, is the Open Championship. But since many United States golf fans continue to refer to it as the British Open, and search news around the event accordingly, Golf Digest continues to utilize both names in its coverage.