Equipment
Jon Rahm discusses playing with your boss, borrowing tees from a player mid-tournament and other interesting equipment stories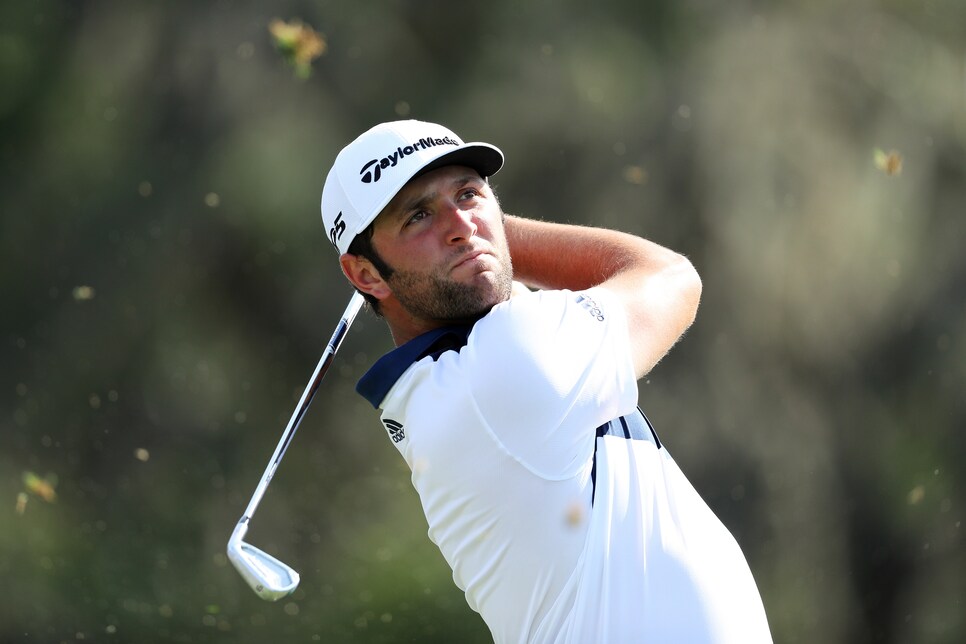 Jon Rahm is one of the best players in the world, having gotten as high as No. 2 on the World Golf Ranking earlier this season. Known for his fiery temperament and powerful play, both of which will be useful at this weekend's Ryder Cup, Rahm also has another side—one that is both playful and thoughtful. Golf Digest spent a day with Rahm last month at his home course of Whisper Rock Golf Club in Scottsdale to talk golf, his golf swing and his equipment. Here are five of the questions he answered from equipment editor E. Michael Johnson.
OK, what's the deal with you always running out of tees?
Answer: "We run out of tees so often. I don't know what it is, but we have to make sure we have tees before we go off on Thursday. I remember once in China we didn't have any tees in the bag and the pro shop, incredibly, didn't have any tees, either. We had to borrow some from another player."
Playing with the boss is always a bit of an art. Give me a good story from the times you've played with TaylorMade CEO David Abeles in the AT&T Pebble Beach Pro-Am.
"It's great. He is one of the most laid back, relaxed guys I deal with. He's very calm and been involved in the game of golf for so long that he has so many stories we spend the whole day talking. I remember the first time we played. We played Spyglass first them went to Pebble Beach. I had never played Pebble before and we're on the first hole and we're playing with Andrew Loupe and your boss, Jerry Tarde. I just pulled out driver. And I see that David is like, "What is he doing?" and he's looking away and I see people in the crowd wondering what I'm doing and I hit it perfect—dead center of the fairway and 50 yards from the green. I didn't kow at the time that's not exactly the play. I think David talked about that shot for the next three days."
What's the story behind your poker chip ball marker?
"I don't get rid of things and I don't like to change things all that much. I had this one ball marker forever, for about 13 years and I lost it. That was sad. I had it so long it had become rounded and had lost its edges and was faded. Then Kelly ([Rahm's fiancee] got me an Arizona State poker chip and the inside it has a smaller mark for marking closer to the hole. She gave me that and the first time I played with it was in Salt Lake City at the Pac-12 championship and I ended up winning by four shots. So I've kept it in the bag. On the part you can't remove the Arizona State pitchfork is completely gone. I've been using it for three years. I have others in the bag but don't use them. It's not superstition as much as it is part of the routine."
You made a change to your fairway wood because you were hitting it too far?
"That's right. It has a little more loft on it. It's 17 degrees so it's basically a 4-wood. I changed it at the Masters this year. My previous one was 14.5 to 15 degrees. But with the lower spinning heads and ball, I was having trouble getting some air under it. During the playoff against Andrew Landry at the CareerBuilder I was hitting 3-wood with 170 miles per hour ball speed. You don't need that. I don't need a 3-wood to carry 280 yards. So we changed it to where I can get about a 270 carry out of it when I need to, but it's a high launch and it stops, which is what I need."
How does a guy from Spain come to love American rap and rock music?
"It's a love of music in general. But the only genres of music I'll play before teeing off are rap, hip-hop and rock. It just gets me in the mindset to play. I tried Spanish music but for whatever reason I wouldn't play good after listening to that. So it's a lot of 70s and 80s rock, to be honest. A lot of Queen, Aerosmith, Metallica, Guns 'N Roses, Scorpions. At Torrey Pines, before every single round, I listed to rock songs. You go with what works."