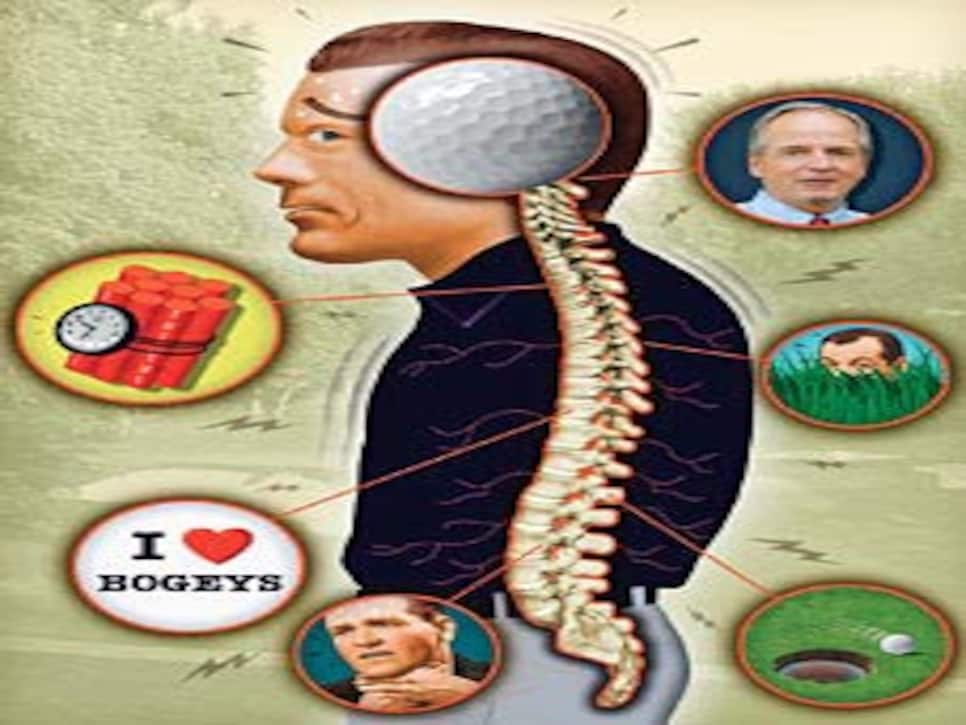 As ideas go, this one's about as cool as it gets. In June, four amateur golfers, one of them your basic average Joe, will get to play the same USGA-prepared Torrey Pines South Course that Tiger Woods will face in the U.S. Open only a few days later. I'm talking the same 7,607-yard layout, with the same NBC cameras recording every shot and more pressure than any of these amateurs will have ever faced on a golf course.
I can hardly believe that more than 56,000 people wrote essays to Golf Digest begging for this opportunity. Don't you people have any idea what you're getting yourselves into?
The length alone will be unlike anything average golfers have ever experienced. Combine that with 28-yard-wide sunburned fairways and graduated rough that ranges from difficult to impossible, and you have a challenge for even the best of players.
Greens will be so firm that even routine 9-iron shots won't hold unless struck purely. In terms of speed, the greens will Stimp out at about 12 or 13. When players miss the green with approach shots, there will be little "chipping" as they know it. From the dense greenside rough, they'll have their first real experience with the mind-blowing game of "gouge and hope." The coastal air is always heavy in June, so a 10-mile-per-hour wind will require two extra clubs instead of one. Did I mention the course is 7,600 yards?
It'll all be a huge shock to their systems, made worse by the pressure of having to hole out every putt in the presence of a USGA rules official and a national-television audience. They'll also have to overcome their egos and sense of pride.
With all of that, it might seem our amateur and the three celebrity players who will complete the foursome would have no chance of breaking 100. But seeing as how Torrey Pines under these conditions would have a Course Rating of about 82 (my guess), it's physically possible for the amateurs -- provided they overcome a set of six distinct challenges. Each is as daunting as bringing back the broomstick of the Wicked Witch of the West, but if our participants fail, it's no biggie -- they'll have an entertaining story to tell the folks back home.
Can they fend off Stage Three choking?__
If Tiger Woods feels keyed up and nervous before every competitive round he plays, how do you suppose the average golfer will feel? The answer ranges from extremely nervous to paralyzed. He'll likely choke, but to what extent will determine how high his 18-hole score climbs.
There are three stages of choking. In the first stage, the amateur will, for example, see trouble on the left and tell himself to avoid it. The problem is, he'll avoid it to an extreme, missing it a mile to the right. He can survive Stage One choking.
Then there's Stage Two choking, where the player sees trouble on the left, resolves to avoid it, and hits it left anyway. It's tough to survive Stage Two choking, but at least he's advancing the ball.
Then there's Stage Three choking. In this instance, the gravity of the setting, the realization of what he has signed on for, overwhelms him. The mind leaves the body. He'll start doing things he never does at home, like whiffing, shanking, yipping putts or having trouble teeing his ball. He can't survive Stage Three choking.
Can he diffuse the bomb?__
Serious choking -- extreme stage fright -- doesn't necessarily set in on the first tee. Often the player, although nervous, finds a way to get the ball around for the first hole or two. Then, out of nowhere, he hits a horrible shot -- skulls a pitch 40 yards over the green, shanks one into the gallery or muffs a series of chips from the greenside rough. It's like a bomb going off. Deeply embarrassed, he collapses completely and a long series of disasters ensues. The amateur can diffuse the bomb by using smart course management and not trying to play shots he has no business playing. If he can play within himself and find some kind of rhythm, he can prevent his nervous system from detonating.
Adopt the Peter Principle__
Golf might be the chosen amateur's passion, but it's not his area of expertise. With millions of people watching and no place to hide, it's almost asking too much. But there is a certain personality type that relishes the opportunity and plays well beyond his ability.
A classic example is Peter Ueberroth, the former commissioner of Major League Baseball. Ueberroth was my partner in the AT&T Pebble Beach Pro-Am one year, and with our team in contention, he creased it down the middle on every hole. On the greens he was nerveless, and I don't think he missed a putt inside six feet all week. There was no fear of embarrassment or trace of self-consciousness in Ueberroth. None.
Of the celebrities I've played with, Bob Hope also had the ability to play his normal game regardless of whom he played with, or where. If the amateur can adopt the same sort of detached demeanor Ueberroth had, he'll do just fine.
The amateur heading for San Diego has no idea how penal U.S. Open rough can be. Mike Davis, the USGA's senior director of rules and competitions, insists that because of the length and firmness of the course the rough at Torrey Pines won't be as penal as we've come to expect, but it'll certainly be more difficult than most average amateurs are accustomed to.
When the amateur strays into the primary rough, he might reflexively reach for anything from a 5-iron to a hybrid and try to reach the green. In that case, he will either fail to escape the rough or will hit the ball into even worse trouble, resulting in a big number. He needs to resolve from the outset to take an iron with plenty of loft (nothing more than an 8-iron) and try to get the ball back onto short grass.
Brush up on "rattle bottom" __
On greens as fast as they'll be at Torrey Pines, there's no such thing as a gimme. After the 10-handicapper sends a breaking 2½-footer six feet past the hole, he might become so terrified of the next ones that he'll become tentative as opposed to simply careful.
If I were the amateur preparing for the contest, I'd get used to holing every putt in every round. And I'd spend time practicing even the tap-ins.
To break 100 on Torrey Pines' U.S. Open setup, a par 71, all the guy needs to do is make eight bogeys and 10 double bogeys. There isn't a lot of nasty trouble at Torrey Pines -- very little out-of-bounds, water and forced carries. So all he needs to do is avoid trying to do something heroic.
He needs to realize that, unlike at his home course, bogeys are a good thing, and double bogeys are not only fairly inevitable, but acceptable. For the most part, the only thing that introduces the possibility of "others" -- triple-bogeys, quads and the like -- is greed.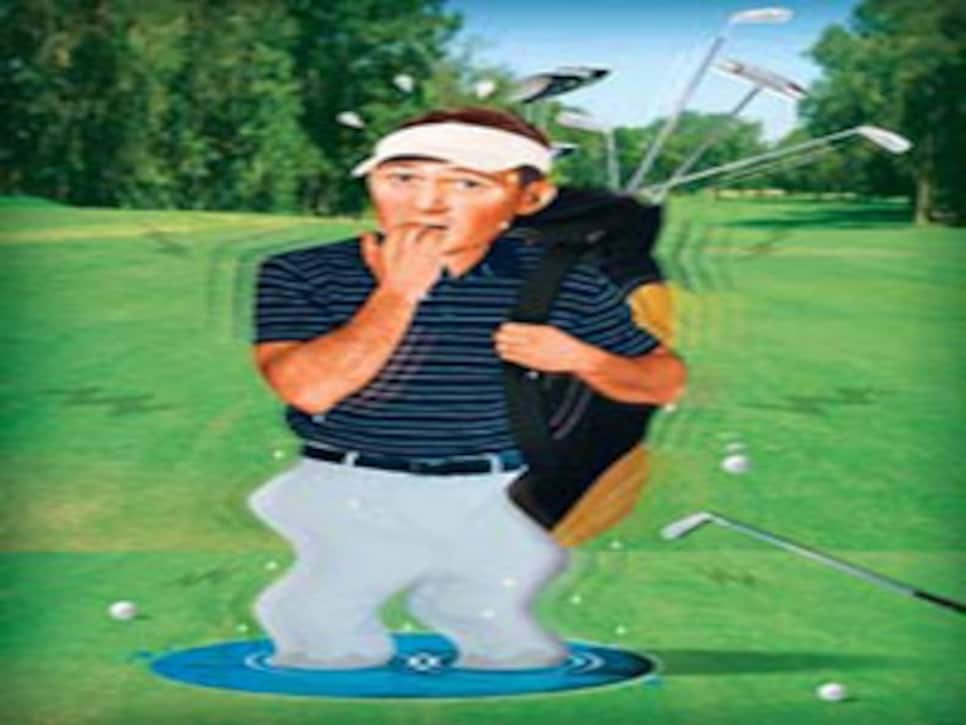 Johnny ranks, in order of difficulty, the nerve-racking moments our contest winner will face:
1. NBC cameras in your face on every shot. Even pros freeze when confronted with this for the first time. An average amateur? Gulp.
2. Knowing that your score will be seen by everyone after "count-every-shot" stroke play. For better or worse, the player's entire worth as a golfer will be judged by this single round. That's pressure, folks.
3. Playing in front of a gallery. It's hard for amateurs to play to their full potential when their swing thought for the day is, Whatever you do, don't whiff it.
4. Playing with famous people. Amateurs tend to stay out of the way and let the celebrities have the attention. No such luck here.