The Loop
Johnny Miller on slow play: "I should be Commissioner, that would help"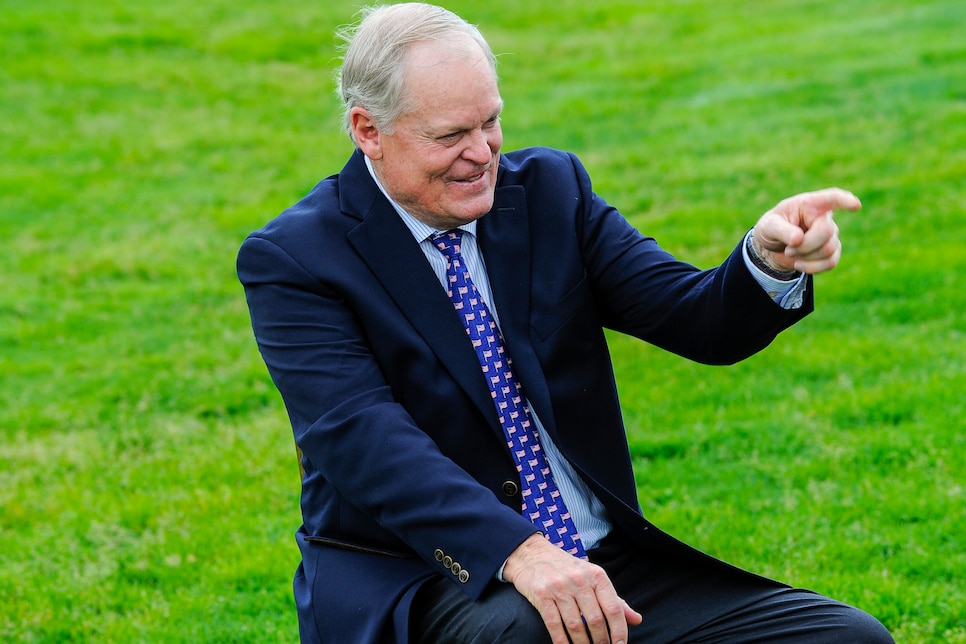 "Not everybody loves the truth," Johnny Miller told a happy Chicago crowd Friday night. But he pretty much dished it out anyway. Miller was speaking to a Western Golf Association fundraiser for the Evans Scholars foundation, which awards 250 full-ride scholarships to caddies every year.
"What can we do about slow play on the tour?" host Mark Rolfing asked the honored guest.
"To start with I think I should be Commissioner. That would help," said Miller with slight twinkle in his eye. "Guys would be given penalty shots after one warning, I'll tell you that. Right now the tour officials want to be best buddies with the players—that's more important than enforcing the [pace of play] rules. I'd like to see these guys play quicker."
And what about the distance the ball goes, continued Rolfing, and the resulting requirement of longer and longer courses.
"Well, when it comes to that spring effect in clubs, you amateurs ought to get the spring effect, not the pros," said Miller, who contends that clubs today are designed for maximum swing speeds, not weekenders' games. When the average player buys one of those clubs he can't take advantage of the technology, Miller believes. "Why can't you have spring effect for 90 mile an hour club head speeds and nothing for the pros? That's how it ought to work."
Miller was inducted to the Caddie Hall of Fame, as a kid who began caddying at 12 at San Francisco Golf Club and, he has contended, never lost a ball and never caddied for anyone he couldn't beat. He offered a few lessons to the crowd based on his long-time relationship with caddie Andy Martinez.
"Andy and I had a different technique that I don't think anyone else did. Instead of him just telling me the yardage, he'd make me guess. He made me give him the yardage. And I'd look over the situation and maybe say '170,' and he'd say, 'No. it's 172.' It got me involved in the shot. Instead of just sitting there listening to caddie rattle it off."
Miller said talking your way through a shot like that aloud…I'm going to hit a six iron about 170 with a little draw and make it stop…. intensifies a golfer's focus on and commitment to the shot. "It will be a stronger shot if you talk out the shot, not just listen to the caddie," said Miller. "That was another thing that I did that other players didn't."
Given that the Cubs had wrapped up the Series Wednesday and that they and about four million of their fans had celebrated blocks way hours before, Miller said he was confident that the evening would go well.
"I told my wife there's no way I can't succeed tonight. Everybody in the room is going to be so happy."