The Loop
Johnny Miller is the most righteous old-timer of the week
They say sports is a young man's game, but to kick off this week's superlatives, I want to pay homage to one of our elders. Here stands a man that is every bit as badass, and twice as righteous, as a dude half his age. On Father's Day, nobody is more deserving of recognition.
The Most Righteous Old-Timer of the Week: Johnny Miller
Let's make one thing perfectly clear: it is the role of old-timers in our world to insist that things were better in the past. Anyone over the age of 60 who abdicates this responsibility is a traitor to his generation, and might be a young person in disguise. It doesn't matter if they're right or wrong, either—Aaron Judge could hit 90 home runs this year to set the Yankee record, but I would fully expect every octogenarian in the Bronx to stop people in the street and explain why Roger Maris' 61 was better. That's the name of the old man game—shit was better in the day.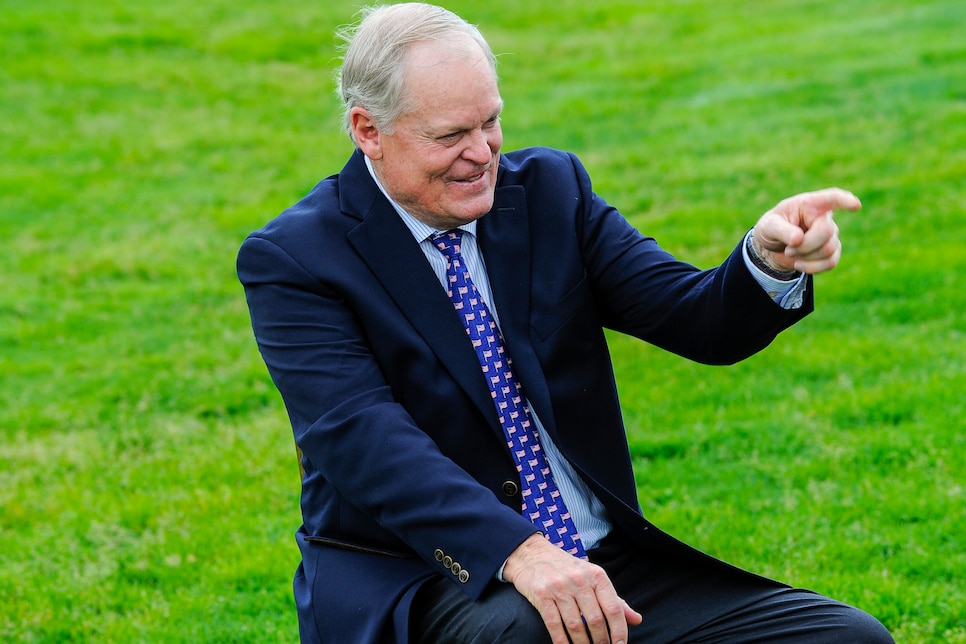 The reason I bring this up is that Justin Thomas shot a nine-under 63 in the third round of the U.S. Open, which broke Johnny Miller's relative-to-par record of eight under, which he set in the final round of the '73 U.S. Open at Oakmont. Every golf fan knows Miller as an announcer, and every golf fan has a strong opinion about him. Mine is that he's hilarious—a curmudgeonly old crank who ruffles feathers because he's one of the few TV personalities that refuses to treat professional golfers like living embodiments of God's celestial poetry. He'll even use the word "choke," which infuriates golfers, even though it happens all the time. (In fact, Miller brought out the c-bomb in the first tournament he ever announced, because he's the man.)
But let's put Miller's personality aside for a moment and talk about the two 63s. Thomas' round was amazing, but sports is about comparison, and what he did really doesn't stack up with the famous round at Oakmont. Here's why:
—Miller's 63 came in the final round of the U.S. Open, and propelled him to a one-shot win. You could make a convincing argument that it's the greatest pressure round in the history of professional golf, which nobody will say about Thomas' Saturday 63, especially since he didn't win.
—Miller's round came on a classically tough U.S. Open course where only nine players finished under par, and the winning score was -5. Only two other players even came close to 63 that weekend—Gene Borek and Lanny Wadkins each shot 65. By contrast, 31 players finished the week under par at Erin Hills, and Brooks Kopek's winning score of 16 under equaled the U.S. Open scoring record. Comparatively, this course was easy as hell.
—Also, "relative-to-par" scores can be deceiving, because often it comes down to whether the course designers make the longest holes easy par 5s or extremely difficult par 4s. It's actually pretty rare for a U.S. Open course to play as a par 72, as Erin Hills does. The par 5s this weekend aren't a cinch, by any means, but to compare across eras, it's always better to use absolute numbers.
In the wake of Thomas' round, it was incumbent upon Johnny Miller to defend his honor. Not only was it his duty as an old-timer, but he also happened to be right. He had justice on his side, and man, did he step up to the plate. Check out these quotes, all made in the aftermath of Thomas' round:
"It looks like a PGA Tour event course setup. I'm not sure where the days of the 24- to 29-yard-wide fairways that we played every time went."
"The greatness of my round is the 63 in the last round of the U.S. Open to win by one...everything else is way secondary."
"Erin Hills isn't exactly Oakmont."
"This went totally against the tradition of the U.S. Open."
"A 63 for a par 72 is a heck of a score...even if it was the Milwaukee Open."
Yes! That's some mighty fine legacy-defending, Mr. Miller, with some shade thrown in for good measure. You have earned your old-timer stripes, and I imagine it will be a long while before another whippersnapper tries to crowd your legacy.
The Deadest Man in Las Vegas: Conor McGregor
Conor McGregor is a fun, charismatic, talented MMA fighter. I have every confidence that if he were to fight Floyd Mayweather in the octagon, he would take the pretty boy to the woodshed. But with the announcement that the two have set a date for an actual BOXING MATCH, slated for late August, I have to question what the hell he's thinking.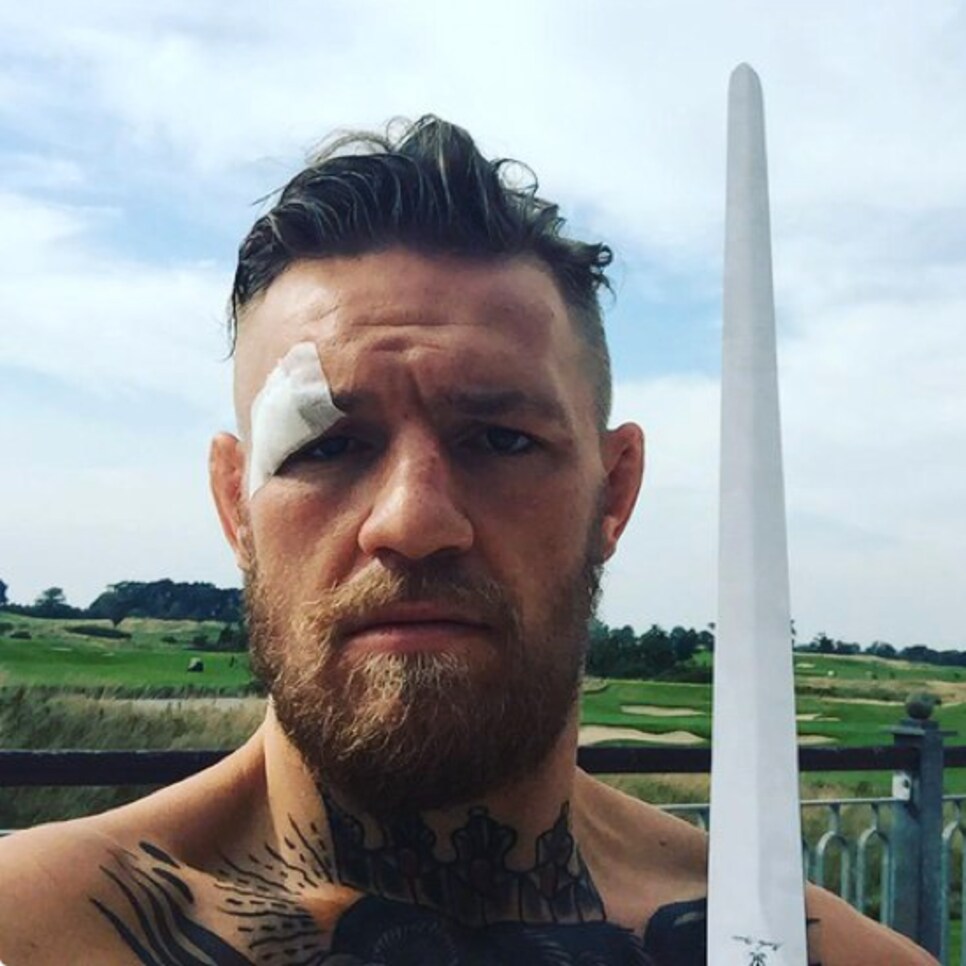 Pardon me while I spoil the outcome for you—Mayweather is going to crush him, easily. I've been watching Mayweather for years, and he's an infuriating, flawless, and almost scientific boxer. The best in the world have tried to break him down, and it's never happened—he has a perfect record. If he wasn't such a rotten human being, there would be way more talk about how he's the greatest pure boxer to ever live.
McGregor? Not a boxer. Sure, he has boxing skills, but that's like saying a decathlete in the Olympics is pretty good at throwing a shot put. It's true, but it doesn't mean for a second he has a prayer of beating the strongest dudes in the world who have spent their entire lives honing that particular skill. It doesn't matter that Mayweather is 40—he is going to murder McGregor, but it will be a slow, methodical murder, which means the entire spectacle will be simultaneously ugly and boring. Hard pass.
The Dumbest Man in Las Vegas: Everyone
The Best Ballpark Marriage Proposal: THIS GUY
When I say best, I mean "best for me to watch, because I'm a horrible person." Check it out—the fact that it goes down at a near-empty minor league baseball stadium just adds to the general sadness:
The Least Terrible Congressional Proposal in Decades: Ending the Public Funding of New Stadiums
It is absolutely stupid, in this day and age, that taxpayers have spent $3.7 billion to fund new professional sports stadiums via municipal bonds since 2000 alone. This should be a nonpartisan issue—pro sports teams don't need bailouts, especially in this economy, and especially when there's scant evidence that new stadiums provide any kind of economic boost. Kill stadium welfare, and kill it now.
Robbery of the Week: Aaron Hicks
This is better than a home run any day of the week:
Sports Dad of the Week: Glove Man
Happy Father's Day to this Blue Jays fan, who may have saved his kid from falling down a series of steps by gloving his entire head. This is why you should never make fun of an adult who brings a baseball glove to a game—it could save lives.