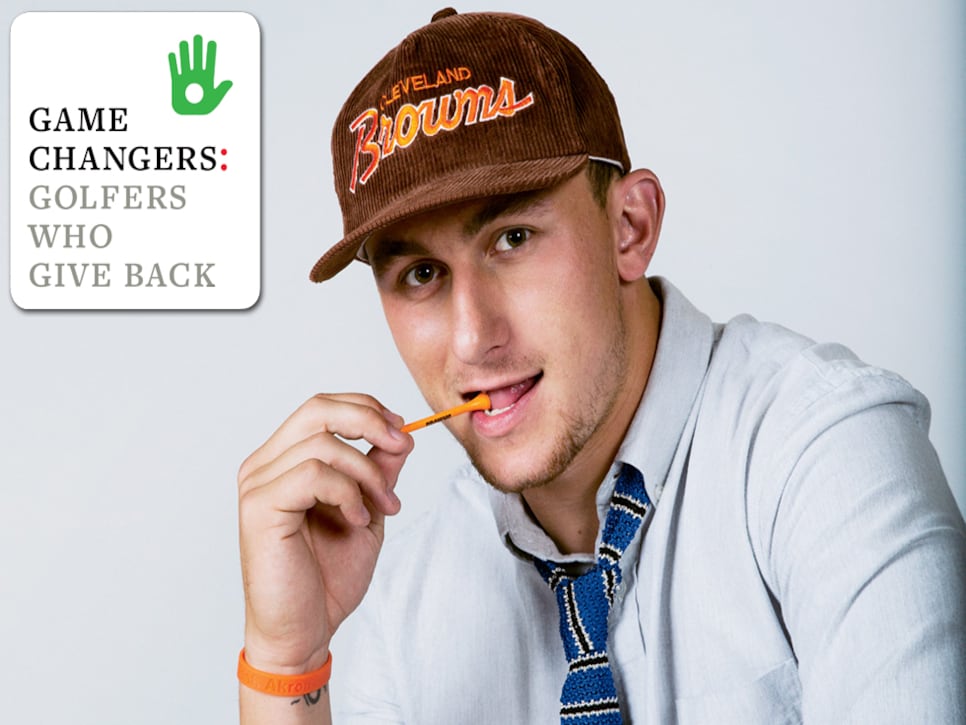 Before the swagger and the entourage, the nickname Johnny Football and the Heisman Trophy, the only sport Johnny Manziel knew was golf. Eventually he'd excel at baseball and basketball, and by middle school, football. But to hear him tell it, Johnny's win-at-all-costs competitiveness is rooted in childhood summers at Hollytree Country Club in Tyler, Texas. Back then, it was all about golf.
What's your first memory of golf?
I was only 4 or 5 years old, maybe younger than that, and I remember hitting plastic golf balls over the fence with these little starter clubs. I had one of those things where the plastic ball was attached to a rope, and I could hit it 10 or 15 yards and go get it. I'd hit it off concrete and back to the grass.
I hit that thing everywhere I could—from the flowers, the bushes, even out of the pool. The more I think about it, doing that taught me how to hit shots off all kinds of surfaces and lies.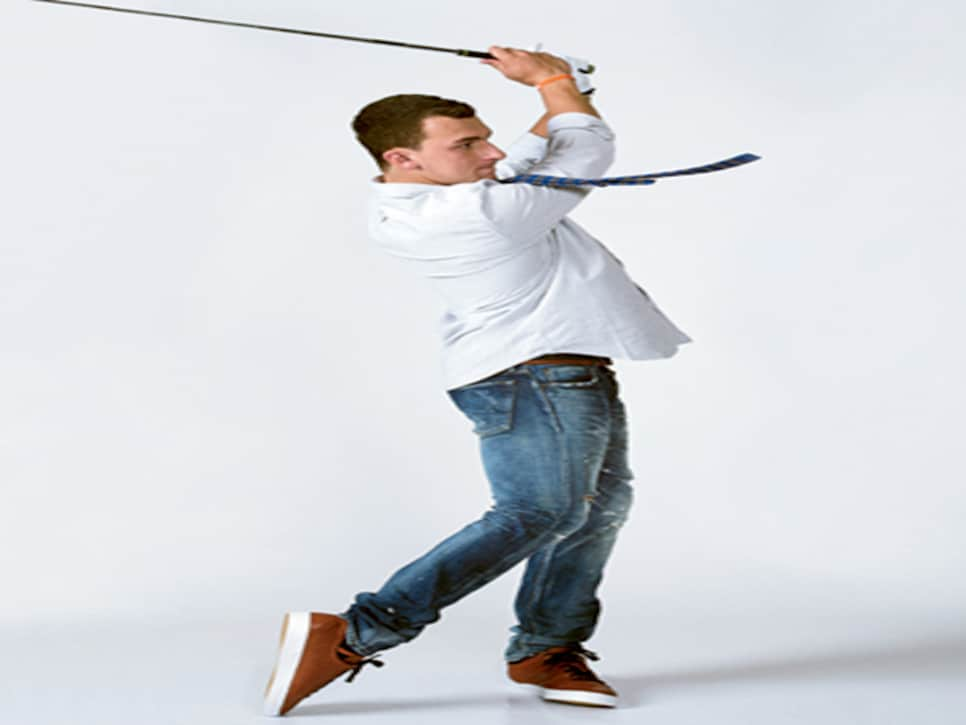 Then you moved into a house on a golf course.
We lived right off the 16th tee at Hollytree Country Club. I was in sixth or seventh grade, and that's when I started playing golf the most. My mom and dad were always working, and during the summer my sister, Meri, and I would be at the house all day. The only thing we could really do was go out in our golf cart. I'd take Meri to the pool, and I'd head to the driving range and maybe play as many holes as I could by myself. Then my dad got to the point in his job when he could come home a little earlier, maybe at 5, and we'd go out and play a few holes together.
Your dad, Paul, taught you how to play?
My dad's a really good golfer, and he'd always tell me: "If you can't hit the green from 100 yards, you suck. You don't need to play anymore." I remember going out there with the biggest bag of balls I could find in the garage. There were 300 to 400 balls in there that we had picked up. I went out to this hole and dropped about 150 of them at exactly 100 yards and starting hitting them at the green. This time I probably hit the green only 40 times out of 150. I was all by myself, and I kept thinking every time I missed the green, Man, you really suck.
Would you tell your dad about it?
I would, and the more and more he'd push me to play, the more I'd go out and practice on my own. Golf was a bond my dad and I developed and, really, that our whole family developed.
Your mom, Michelle, and your sister play golf?
As my sister got older, we wanted to teach her how to play. So we came up with this family scramble. My dad was the best golfer in the family, then me, then my mom and my sister, who's three years younger than me. It'd always be me and my mom versus my dad and my sister. Of the 40 or 50 times we played through the years, my mom and I never beat them. Not once!
You've also never beaten your dad in an 18-hole round, have you?
Never. And we've been playing together since I was 6. I came pretty close at Monterey Peninsula a couple of years ago, but I bogeyed the last hole to shoot 76, and he beat me by a shot. We were tied going to 18, and I was scared. I didn't want to beat him. I remember thinking, Oh, man, this might really happen, and he's going to be bitter for the entire plane ride.
Absolutely. I think it would crush him. He's more prideful about competition than maybe I am. I think this is probably where I get a lot of my stuff from. My dad will tell you he's beaten me 10 out of the last 15 times we've played H-O-R-S-E. Or that I've never beaten him at Ping-Pong.
Did you take lessons from someone else?
My dad taught me, but really it was one of those things where I was able to learn on my own. Until I turned 14 or 15, I gripped it like a baseball bat. My dad always tried to get me to use the normal overlap or interlock grip, but I just never liked them. I had TaylorMade oversize irons with graphite shafts that were extremely flexible. When it got to where I was hitting my 7-iron 10 to 15 yards farther than my dad, he decided it was time for me to get steel shafts. That's when I began to learn how to draw the ball, how to hit a fade, learned how to play golf.
Did you compete in tournaments as a kid?
Oh, yeah. I remember him taking me to my first tournament, a 7-and-under event at Pine Springs Golf Course in Tyler. This was before we could even tee up from the red tee box; we teed off from the middle of the fairway. I shot like 48 or 49. It was a nine-hole tournament, and from that day I was hooked.
Eventually other sports took over.
As I got a little older, 13 or 14, there were more and more tournaments throughout the state that I was able to play. Better players. Better courses. And I had no time to practice. Now I'm going to a baseball tournament that's Thursday-Friday-Saturday. And Sunday, we're driving to Waco for a golf tournament on Monday-Tuesday. I haven't been practicing, and I'm wondering why I'm shooting 94.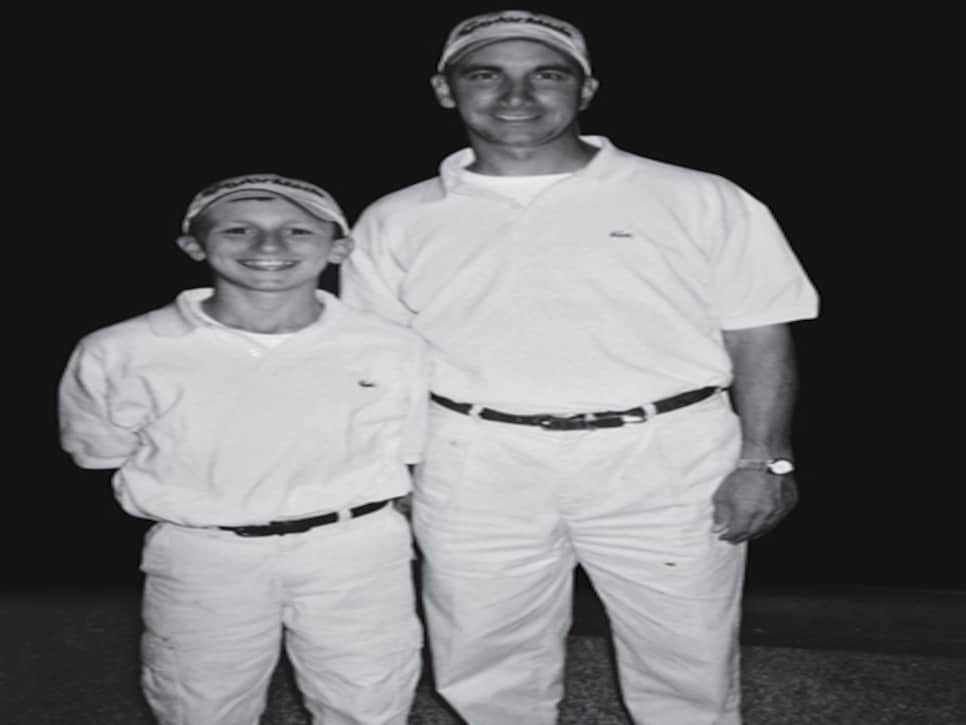 But golf was still important to you?
It still is. Golf was a big part of our family. Golf Channel was on the TV a lot, we watched the tournaments on TV during the weekend, and more than anything, these were the Tiger years.
Were you a big Tiger fan?
Huge! I had everything Tiger. I wanted to be just like him. I got my dad to get me that Scotty Cameron putter that Tiger used for all of those years. I wanted one exactly like it.
Is the story true about Tiger disappointing you by refusing an autograph request?
[Laughs.] Yeah, that happened. My dad played in a member-guest at Isleworth every year with a friend, and we'd take our family vacation to Orlando. One day I ended up playing with a bunch of kids at the house of Thurman Thomas [Pro Football Hall of Famer], of all people. I think he was friends with some of our family friends. Somehow we heard that Tiger was out playing on a nearby course [The Golden Bear Club at Keene's Pointe], so another guy and I ran out there looking for him.
Were there other people out there watching him?
No, it was a really quiet day. Tiger was playing a practice round all by himself.
About 9 or 10. At that time, Derek Jeter and Tiger Woods were the biggest people in the sports world—in my sports world, anyway. We saw Tiger on the 16th hole and asked for his autograph, and he said to catch him right after the round. I was sitting about 100 yards from the 18th green, and he drove by in a cart and was pulling his hat really, really low. I remember him saying, "No autographs today."
I was really bitter about it for a day, but today I don't really think much of it. I'm sure there are stories about me, maybe not in the same fashion, but maybe someone has asked, "Hey, can I take a picture with you?" And I say, "Sure, I'm gonna use the restroom, and I'll be right back." Then, something comes up. If I ever run into Tiger at Nike or somewhere, it'll be a funny story.
That memory has stuck with you.
It was a very cool lesson. When a little bit of popularity and fame first started for me, I remember thinking of that story. That kid can always be out there, and I don't want to be the guy who disappoints him, even though sometimes it might be out of my control.
I've read that you were shooting par at age 11. What's your career-low round?
I played a lot of golf with my grandpa and his buddies when I was about 13. That's probably the best golf I ever played. We'd play Wolf and all kinds of money games. I had about $10 in my golf bag at the start of that year. By the end of the year, I had about $350 or $400 in quarters and dollars. All kinds of golf winnings. I shot 73 at Oak Hurst, playing with my grandpa that year. That's my lowest round of all time. I couldn't wait to get to the car to tell my dad what I shot. I was playing the ball down, holing out on every hole. I was consistently shooting in the 70s with my grandpa that year.
Then you'd go out with your dad, and ...
And I'd shoot 85, and he'd look at me like I was crazy. It was him! It's him getting in my head. He knows exactly what to do to throw me off my game. I can't play with him.
Your dad said you guys had a memorable time when you took him to the Masters this year.
That place is breathtaking. My dad knew a VIP at Augusta National, so through him we got a full tour of the place: Butler Cabin, the clubhouse, even the Par-3 Course when it was closed. It was really a one-of-a-kind experience. The next goal is for Dad and me to somehow get to play Augusta National. I'm pretty sure that playing Augusta and walking my sister down the aisle are the only two things left on my dad's bucket list.
What's your handicap today?
If I'm playing in a tournament, I'm probably going to shoot somewhere between 79 and 84. My goal every time is to break 80. I'm about a 7- or 8-handicap right now.
Do you belong to a golf club anywhere?
I don't. I got to play The Bridges near San Diego this year, and it's an awesome course. I'd love to be a member there. I love Hollytree and Cascades in Tyler. I love all of the courses in the Tyler and East Texas area. That's where I grew up playing, so they're home to me.
How good do you want to be as a golfer?
I want it to be a game I can play forever. That was the one selling point that was always huge. When I was 12 years old, and I'd hear people say golf was a game you could play forever, I didn't really think much of it. Now I'm really glad I learned how to play when I was a kid.
We're celebrating golfers who give back, and there's a little guy you've taken under your wing in recent years. Tell us about 6-year-old Charlie Dina.
I first heard about Charlie through one of my dad's cousins, and before I knew much about his story I started wearing this Charlie's Angels bracelet. Then I got to know his family a little bit and learned that he had been diagnosed with a rare cancer as a very little kid. Something about it felt very special to me, and I wore that bracelet for my entire freshman season at A&M.
You talked about Charlie during the Heisman-Trophy ceremony.
The day of the ceremony, Charlie was so sick he could barely open his eyes. The next day his family told me he could barely give a thumbs up and open his eyes and say my name. Finally, sometime in January, after I won the Heisman, my mom, dad and sister and I drove down to his house in Houston and brought the trophy with us and hung out with Charlie for the entire day.
That was the first time you'd met him?
The first time. Without hesitation, he ran up to me like he had known me for 15 years. I put the trophy down, and he went and got a T-ball trophy and stuck his trophy on top of my Heisman, and he was saying he's got two trophies now, that we were going to share the Heisman. I told him that was absolutely fine.
Amazingly, Charlie's cancer-free and back in school. For me, this has been an opportunity to be in the life of this guy who's overcome way more than I've ever had to, and in way less time. He's been a bigger part of my life than his family even knows. I know they'll say that I've had a huge impact on him, but when he gave me a hug when I walked off the stage after the [NFL] draft, it was really special. It's actually added a whole chapter to my life that's been a huge blessing.