The Loop
Johnny Football throws more than the pigskin. He throws a lot of golf clubs
In case you missed it, Wright Thompson penned a phenomenal piece about Texas A&M's Heisman-winning quarterback Johnny Manziel, better known as Johnny Football, which we highly recommend reading. The piece was published on ESPN.com on Tuesday, and will be featured in the issue of ESPN The Magazine that hits newsstands next week. It's fair to say that Thompson puts Manziel's life under a microscope in the piece; his most glaring flaws and his greatest gifts are examined, as well as the toll fame and expectations take on a 20-year-old kid.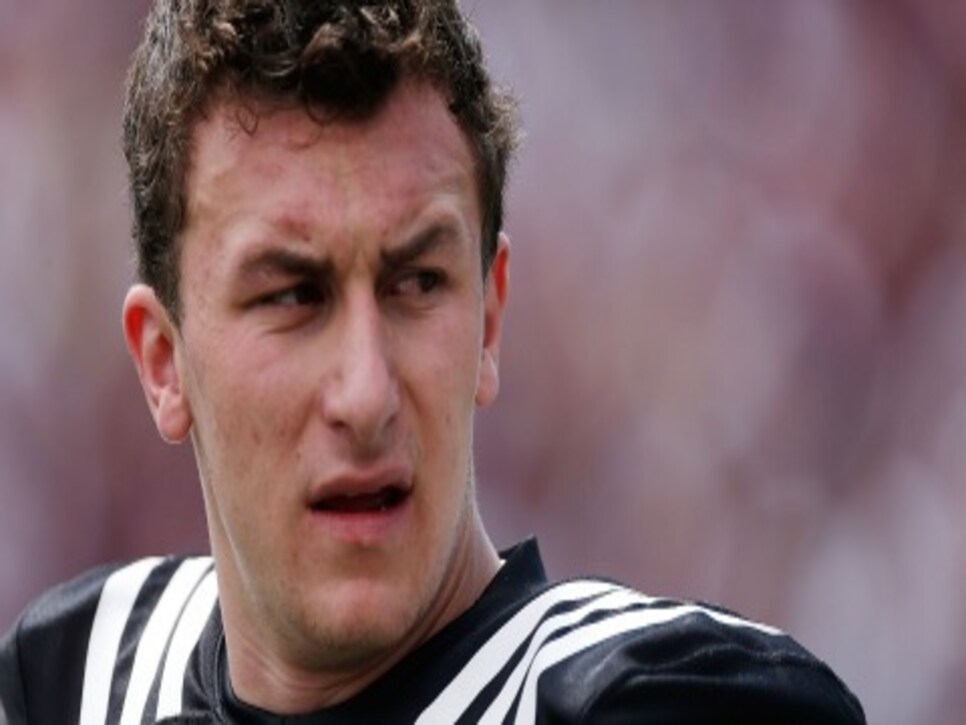 Interestingly, golf plays a prominent role throughout Thompson's article. Maziel's father, Paul, is a failed mini-tour professional who now uses Hollytree Country Club, the golf course where he and Johnny play, as a site to teach his son life lessons. For Johnny Football, the golf course is a place that's fun in theory, but once the game starts, transforms into a constant source of frustration. He throws clubs and shouts angrily when he hits a bad shots, and can never muster the one thing he want's to do the most: Beat his father.
Related: Golf Saved My Life: I was adopted by golfers Thompson describes one such round that he witnessed: Nothing is going right. Putts come up a turn short, or lip out. His distance control is off...On the fifth hole, he snaps. He flings a wedge through the air. The club helicopters, spinning so fast it hums, bouncing off the nearby cart path. 'F---,' he says under his breath." As Paul Manziel describes, golf with his son is more an ordeal than a refuge. "I don't enjoy playing golf with him because I don't want to see that temper," he tells Thompson. "I honestly do not. I cringe when he wants to play golf. I don't want to do it, but I know I have to do it. Because he still needs love. He still needs guidance. He still needs to see he's wrong -- and how to control his temper. And if I give up on him, who's gonna take over? The school sure the hell isn't gonna do it."