News
Caddie John Wood takes the 'Bones' route in moving from the bag to microphone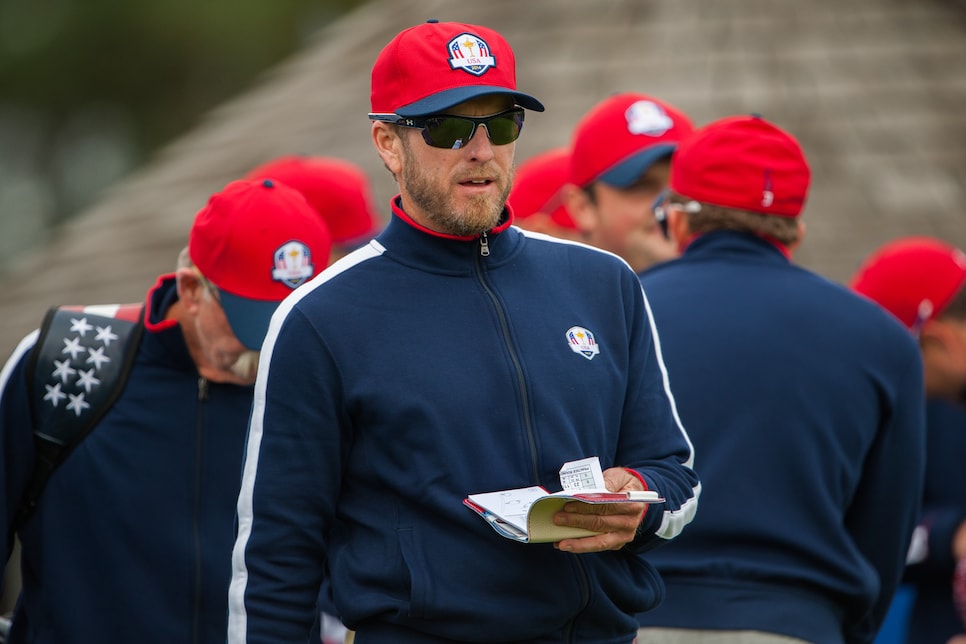 Among John Wood's accomplishments are caddieing on two winning U.S. Ryder Cup teams.
Montana Pritchard/PGA of America
KAPALUA, Hawaii — As a caddie with two decades of experience for some of the game's top players on the PGA Tour, John Wood is in a familar spot to begin the year at this week's Sentry Tournament of Champions in Maui. Instead of toting a golf bag, however, he'll be carrying a microphone.
In August, Wood split with Matt Kuchar following a missed cut at the PGA Championship at TPC Harding Park. A few months later, it was announced that Wood would join NBC and Golf Channel as an on-course reporter for the networks.
Truly, the groundwork for the career change was laid five years earlier.
"Going back to 2015, I enjoyed the experience a lot more than I was anticipating," Wood said of that year's RSM Classic, where he joined Jim "Bones" Mackay as an on-course reporter for Golf Channel in its broadcast of the Sea Island, Ga., event. "I always kept that in the back of mind if an opportunity came up again."
At the time, both men were employed loopers—Wood for Kuchar and Mackay for Mickelson. Two years later, one of golf's most famous twosomes broke up when Mackay and Mickelson parted ways. Mackay joined the network full-time shortly thereafter.
Now, Wood is by his side again.
"I was ready for a new challenge," Wood said of the career change. "I love caddieing and I'll miss it, no question, but when this opportunity presented itself, the timing was just right. You can't caddie forever. Not all of us can be Fluff [72-year-old Mike Cowan]. I knew I could keep caddieing, but I thought three, four, five years down the road would this opportunity still be here? I didn't know."
After Wood informed Kuchar he'd no longer be working for him, he caddied a few more times for Cameron Champ in the fall portion of the tour's 2020-21 schedule. But his mind was already made up.
"I talked to a couple of [players] who got in touch, but I was committed to doing this once I made the decision," Wood said. "There was no looking back."
But even as the 51-year-old looks forward to his new role, in reality he'll use many of the same skills—preparation, anticipation, knowing what to say and not to say—that he's used for years. Those are just some of the reasons Wood was one of the most respected and successful loopers in the game, and why he figures to be an excellent fit for television, much the way Mackay has been.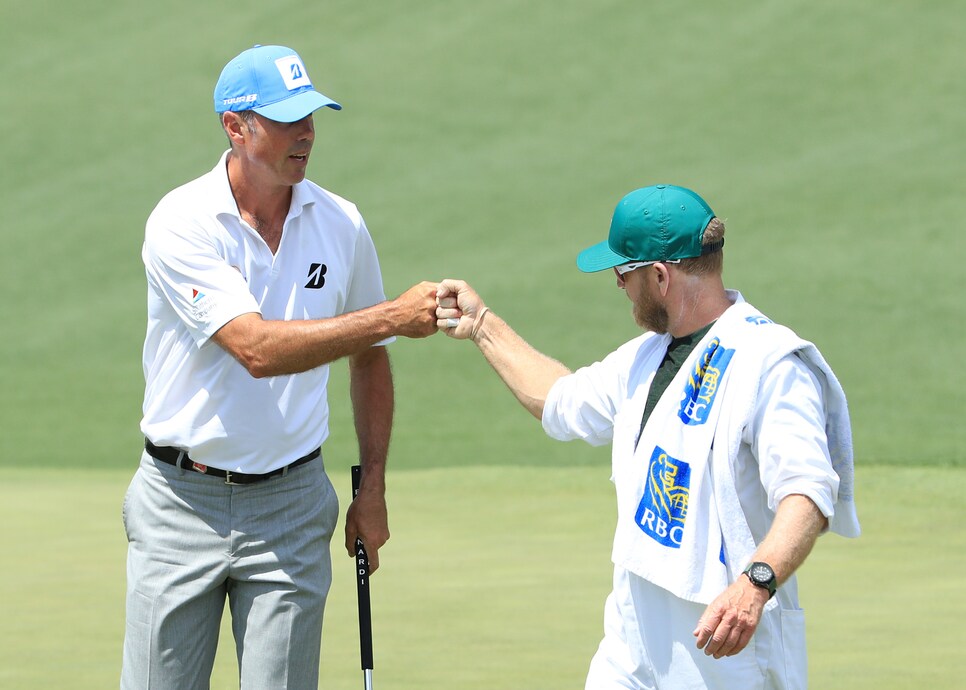 As a caddie, John Wood worked with a number of top players, including Matt Kuchar.
AR
"I was blown away how good Bones is now," Wood said. "Not that he wasn't good at the beginning, but watching him now, the job he does is incredible. Watching and listening to him helped me make the same decision."
And in Wood, NBC and Golf Channel gain a wealth of knowledge.
After playing collegiately at Cal-Berkeley, Wood spent the next 20 years on the bags of a handful of players. In addition to Kuchar, whom he began working for in 2015, he also caddied for Hunter Mahan, Kevin Sutherland, Chris Riley and Mark Calcavecchia.
Among the highlights: helping Kuchar to a bronze medal at the 2016 Olympics in Rio; being part of two winning Ryder Cup teams, first for Mahan in 2008 then Kuchar in 2016; and more than a few victories on tour.
Despite that success, however, Wood said he was at a point in his life in which he was ready for a change. He's intrigued by the inner workings of television and excited about the opportunity to provide his insights.
"You can have a plan always, but as soon as something deviates from that plan you have to think on your feet and come up with what your player wants to hear," said Wood, who figures to work 18-20 tournaments this year and even more in the years ahead. "Now my attention will go to what will inform the viewer and what they might want to know about a shot that they might not otherwise know—what's in the player's head, the caddie's head. Every week you prepare as a caddie for one player. Now I like looking at it in more ways than one."
As for being critical of a player or reporting on something controversial? Wood plans to take the same approach he did as a caddie.
"There's a big difference between being critical of a decision or bad shot and being personal," he said. "Most of the guys understand that. As a caddie, you know when you screwed up, and I'm not afraid of someone saying I did. But I never want to cross that line and get personal. I just plan on calling it like I see it."