SCOTTSDALE — Jordan Spieth. Patrick Reed. Brooks Koepka. Thomas Pieters. Harris English. Russell Henley. All have won multiple times on the PGA and/or European Tours.
John Peterson beat them all when he was an amateur.
What the 2011 NCAA champion and three-time All-American from LSU quickly discovered, however, is that professional golf is a different game than college. Among other things, it's littered with seductive spoils that can lead to complacency if not apathy.
"It's a trap, and I fell into it," Peterson said. "I made [almost] $800,000 two years ago, but finished 105th in points. If you took the money out of it and I looked at just the points, I would be so pissed. But I made $800,000 and didn't give a sh-t. That was my problem.
"I got caught up in being average and not trying to finish as good as I can. I was fine with finishing 20th. I'm not anymore."
Growing up in Fort Worth, Peterson looked to another native son, Ben Hogan, as something of an idol, though he hardly had the same dig-it-out-of-the-dirt work ethic once he hit the pro circuit. Most of the time, it all felt a little too easy.
Peterson's confidence was another thing. While still an amateur, he (in)famously said the top 20-30 players in college could beat the top 20-30 guys on tour. Given his success, the arrogance wasn't surprising. It only continued to grow, too.
A year after turning pro, Peterson tied for fourth at the 2012 U.S. Open at Olympic Club, his first career major, finishing just three strokes behind winner Webb Simpson. That, however, along with a T-8 in New Orleans in 2013, remain his only top-10s in 74 career PGA Tour starts.
"I have severely underachieved, and I think a lot of people that are around the PGA Tour, that have been here for a while, would agree with me," he said. "I just haven't really given it my full effort since I have been out here. I just kind of treaded water and do just as good as you can and hadn't really treated it as a job.
"I guess I just let college carry over into my professional career, honestly. Honestly, that's what I did. I didn't care if I missed a cut. I didn't care if I hit a bad shot. It didn't bother me."
Reality set in for Peterson after he had hand surgery early in the 2015-'16 season, which kept him out for 11 months. During his time on the couch, he watched the same players he had beaten as an amateur win tournaments and play in the Ryder Cup. It stung.
In the meantime, Peterson got married in December, bought a house and for the most part—other than the occasional Happy Gilmore swing, back flip off a cliff during a bachelor party, catching of an alligator and firing verbal salvos at anyone, including the tour, on Twitter—settled down.
He also learned a lot by watching how Spieth, who he'd often play with when the two were home, handled becoming a superstar.
"Jordan's 23, but he acts like he's 35," Peterson said. "Even though I got him by four years, he feels so much more mature than me.
"Every time you play with him, you learn something. He has such a level head. I have many flaws, so I'd like to be a little more like him in that regard. It took me being outside the ropes to realize how important maturity and resiliency is out here."
Last week at TPC Scottsdale, Peterson opened with a 67 to sit just two strokes off the lead. Two days later, he shot 63—the low round of the week—to get back into contention going into Sunday. The 27-year-old faded with a final-round 72 to tie for 12th, but Spieth can see a difference in his friend now.
"If something seemed like it was going to be a pain it was, 'Whatever,' " Spieth said. "Now he embraces that and wants to be out here for a while. He realized it takes a lot of work that sometimes you don't want to do."
All is not lost for Webb Simpson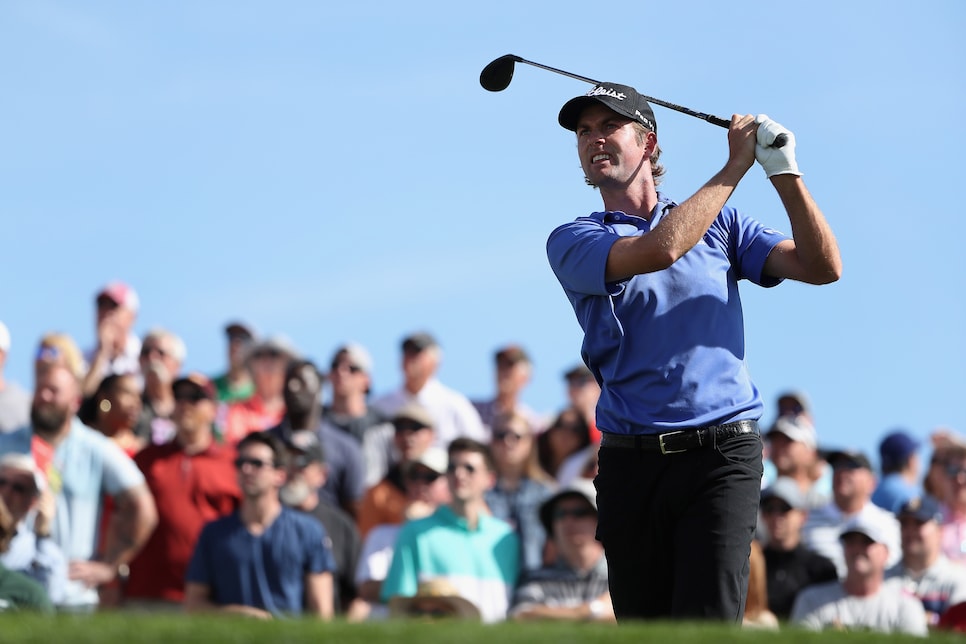 Webb Simpson entered last week ranked 189th in strokes gained/putting, a figure that has steadily declined the last few years as Simpson prepared to switch from an anchored putter once the ban went into affect Jan. 1, 2016.
As recently as two weeks ago, the four-time PGA Tour winner said he was "lost" with the rest of his game.
"I just felt terrible about my game," Simpson said Sunday after losing to Hideki Matsuyama on the fourth hole of a sudden-death playoff. "I went and saw Billy Harmon, and he really helped me out."
Simpson's longtime caddie, Paul Tesori, also spotted something in the 2012 U.S. Open champion's swing—he was swaying off the ball and his weight shift wasn't getting into his right knee enough. The result was inconsistent ball-striking and consequently Simpson, whose last win came in 2013, wasn't getting results, either. In six previous starts this season he had just two finishes in the top 25.
Then came the weekend at TPC Scottsdale, where Simpson closed with rounds of 65-64, which included three birdies over his final four holes and five overall to go with an eagle. He was also 13th in strokes gained/putting for the week.
"Sometimes in this game it's a guessing game what you're doing wrong," Simpson said. "Sometimes you know, and thankfully on Friday [my caddie] knew what was going on."
TIGER WOODS' UNCERTAIN FUTURE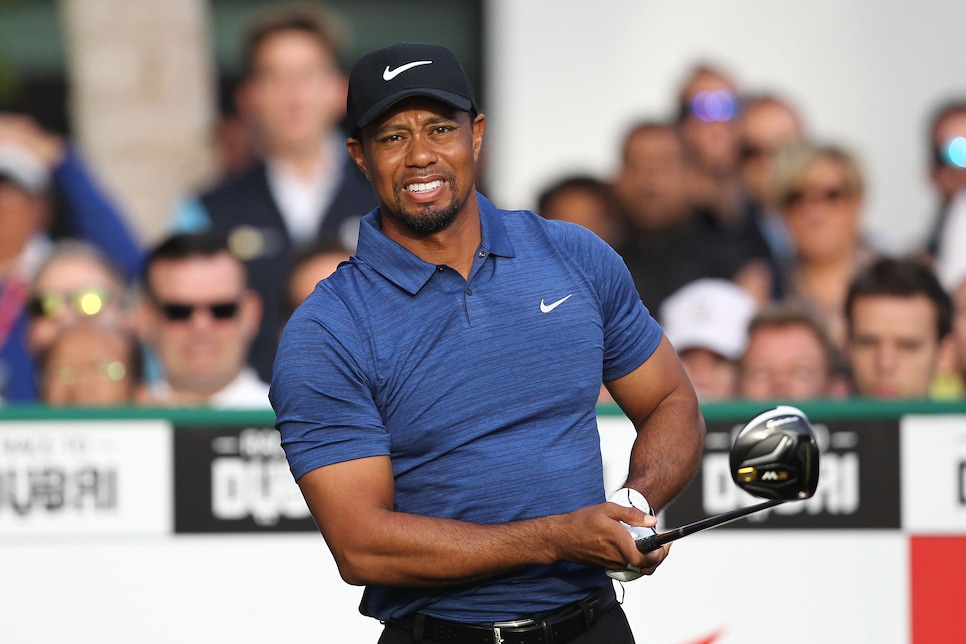 Last week, I was a guest on Hank Haney's radio show on Sirius XM. You can guess the topic: His former pupil.
One of the questions that came up was, now what for Tiger?
And the answer is who knows. Golf is better with a healthy Woods, but players with bad backs have a long history of injury always lurking around the corner.
His performance in December at the Hero World Challenge, where he led the field in birdies, was taken with a grain of salt because it was a home game on a course with mile-wide fairways, little rough and took place after weeks if not months of preparation.
Torrey Pines isn't Albany, and predictably Woods missed the cut in his first start of 2017. More troubling, though, particularly to Haney was not just that Woods withdrew from a tournament he was getting a reported $2 million just to show up at, but one where again the conditions should have suited him.
"I've always said the most important thing besides his health was Tiger's desire," Haney said via text. "That waned from 2007 on.
"When a great champion loses his desire, it's never a good sign," Haney continued. "He can get it back for a short time because he knows what it takes to get to the top of the mountain, but it's hard to maintain the same level of enthusiasm you once had for a lengthy stretch after you lose it. History bears that out."
Haney added that he thought from the start that Woods looked "disinterested" in Dubai because he knew his back was bad—even though Woods said he wasn't in any pain following an opening-round 77. Close friend Steve Stricker, though, thought something looked wrong.
"I still believe Tiger has everything in him from a skill and experience perspective to be great again," Haney said. "But I'm doubting the health again now and the desire, too."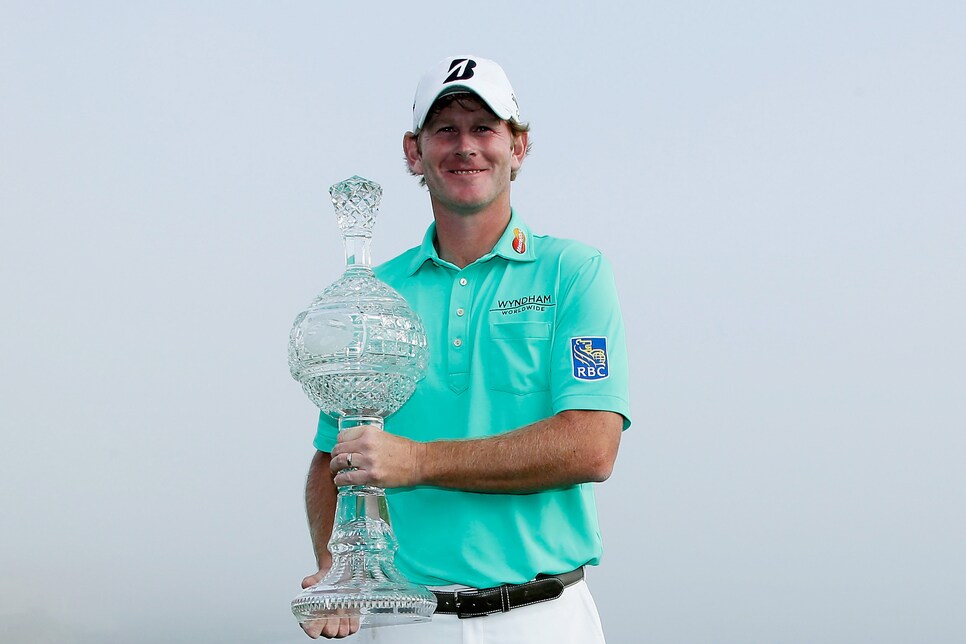 J.J. Spaun has certainly been trending with a T-9 and T-4 in his last two starts, riding a red-hot putter. But Pebble Beach takes some experience, and at 15-to-1 according to golfodds.com, it's hard not to like Phil Mickelson or Brandt Snedeker, both past winners on the Monterey Peninsula who also have things headed in the right direction at the moment. Jordan Spieth, at 8-1, also has the feeling of being due.
Will Hideki Matsuyama win a major this year? He has finished seventh and fifth each of the last two years at the Masters. That said, it's difficult to flag it at a major championship the way he has been the last few months. His short game has improved, yes, but it's iron play and driving that's getting it done for the Japanese star. …
There's a lot to like about Jon Rahm, in his game and his personality. After spending a few days with the long-hitting Spaniard with deft touch around the greens last week in Phoenix, it's readily apparent he has the intangibles to be a star in this game. His personality, like his game, travels. …
Bill Belichick smiles? Who knew! I'm half-serious about that but do remember a few years ago at Pebble Beach him grousing to a couple of reporters whom he knew well that the day was "about the golf" before blowing them off and not giving them an opportunity to talk about, well, the golf. He'll be back at Pebble Beach again this week, and smiling is my guess.