From the Magazine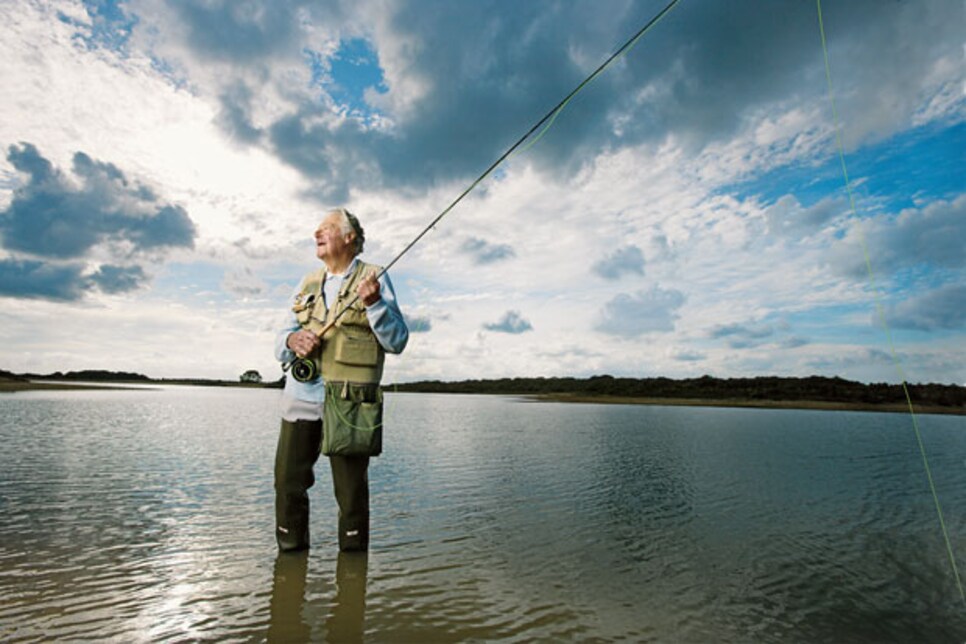 Editor's Note: John Jacobs died January 13, 2017 at age 91.
John Jacobs takes long, slow strides through the rugged heathland of the New Forest, a 150-square-mile public preserve in southern England established in 1079 by William the Conqueror. At 80, the grandmaster of golf instructors retains a kingly presence -- a full 6-feet-2 even with his still broad shoulders now slightly hunched, a noble face suited for the London stage topped by a wavy silver mane complete with the vestiges of an all-world widow's peak. A lifelong outdoorsman, Jacobs loves quietly blending in among the deer and wild ponies as he compliantly follows his two dogs, Prudence and Pippi J, along their bucolic daily route. But today he has additional company, and when he speaks, it's clear his natural state is to capture and hold human attention.
Despite puffing a bit on an uphill stretch, Jacobs reflects on his life in golf in a seamless, almost musical cantor. He shares memories and rich analysis of great players from Henry Cotton to Ernie Els, opinions on issues from the evolution of instruction to the future viability of the Old Course, and effacing insights into his own strengths and weaknesses. When his train of thoughts stops and he confesses, "I'm lost again," it never takes more than a prompting word or two to get him back on track.
"Blimey, I can blether," he chides himself in his native Yorkshire slang. "It's just that the things I believe in follow logically. In many ways people think there is a mystique about golf. But it really is the most logical thing."
Jacobs has made sense out of more areas of the game than anyone living. Besides having taught more people -- from golf-school masses to European national teams to the game's elite -- than most any other instructor in history, Jacobs played in 14 British Opens and won internationally. He has been a television commentator, best-selling author, chief architect of the European tour, Ryder Cup competitor (and two-time captain) and Hall of Fame inductee.
Peter Dobereiner, writing in these pages in 1994, said in theory "it would be perfectly valid to compile a list of the Five Most Influential People Behind the Rise of European Golf, but in practice it would be no fun. It would have to read: (1) John Jacobs, (2) John Jacobs, (3) John Jacobs, (4) John Jacobs, (5) John Jacobs."
And though Jacobs seldom ventures far from the classic garden home he shares with Rita, his wife of 57 years, he remains in demand as the wisest of swing gurus, with his core ideas about instruction undergoing a new wave of appreciation from the game's best teachers and players.
Even today, according to Guy Kinnings, managing director for IMG Golf in Europe, "When players get hopelessly confused with their swings, they have one common request: 'Call Jacobs.'"
Says Jacobs: "It's amazing I did so many things, because I never really had a goal other than I loved golf."
"Oh, I was mad to be a great player," he says, a fierceness in a normally gentle voice. "I got a flippin' reputation as a teacher and only wanted to be a player. But we don't always get to choose our gifts."
His gift coupled with a hunger to achieve shotmaking control in competition led to his greatest contribution: diagnosing the golf swing through the flight of the ball. Beginning with his instruction books in the 1960s and later at his golf schools, Jacobs shook up the teaching world by using the effect to determine the cause.
IT STARTS WITH THE BALL FLIGHT
Rather than focus on correct body movement, Jacobs refined a system that worked backward from the particular flight of the ball to deduce the clubface alignment at impact, the path of the clubhead, and the angle of that path. From those factors, he determined the swing error and its needed correction. As Jacobs says, "If golf were about achieving correct positions throughout the swing, then the greatest players in the world have it wrong. No, golf is what the ball does, which is entirely dependent upon what the club is doing at impact."
"John's way cuts through everything because it gets down to the essentials: clubface and path," says Butch Harmon, who requires his assistants to read Jacobs' classic 1972 instruction book, Practical Golf, written with Ken Bowden. "John's stuff is simple and easy to understand because it's right," Harmon says. "It works for every player who ever lived or will live."
The system, the inspiration for the golf schools that still carry Jacobs' name, caught on and continues to gain momentum in part because it's founded on the oldest and truest way to learn: watching and reacting to the ball. Intuitively adjusting to the last shot is the definition of digging it out of the dirt, and the most attentive golfers have always known it: The golf ball doesn't lie. But Jacobs was the first to give the process precision, organization and nuance.
"John's breakthrough was a new way of teaching," says Jim Hardy, who learned to teach under Jacobs at his Practical Golf schools in the 1970s. "He boiled all his knowledge into a system, and it just made teaching so much more efficient. John could walk a line of students and basically know a person's whole shot pattern from where the ball went after one swing. And then he would convey the information so that person could basically fix himself."
Supreme ball-strikers from Hogan to Trevino to Singh always let ball flight be their teacher. But Jacobs' model has made it easier for today's players to understand what Jacobs calls "the geometry of impact."
Tiger Woods, helped by Jacobs disciple Hank Haney and his own reading of Jacobs' writings, calls the improved ability to learn from ball flight his most important breakthrough in 2005.
"It's taught me that what I think I'm doing is not actually what I'm doing," Woods said late last year. "So I'll hit a shot where I thought I got it right but then look at the ball flight and go, 'Oh, OK, that's not it. I've got to go back and work on this.' And then you get it right back."
Says Haney, who began his teaching career under Jacobs in the late '70s: "The essence of what I teach I learned from John. Some people call him a band-aid teacher, the quick-fix guy. In a way they're right, because he needs only about 10 minutes to help anybody. What makes him special is, his band-aid is always the right one. To me, he's always been the best."
Such encomiums embarrass Jacobs, at the same time gratifying him enough to toot his own horn, even though he precedes it with the old-world "forgive me."
"The one thing I will say is that it was original thought," he says. "I worked it out."
Jacobs does more than coldly dispense data. "I don't teach a method, I teach people," he says. "Once a golfer is presented with the fix to his fault, the trick is to impart it in a way that connects with that particular person. It's a human problem." One that Jacobs finds fulfilling. "No one in our business gets across as well as Jacobs," says Jim McLean. "He has this brilliantway of using the language so that he's understood."
Jacobs traces his emphasis on clarity to difficulty of his own in school. "I was a dunce, a very slow learner," he says. "I know that feeling of not being able to keep up, so if I'm teaching I automatically speak very slowly and in simple terms. And I say, 'Please, if you don't understand, do tell me and we'll try again.'"
Jacobs considers the skill crucial; he believes it's at least as important for students to understand how to correct the swing as it is to understand why it's necessary.
"After I make the diagnosis comes the demonstration and the explanation. The correction I'm going to give them is going to be uncomfortable, because in all likelihood it's an exaggerated contrary of what they've been doing. But if they can grasp the why, they will stay with it."
Like everyone's favorite teachers, Jacobs is part entertainer. Some of it is his sheer virtuosity. Especially in younger days, he could mimic a student's swing to illustrate a fault, and then demonstrate the fix in a way equally palpable. Jacobs also liked to show off by turning his back to a subject so that he could see the ball flight but not the actual swing, and then offer a spot-on diagnosis of the golfer's flaws. "The only time John got crossed up was when they snuck in a left-hander," remembers Carol Mann.
He would also lighten the load of nervous golf school students with droll lines. To the beginner who whiffed, it would be, "All right, you've scared it. Now hit it." He might coax a woman timid about hitting down on the ball to "take a bit of Yorkshire for me, madam." Or implore a recalcitrant subject to "give me a good one. I've given you the best years of my life."
Jacobs' most important attribute was an eerie empathy. He might forget a name, but he never forgets a swing, because for a moment he has become that person. "When you teach, you've got to feel as the player feels," he says. "You put yourself in his body, so you are him."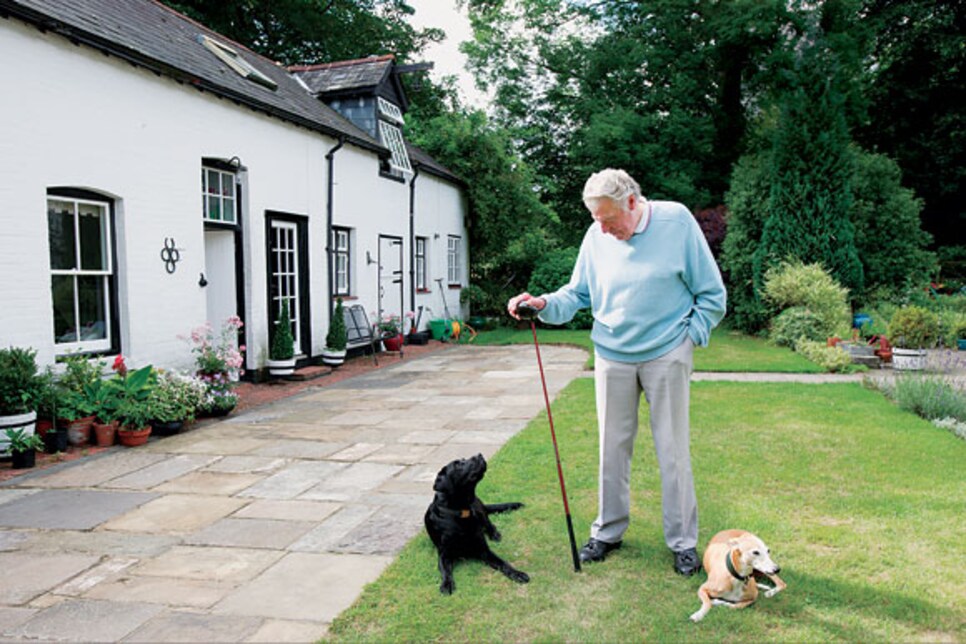 It's such a feeling that has emboldened Jacobs to give advice to some of the game's greats -- including Jack Nicklaus, Tom Watson, Tony Jacklin, Seve Ballesteros and Jose Maria Olazabal -- on the practice tee during tournaments. "If they asked me," he says.
The fix is usually a subtle adjustment like a slight opening of the clubface at address, a lighter grip pressure, but even to Jacobs, "It's frightening, because you could do real harm," Jacobs says. "But I would go forth because something inside that I could not ignore told me I was right."
Sometimes it's mind reading. "Bernard Gallacher came down to see me and took just one swing," remembers Jacobs. "I said, 'Bernard, you are thinking too hard in the backswing.' And that was it, he was fixed. I cannot tell you why I said that, but it was obviously that. It's a sixth sense, something that was given to me. I wish I had been given something to win a lot of Opens."
Of course, Jacobs would never have been able to impart his knowledge if he were not generous. Surrounded by Mozarts, he has never been a Salieri. He was much more Maxwell Perkins, who took fulfillment from facilitating genius. "John is not only the master teacher, he is a true friend," says Olazabal, who credited Jacobs after a tie for third at last year's British Open.
Evidence that Jacobs considers it a privilege to help a top player is that, through all the years, he has never charged a fellow professional for a lesson. "I've been well paid, because I've been thrilled to be asked," he says. Or as he put it in his acceptance speech in 2000 upon induction into the World Golf Hall of Fame: "Now I am among all my heroes."
He certainly wasn't groomed to be one. When Jacobs was born in 1925, his father, Robert, was the pro at Lindrick Golf Club near the northern England town of Sheffield. Unfortunately, the elder Jacobs had been ravaged physically and mentally by extended combat in World War I and would die in 1934. Jacobs' cousin Jack, 24 at the time, was made pro, and his mother, Vivien, became the club stewardess.
Jacobs' world naturally revolved around the golf course, where he showed talent. "My mother gave plenty of love and attention, but I never felt I was bound for something special," he says. "I suppose I've always had trouble thinking big."
After serving in the Air Force in World War II, Jacobs became an assistant professional and began teaching. "I can't tell you how bad I must have been," he says. "But the process fascinated me, and people seemed to come back."
By 1952 he finally had the freedom to play on the tournament circuit. The next several years were his best competitively. He had a string of top-20 finishes in the British Open, his best a 12th at St. Andrews in 1955. In 1957, he beat Gary Player in the final of the South African match play, and won the Dutch Open. The highlight of his playing career was the 1955 Ryder Cup, when he won his foursomes match and then defeated Cary Middlecoff on the 36th green in a singles match. Jacobs carries a fond memory of the then-reigning Masters champion extending his hand and saying, "Congratulations. You beat me on one of my best days."
As a player, Jacobs' shortcomings began with a hitting action that was stylish but lacked exceptional punch. "John had a very slow swing, rather like Luke Donald," says close friend and contemporary Peter Alliss. "It left him short of ammunition." But Jacobs lacked most in the area of competitive temperament, the factor he rates higher than technique and physical strength among his three essential qualities of a champion.
"If I'd had half the confidence as a player I had as a teacher, I'd have been a very good player, but I wasn't confident," says Jacobs. "If I bogeyed before I birdied, I was always under pressure." Says Alliss: "John wasn't a bully, which winners often are. His psyche was more delicate." It would sometimes alter Jacobs' normally kind demeanor.
"I've never been so angry as at my own golf," he says.
Understandably, Jacobs was fascinated with those who had what it took, and easily rattles off insights on the best of his time.
• "Bobby Locke is the most underrated player of my lifetime. He took it inside, looped it over and fell on the ball without any physical effort at all, producing a slight hook with plenty of backspin. He is the best example of why players who swing slightly over the top can go on forever. And Locke played the same shot over and over, no matter his angle to the pin. He told me, 'I would not be as good as I am if I deviated from my repetitive shot.' "
• "Byron Nelson is my golf hero. I played with him three straight days in Palm Springs in 1955, and even then he was the best hitter I've ever seen. The way he flattened his swing at the bottom with his legs was genius. You could never teach that move. It was better than orthodox, almost beyond technique."
• "Sam Snead was more knowledgeable than people knew. When I asked Sam how he accounted for his long career, he told me that when he was hooking the ball in a tournament, he would allow for it by aiming right, put a check in his pocket, and then go home and practice aiming left. He knew how to stay within the outer parameters of his tendencies."
'FIXING' HOGAN AND NICKLAUS
Ironically, it was the influence of the two greatest players of their time that increased Jacobs' relevance as an instructor.
In Jacobs' opinion, Ben Hogan "misdirected" the evolution of the golf swing with his book, The Modern Fundamentals of Golf. "The title was wrong," says Jacobs. "It should have been, How I Play Golf, by Ben Hogan. It was a book about how to cure a hook. It promoted a very weak grip. The words 'supination' and 'pronation' confused a lot of people. And the picture of Hogan halfway down with the shaft almost hitting his right shoulder caused people to try to produce an artificially late hit. At Sandy Lodge, all the women bought it for Christmas, and all it got them was a 50-yard fan-slice. Hogan kept me in business."
Jacobs believes that emulation of Jack Nicklaus had a more harmful impact. "Mentally, Jack was the strongest guy I've ever seen," he says, "but he won almost despite his swing. He was a good striker as an amateur, but as a pro I wouldn't walk across the street to watch Jack hit the ball. The actual strike wasn't that good."
By the mid-'60s, Nicklaus came to personify a syndrome that Jacobs labeled "rocking and blocking." In his effort to take the club back straight on the target line for as long as possible, rather than on a more natural, slightly inside path, Nicklaus' shoulders would tilt ("rock") more than turn. The move put the club in an extremely upright position, with the clubface shut. From there, Nicklaus was forced to drive his legs hard to create room for his downswing, causing him to chronically drop the club underneath the correct plane on an inside-out path ("block"), rather than along the target line.
"After Jack became the best, I saw more high push-fades than ever," says Jacobs. "That shot was less than one in 50 when I was a boy, because people had a more correct, rotary action."
Nicklaus eventually lessened his rock-and-block tendency by standing more upright at address -- allowing a more correct shoulder turn -- and went on to play his best golf in the early '70s. But Jacobs saw a deleterious effect on instruction, as teaching manuals and instruction articles encouraged an upright takeaway and driving the legs. "People were taught to do everything but hit the ball," says Jacobs. "I think for about 20 years, golf was taught terribly."
Not only did it hurt the average golfer, but the game's best. Jacobs noted what he called "The American Disease" plaguing the U.S. Walker Cup team in 1971 when they were having a hard time achieving clean contact from the tight lies on St. Andrews' bone-dry fairways. "Tom Kite and Jim Simons and others at that time were reverse-C rockers and blockers who hit up on the ball and were thinning their iron shots," he says. "I told our boys we had a great chance." Sure enough, the British side won easily.
"That feeling of wanting to be straight is very intuitively human," says Jacobs. "It's why so many great players are prone to get underneath the correct downswing plane. I've seen it with Nicklaus and Watson and Seve and Norman and Els. We think the longer we can make a straight line, the straighter the ball will go. But because golf is a side-on game with the ball on the ground, it's the opposite."
Jacobs believes that the game has largely gotten past its dark period of misinformation and is again being well taught. He sees an encouraging emphasis on stronger grips than Hogan ever advocated, and a more rotary action back and through the ball than was ever practiced by Nicklaus.
"Now I see so many good swings to which I would say, 'Don't change,'" he says. "It wasn't that many I could say that to. But as far as what's being taught today, it's nothing better than what I was doing. Forgive me.
"Eras of the golf swing are separated by the styles and influence of the best players of the time. The standard Tiger and Ernie in particular are setting is very technically sound.
"With Ernie, he allows his natural athleticism and grace to flow so nicely because he gets things so right in his setup. But in observing him lately, I would say that at address his clubface is slightly too strong -- hooded. I would like to see him soften and open it the slightest bit. It would help him rotate his shoulders better instead of getting underneath."
"Tiger presents as fine a swing model as any era has ever had. Right now it appears to me he is emphasizing big-muscle repetition and consistency. I don't know this, but I suspect that he believes what he is doing with Hank will be easier to repeat than what he did when he was playing so well around 2000. Not so much better as easier to repeat."
To visit Jacobs at his country home -- a converted 1860s coach house -- in the New Forest town of Lyndhurst is to observe a gentle man at peace with his accomplishments.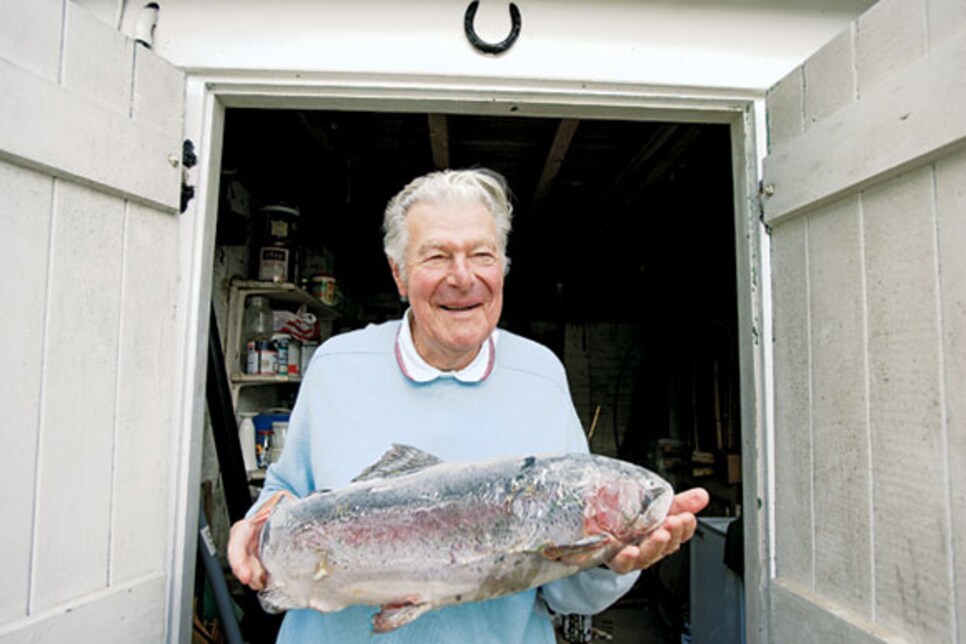 Never truly wealthy, he lives comfortably with Rita and their whippet and Labrador. He lights his life with hunting and fly-fishing excursions, as well as nine holes on the odd Wednesday. "I'm awful now, the shots I hit," he says. "But the game is still in me."
At times the undercurrent of melancholy that is part of old age makes him emotional. Rita has been fighting lingering illness, and Jacobs' eyes fill with tears when upon exiting a church service he points out to a visitor the two adjoining cemetery plots meant for the couple. On the practice ground at St. Andrews at last year's British Open, he and Nicklaus exchanged a warm greeting for what both men knew might be the last time. "We both had to turn away," Jacobs says.
No longer, however, is he the unfulfilled player. "I go to bed happy at night," he says over afternoon tea in his garden. "I've helped them love the game of golf." Fondly, Jacobs strokes the Labrador, who was intended as a hunting dog but proved to have a temperament too gentle and distractable. "Oh, Pru," he says, "you're a soft dog."