The Ride Of His Life, Bumps And All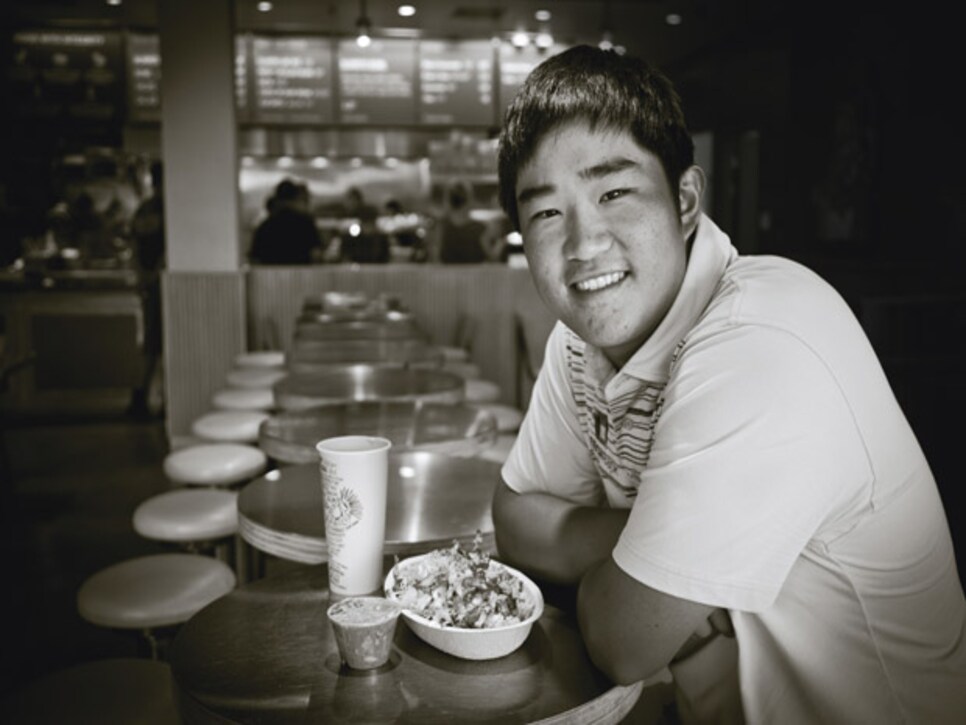 The ride on the Korean subway system from northern Seoul to Bundang in the south is 32 stops, usually two transfers. It can take two hours, but usually not more than 90 minutes. The cars are impeccably clean and quiet, the doors hermetically seal more than close, and the clientele isn't a distraction, equal parts business-suited types and earphones-sharing teens. It is a pleasant-enough ride for junior executives on their way in and out of the city center. But it is not the sort of trip a professional golfer takes to go practice every day.
But John Huh didn't mind the ride, doesn't want you to make a big deal about it, dismisses the incongruity of it all. Yet that is the essence of his story, one inexplicable development after the other. For the PGA Tour's leading Rookie of the Year candidate, his style, his looks, his physique and his presence are decidedly unremarkable. But his results, like his resolve and his family's persistence, are just the opposite.
Born in the United States to Korean parents, Huh is just 22 and has been a professional since he was 18, but no one predicted a first year on the PGA Tour like this one. In less than nine months he has gone from barely having status to finding parking spaces with his name on them for courtesy cars that until recently he didn't have a license to drive. He has earned more than $2.2 million, won an eight-hole playoff and jumped 482 spots in the World Golf Ranking.
In another, more logical universe, John Huh never would have happened. None of his story makes sense. Players with a victory in their rookie year on the PGA Tour usually didn't get there as the last man to qualify at the first and final stages of Q school. Players with a victory in their rookie year on the PGA Tour didn't opt out of their senior year of high school golf because of the finances, or learn the game by hitting scavenged range balls next to the pro's lesson tee just so they might overhear some tips they couldn't afford. Players on the PGA Tour don't come from households with immigrant parents who work in the kitchen of tiny Korean restaurants or as self-taught handymen. Players on the PGA Tour generally weren't brought up in small apartments with a brother who left college to support the family and help pay golf entry fees. But this has been John Huh's bumpy ride.
Huh, whose attitude exudes the diligence and nonplussed confidence of a video gamer beating the latest version of Call of Duty on the first day out of the box, has never minded the ride. You do what you have to do, he says. It's what he learned from his father, from his mother, from his brother. Each sacrificed so the family had food, a place to stay, money for John to play junior events and then the mini-tours and then in Korea, all before he turned 21. Now, John has moved himself and his family into a 5,500-square-foot home in Dallas, the first house they have owned in more than a decade.
"If something I do can help my family, I have to do it," Huh says in a tone that is all earnest. He has clearly spent more time in his life speaking Korean than English, and he's still learning how to do interviews. But he'll need to get used to it. He's quickly becoming golf's best story.
Though he was born in New York, Huh and his family returned to Korea when he was 2 months old. There his father, Oksik, who owned a fabric business, taught his sons all kinds of sports from baseball and soccer to tae kwon do and golf. But the business failed, and after the family moved back to the United States when John was 12, he would ride his bike to Vernon Hills, a Chicagoland muny, and get the occasional free lesson from local pro Chu-Han Lee at Sportsman's Country Club. Huh won a local tournament sponsored by the Korea Times as a 13-year-old, qualifying him for a big junior tournament in Japan. He won that tournament, too, and that changed everything. "From there, I started being more serious about golf," he says. "I started to feel like maybe I could be a professional golfer."
It was then that the family decided to move to California to support John's talent, which doesn't sound like all that unusual a decision. And then you realize Huh's parents weren't doctors or lawyers or airline pilots. When Oksik brought his family to America he could get work only in odd jobs, once training himself to be an assistant sushi chef. But the work wasn't always steady. His wife, Sook Chan, worked part-time in the back rooms of Korean restaurants. Even Huh's brother, James, who left college when the family moved west, worked at a clothing store in downtown Los Angeles to help support John's golf. Oksik doesn't speak much English, but through John, he dismisses the idea that his situation was a hardship. "Our life was no different than any immigrants'," he says. "We were like any parents working to help our children have a better life."
Meanwhile, John kept hanging around Hansen Dam, the L.A. muny where assistant pro Zeke Salas mentored him and took him to play the better local country clubs when the opportunities came up.
"When I first met him and started playing with him, I would have said this kid's got no chance," Salas says. "There were at least three other people at that time at that golf course I thought would go on to have professional golf careers, not John by any means."
But when Huh reached the round of 16 at the 2007 U.S. Junior Amateur in Missouri, Salas knew something was different about this kid. Salas knew the motivation was different the night at the Hansen Dam range when baskets were scattered all over the place and Salas was understaffed.
"There were a lot of decent young golfers on the range, but John was the only one who said 'No problem' when I asked him if he could help me out," Salas says. "He was always willing to do anything to get a free bucket of balls, and I wanted to do what I could to help him out."
Five years later, not much has changed. Huh still wears out the range while Salas stands sentry as his caddie. Unusual on the PGA Tour, player and caddie share a room on the road. (At the very least, Huh has continued to be thrifty.) The quality of the hotel doesn't matter as much as whether the TV gets Golf Channel, because it is one of the few things Huh will watch. ("Two and a Half Men" and "Storage Wars" are recent additions, but Huh goes to sleep and wakes up to Golf Channel every night and every morning.) He doesn't have hobbies, doesn't go to movies, doesn't drink, doesn't take in the local scene. It's golf course, restaurant (usually Chipotle or Denny's) and hotel--every day.
"You can't get him off the golf course," Salas says. "There are times where his dad or his brother have to tell him it's time to go because they're hungry. He's totally oblivious to how long he's been out there. He's sacrificed a lot of things to get here, and his dad has played a big role in his life, and I just don't think he wants to let his father down."
TURNING PRO: 'I HAD TO DO IT'
Even when the NCAA ruled Huh ineligible for a golf scholarship as a freshman at Cal State Northridge (he lacked two of the required core courses), he still wanted nothing other than to keep playing. "Turning pro, there really was no other option for me," he says. "I had to do it, and do the best that I can for my family."
Now, this was not like LeBron James skipping college and going to the NBA, or even Rory McIlroy turning pro. Huh had no status anywhere, and barely enough money to scrape up mini-tour entry fees. And we're not talking the Web.com Tour, or even the Hooters Tour. No, this was the Pepsi Twilight Tour, where players pay $125 a man to play at a facility that is used for parking during the Rose Bowl. First place is $500, maybe $600.
"If he played in 40 of these Wednesday-night games, he probably won 20 of them," says Steve (Bo) Boveri, who runs the Pepsi Tour in Southern California and Las Vegas.
The success on mini-tours gave Huh the confidence to go to Korea and try to qualify for the Korean Golf Tour, although in retrospect it was another all-or-nothing proposition. It wasn't like he was being funded by sponsors. (The Seoul subway rides to practice were a necessity because he lived with an aunt.) But Huh is a money player. He birdied four of the final six holes to qualify for the KGT, then won the Shinhan Donghae Open in 2010, where he beat K.J. Choi and Seung-yul Noh. Huh was later named Rookie of the Year. After years of his family sacrificing and supporting him, now it was his turn.
"I don't really feel that's something I had to do," Huh says. "We're a family, so we support each other. But yeah, I guess you can say it's my turn." It's easy to assume Huh would be a plodder, a grinder, a fighter. The assumption, though, is reinforced by the numbers. Though he is tied for 111th in driving distance at a persimmon-like 287, Huh is ranked in the top 10 in driving accuracy. He is the only rookie ranked in the top 25 in scoring average. He is ranked in the top 35 in strokes gained/putting, 17th in total putting and 14th in putts from four to eight feet. Perhaps he performs at the moment of truth because he knows it matters so much.
"If you look at John's situation," Salas says, "he has a lot of pressure, being 22 and having to support his family. His goal every week is to make a check."
Huh's share of second place at the Valero Texas Open came after starting the tournament eight over par through eight holes. A lipout or two probably kept him out of a playoff. In his first time around TPC Sawgrass at the Players Championship, he shot an ugly 75 before a second-round 66 led to one of eight checks this year of more than $90,000, big numbers for someone who balked at the finances of playing golf his senior year of high school.
Huh remains unflappable. Everyone who has ever been in his presence--his caddie, his high school coach, his college coach who never was, tour operators, officials, sponsors, agents, equipment-manufacturer reps--describes him as a great kid, yet he can come off as distant or distrusting or disinterested. Many concede his father still makes most of the decisions for John, whether it be on what temperature to set the thermostat to whether to sign an endorsement contract. (Huh eventually signed an endorsement deal in June for the Ping clubs he'd been playing for years.) On his own, Huh can appear puzzled and focused in rapid succession, distracted by a house lining a fairway and riveted by the tiny notes he makes in his yardage book. He moves in a bubble, but he is more lost in thought and commitment to his process than he is aloof.
"He's not intimidated by where he is," says Mike Vincent, one of Huh's friends from the Hansen Dam days. "Even though he's at the highest level in the game, I don't think he sees it that way."
The new house is not that far from the home of Huh's hero, Y.E. Yang, whose win at the PGA Championship in 2009 is being hailed as having the same potential influence on the future of Korean golf as Se Ri Pak's victory in the U.S. Women's Open a decade earlier.
"He has all he needs to be a success out here; he's proven that," Yang said during a practice round the two were playing earlier this year. "He just needs to remember to let the game come to him. Golf takes time and patience. Too many players fall into a trap and want everything right away. It's like the game itself: It's about minimizing your mistakes."
Those lonely subway rides were barely three years ago. Now, just as fans did for Yang, they're talking about Huh from Seoul to the streets of L.A.'s Koreatown, just a short distance from where he played at Hansen Dam.
Says the Pepsi Tour's Boveri, "We've got some young Korean kids playing our events who come to me and say, 'I want to be John Huh. I can be John Huh.' "
They might end up where John Huh is someday, but no one will ever take the same ride.