News
The missing ingredient in Rickie Fowler's game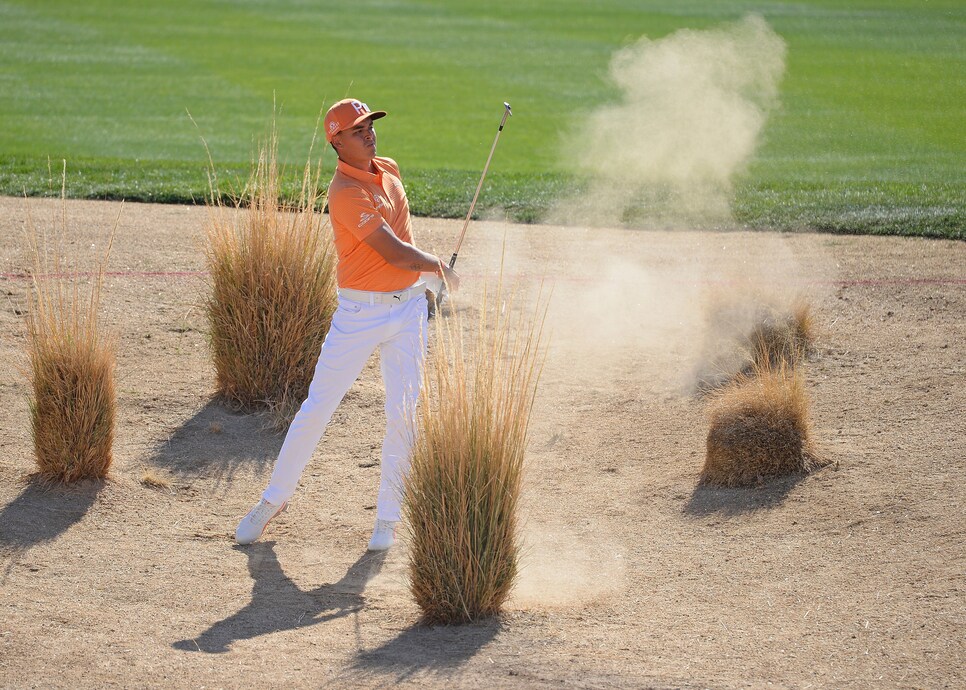 Photo By: Robert Laberge/Getty Images
Rickie Fowler had another chance to win a PGA Tour event this past weekend at the Waste Management Phoenix Open. Until, that is, the back nine on Sunday, when for whatever reason nothing went right. The third-round leader bogeyed the 15th, 16th and 17th holes to drop to a tie for 11th place.
Playoff winner Gary Woodland, runner-up Chez Reavie, and Ollie Schniederjans and Brendan Steele, who both tied for third, shot closing rounds of 64, 66, 65 and 67, respectively. Fowler shot 73—the highest score of anyone in the top 25. For the fifth time in six career tries, he was unable to close out a final-round lead in a tour event. Not exactly a Super Sunday.
More annoyingly, Fowler has always loved the TPC Scottsdale, dating back to when he was given a sponsor's exemption in 2009 while an undergraduate at Oklahoma State. He has finished second twice—including a loss to Hideki Matsuyama in a four-hole playoff two years ago. He had shot 11 straight rounds under-par on the course until Sunday.
Truthfully, Fowler's inability to close the deal on this particular Sunday in Phoenix doesn't matter in the grand scheme of things. What matters more is where he's headed as he closes in on his 30th birthday—which will come this December.
By almost any measure, Fowler is about as successful as anyone on the planet, whether they play golf or not. He's extraordinarily wealthy; he's movie-star handsome; he's among the very best in the world at his job and everyone—EVERYONE—likes him.
Which may be part of the problem.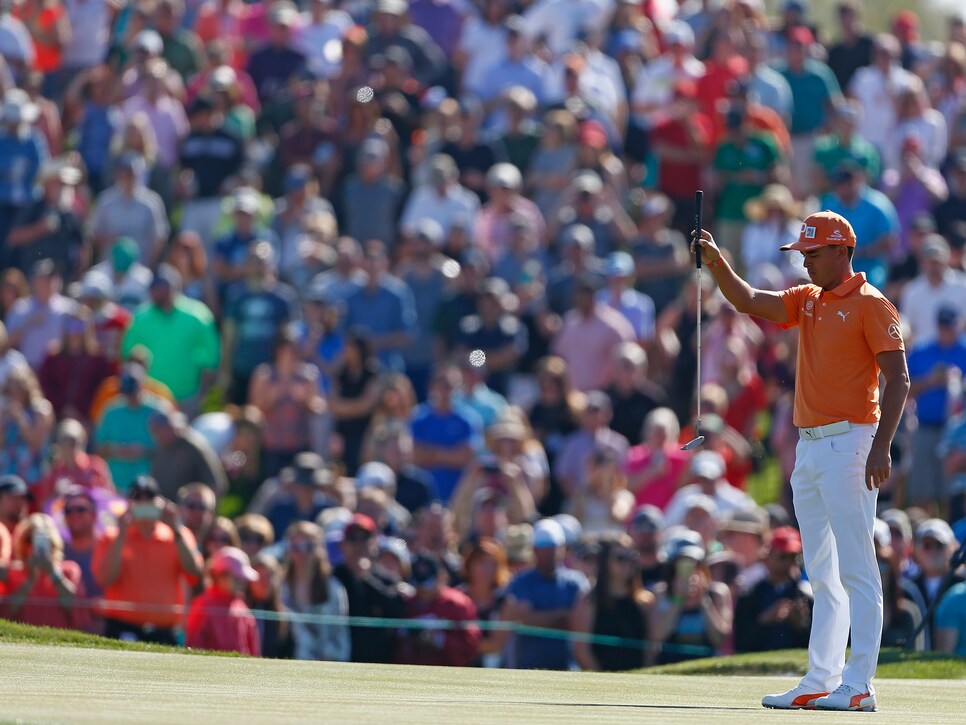 Matt Sullivan/Getty Images
Fowler has won four times on the PGA Tour and twice more in important events on the European Tour. He has a flair for the dramatic. His first PGA Tour victory came in 2012 at the Wells Fargo Championship in, when he beat Rory McIlroy and D.A. Points in a playoff by almost holing out for birdie on the difficult 18th hole at Quail Hollow. Three years later, after his swing coach, Butch Harmon, presented him a copy of an anonymous player poll in which he and Ian Poulter were chosen the most overrated players in the game, he put on a miraculous charge at TPC Sawgrass to win the Players Championship, the biggest victory to date in his nine-year pro career.
Fowler had gone to work with Harmon at the beginning of 2014, because he wasn't happy with a record that included just the one win at Charlotte and two top-10 finishes in 16 major starts. And the instructor's presence paid instant dividends. Fowler finished in the top five in all four majors in 2014, seriously contending at the Open Championship (T-2) and the PGA (T-3). He was also T-2 at the U.S. Open, albeit eight strokes behind Martin Kaymer.
In 2015, he won the Players; the Scottish Open and a PGA Tour playoff event in Boston. Last year, he won the Honda Classic early and was in contention going into Sunday at the U.S. Open. Brooks Koepka shot 67 that day at Erin Hills to blow by everyone and win by four. Fowler shot a disappointing 72 and finished tied for fifth. And then, at the PGA he back-doored another T-5, shooting 67 on Sunday while his buddy Justin Thomas walked off with the Wanamaker Trophy.
Big paychecks. Lots of TV time. Making friends on the course, in the locker room and wherever he goes. Fowler's also been a very good Ryder Cup player, chosen in 2010 as a tour rookie because U.S. captain Corey Pavin was told he would be great in the team room.
Which, again, may be part of the problem.
OK, so how can being a terrific player beloved by everyone, popular with corporate America as anyone, blessed with a smile that makes women go weak at the knees, possibly be wrong?
How about this: He's too nice.
Fowler is always the guy waiting behind the 18th green to congratulate his buddies after big wins. He was there for Jimmy Walker when he won the PGA at Baltusrol; he's been there for Jordan Spieth at Birkdale and he (and Spieth) were there for Thomas at Quail Hollow. Fowler must be—should be—sick and tired of talking about how happy he is watching his friends walk off with major hardware.
That's not to say it isn't great for golf that the 20-something stars genuinely get along and are a classy group. It's worth remembering that Spieth, after missing the playoff by one shot at the Open at St. Andrews in 2015, came back to greet the three players going through the extra holes after he'd finished his post-round media visits.
But there's steel in Spieth, as he's proved by winning three major championships and 11 times on tour before the age of 25. The same is true of Rory McIlroy, as kind a person as there is in the game, except when he smells a major victory.
Davis Love III is in the World Golf Hall of Fame. He won 21 times on tour, including the 1997 PGA. And yet, if you talk to other players, they'll tell you if Love wasn't one of the world's nicest people, he might have won twice as much. If Tiger Woods would step on your neck to beat you, Love would be the guy calling 911 to get you help.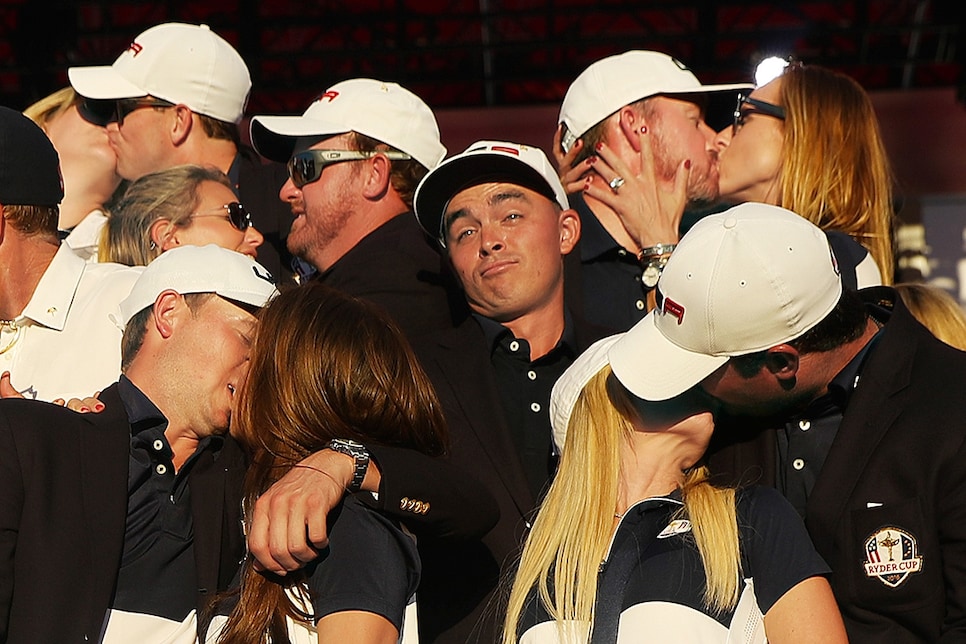 Photo by Scott Halleran/Getty Images
It's worth remembering that there were plenty of similar questions raised about Phil Mickelson when he was Fowler's age. Mickelson had won 13 times on tour by then but still didn't have a major title. It wasn't until the 2004 Masters, a couple of months before Lefty turned 34 that he finally broke through on one of the four Sundays that decide a player's legacy. From there, he's gone on to win five majors in all and is just a U.S. Open short of the career grand slam.
Fowler's not likely to match Mickelson's 42 PGA Tour wins but there's still plenty of time for him to transform from being a very good and very wealthy player to a Hall of Famer. After finally breaking through at Augusta, Mickelson later admitted that he'd gotten sick and tired of hearing he was just good enough to lose majors.
Perhaps what Fowler needs is to get angry, something that should come naturally when you've had the 54-hole lead in a PGA Tour event six times now but only converted one of them into a win (2017 Honda). He doesn't have to throw a public tantrum. A private one might do just fine.
He's proven repeatedly that he has the talent to compete with anyone in the world. His closing 61 at Tiger Woods' event in the Bahamas in December most recently speaks to that. He's proven he can contend in majors and withstand the crucible of the Ryder Cup. But does he have enough of a mean streak to go the next level? He's a very good and successful player now. And a sweetheart of a guy.
He is not, however, a champion … yet.