The Loop
John Elway makes another shrewd move, is in contention at Colorado Senior Open
John Elway's acumen for soliciting the help necessary to succeed was solidified with his having lured Peyton Manning to the Broncos two years ago.
The latest shrewd move by the Broncos' general manager and executive vice president was finding a 14-year-old caddie with an intimate knowledge of the greens at Green Valley Ranch Golf Club in Denver, site of the Colorado Senior Open.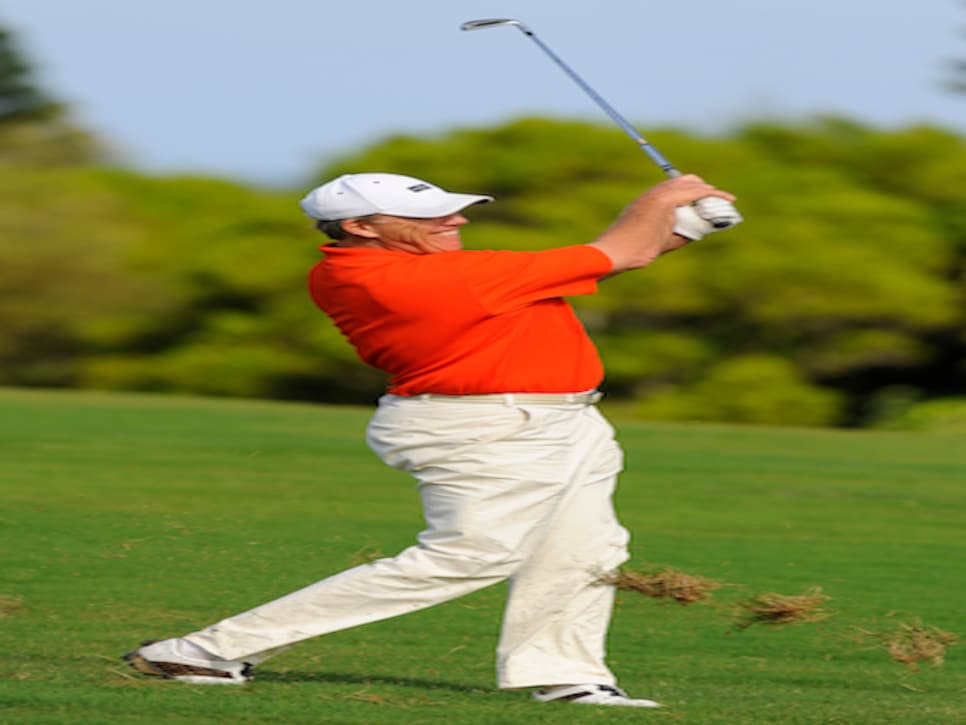 Davis Bryant, 14, is the son of Green Valley Ranch's director of golf, Matt Bryant, and plays to a 4.1 handicap index at Green Valley. Elway, with Bryant carrying his bag, shot a one-under par 71 in the first round of the Colorado Senior Open on Wednesday and was one off the lead.
"He's a great little player," Elway said to reporters after his round. "He's been around this track so many times and he knows the greens like the back of his hand. He was such a huge help. I'm glad he was able to get out of school and take care of it with his teachers and help me out."
The way this partnership came about was that a few weeks earlier, Matt Bryant got a call from a friend, Paul Lobato, the pro at Meridian Golf Club, who wanted to bring Elway out for a practice round and asked if Matt and Davis would join them. Elway and Davis ended up as partners in a match with Matt and Lobato.
"John really seemed to be impressed with how he handled himself," Matt said Thursday. "At the end of the round he asked my son if he'd like to caddie for him. Davis knows the golf course and has played here for years and years."
Elway needed help to compensate for his inadequate preparation. His Broncos' responsibilities have cut into his golf, notably as a result of Denver having reached the Super Bowl in February and the draft starting later this year, in May.
"I played five or six times since the draft," Elway told the Denver Post. "I used to be able to get up to Palm Springs and spend a couple months there. But I'm not playing nearly as much now because of the draft and because we ended late, which is where we wanted to.
"I missed it. I miss getting the juices flowing. I woke up this morning with the butterflies. I don't get to do this very often, maybe two or three times a year. So when I get a chance to do it it's a lot of fun."
Elway, an amateur golfer, plays to a 1.6 handicap index, but has been as good as +0.9 in recent years. He is a member at Castle Pines Golf Club, Cherry Hills Country Club, the Madison Club in La Quinta, Calif., and the Golf Club at Black Rock in Coeur d'Alene, Idaho.
He played in the Colorado Senior Open once previously, in 2010, when he tied for 52nd. The tournament was won by former PGA Tour player Perry Arthur, who is in the field against this week, as are fellow former tour players, Dave Rummells and Bill Loeffler.
It is a 54-hole event that will end on Friday.