Super Sub
John Daly no-shows 'Beauty vs. The Beast' charity match against Paige Spiranac, surprising hero steps in and fires 10 birdies
With nearly 2,000 tickets sold for the 'Beauty vs. The Beast' charity event featuring Paige Spiranac and John Daly, not having John Daly was going to be a problem.
The night before the event, Daly called the organizers and said he wasn't going to make it due to a flare-up of knee pain and sciatica leaving Spiranac and host Geneva National in quite a bind. Well, it's a good thing PGA Tour winner Jerry Kelly was available, putting on a show and saving the whole damn event.
Kelly stepped in for Daly at the last moment at the Lake Geneva, Wisconsin course in order to keep the exhibition alive. He and Spiranac were able to raise quite a pretty penny for the Special Operations Warrior Foundation and Heart of a Lion.
"They called me last night and said J.D. withdrew," Kelly told "Wisconsin Golf." "They were scrambling. It's just down the street from me. And I know Paige is a great personality and she does a lot for the game of golf. She really does. I had met her once before at an outing at Congressional (Country Club)."
Coming off a T-2 finish on the Champions Tour's Principal Charity Classic, Kelly's golf game was in a good place, and it showed as he put on a marvelous round in front of the paying crowd. Kelly went on to shoot 10 birdies and a pair of eagles, an unofficial 13-under 59 on the par-72 Player Course. This didn't count as an official round due to Kelly picking up some par putts and occasionally asking fans to try a putt before he did, but he did impress Spiranac who only had glowing reviews of the Madison native.
"Today was supposed to be my match with John Daly," Spiranac tweeted. "When he didn't show, Jerry Kelly filled in. Jerry made 10 birdies and 2 eagles. It was the greatest round of golf I've ever witnessed. We raised a ton of money for charity and I'm not too mad with the 66 I shot. What a great day at Geneva National."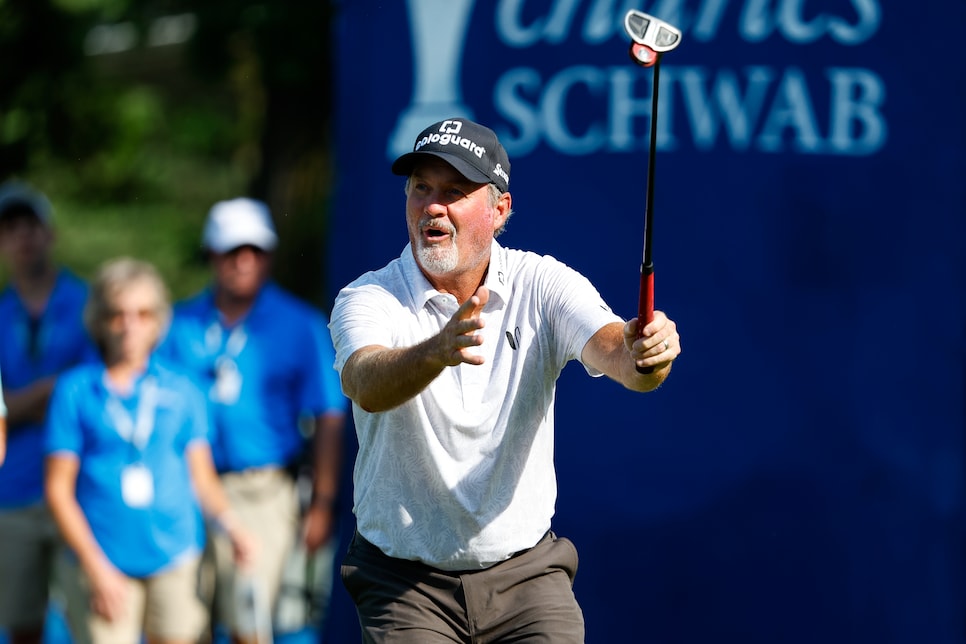 Jerry Kelly during the first round of the Principal Charity Classic at Wakonda Club on June 2, 2023 in Des Moines, Iowa.
David Berding
"He was so good," Glen Murray, chief operating officer of Paloma Resort Properties, told "Wisconsin Golf" echoing Spiranac's thoughts. "Totally exceeded our expectations. Paige turned to me on the walk between (hole Nos.) 11 and 12 and said, 'Oh my gosh, I am having such a great time being with Jerry Kelly.'"
With birdies worth $2,000 and eagles worth $4,000, Kelly singlehandedly ended up raising $28k for the two charities. Spiranac certainly had a memorable day as well, shooting a 6-under 66 along with six birdies. Kelly stated that the social-media star certainly has the ability to make the LPGA Tour if she really wanted to.
This somehow isn't the first time that Kelly has subbed in for John Daly. He did so as a rookie on the PGA Tour after Daly pulled out of a pro-am with an injury. As he was warming up, he heard his eventual playing partners griping that they lost a chance to golf with Daly: "I was supposed to play with John Daly. Now I'm playing with Jerry f**king Kelly." To which he replied, "Hey, nice to meet you. I'm Jerry f**king Kelly.'"