The Loop
John Daly is happy to let "Little John Daly" step into the spotlight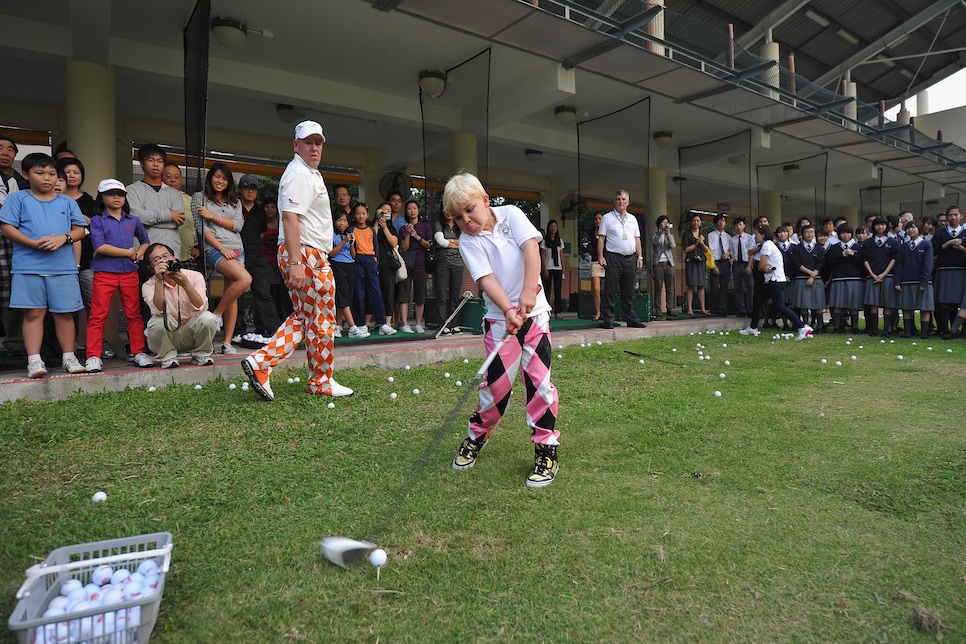 ORLANDO -- About the only outward similarity between John Daly and his youngest of three children, 13-year-old "Little John," or "LJ," as he often calls him, is their golf attire.
Dressed in pants (dad) and shorts (son) with multicolored rectangles splashed across them, the apple doesn't appear to fall from the tree. Daly's son, however, doesn't have the same huge over-swing, or quite the same larger-than-life personality as his father.
"He actually has a good swing," Daly said of his son Friday at the Father-Son Challenge at the Ritz Carlton Grande Lakes, where the two will play together for the first time in the event this weekend. "He's a five-handicap … He chips and putts it, that's what's good."
Little John, who is the son of Daly's fourth wife, Sherrie Miller, started playing golf at 2 years old. He'd chip and putt while his dad practiced.
His love for the sport grew from there.
"I just showed him the grip and pretty much you know when he started playing he's like me, he didn't want a junior set of clubs," Daly said. "He'd put it under his arm and hit because the club is so long, so he'd just stick it under his arm."
It wasn't long before he became popular, too, just like his dad.
Daly recalled a clinic that he was supposed to give about eight years ago at Bulls Bay Golf Club in South Carolina. Instead, Little John ended up hitting shots.
Now a teenager, Daly's son attends the nearby Gilchrist School. He also plays football and basketball but is starting to focus more on golf.
It shows in his game. Little John hits his driver about 250 yards and a 7-iron about 150 yards.
"He loves it," his dad said. "I'm not going to pressure him to play anything and right now golf is like his life right now. That's what he wants to do."
Though he isn't old enough to have seen his father's biggest moments in golf -- victories at the 1991 PGA Championship and 1995 Open Championship at St. Andrews -- he has seen highlights. The two also watched the recent ESPN 30 For 30 documentary on Daly.
Little John says he's amazed at how popular his dad still is.
When it comes to his favorite golfers, though, there are other names who make the list.
Said Little John: "Rickie Fowler, DJ. Spieth. And Rory McIlroy."