This week marks the latest fresh start for John Daly, who just turned 50 and will play in his first PGA Tour Champions event at the Insperity Invitational at The Woodlands.
There have been others, several in fact, since Daly emerged with his Paul Bunyanesque victory at the 1991 PGA Championship at Crooked Stick. And most of them—after a lot of resolutions and hope—have failed.
But when a professional athlete has prodigious physical talent, with the captivating power and larger-than-life qualities of a potential folk hero (mixed with a fragility and self-effacement that makes him sympathetic no matter how badly he screws up), he gets chances.
Golf wise, this might be John Daly's last chance. The PGA Tour Champions is a small stage that doesn't have room for many sideshows. Except in the case of Arnold Palmer, for whom the then-Senior Tour was basically created in 1980, galleries for the 50-and-older league don't follow non-contenders. If the legend of Long John is to add a happy chapter, he's going to have be on the leader board come Sundays.
We shall see. Daly has been his own worst enemy for a long time. "Grip and Rip It" and "Wild Thing" quickly went from affectionate taglines to euphemistic code for self-destruction.
That won't be easy. Daly hasn't played well in a while, especially since losing his PGA Tour card in 2007. There have been injuries and money problems and erratic scheduling. He can still hit it long and true; Daly led the tour in driving distance 11 of 12 years starting in 1991, and beginning in 1999 he averaged at least 300 yards off the tee for almost a decade while no other player passed 300 until 2003. But Daly's wedge play has lost its sharpness, and his putting has become problematic.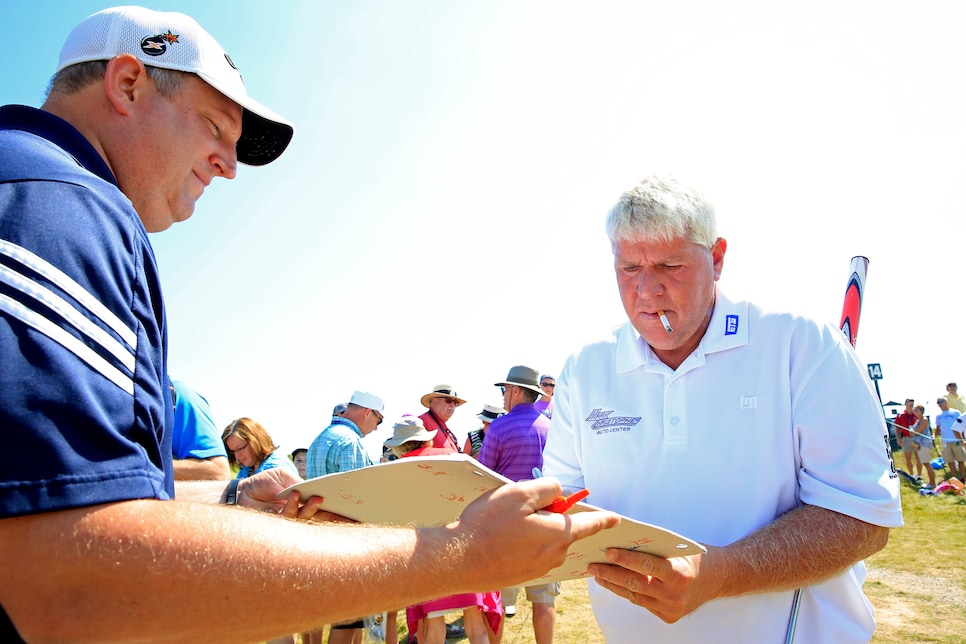 "It's not good," Daly told PGATour.com about the state of his game. "So I'm going to really work my butt off to get it back."
Mind you, Daly's patience and competitive temperament were never strengths. It's unlikely many players have ever stacked up as many WDs, and Daly is almost certainly the lifetime leader for high double-digit scores on individual holes, including an 18 on No. 6 at Bay Hill in 1998 and a 14 on No. 18 at Pebble Beach in 2000. He hasn't mellowed that much. The picture of Daly throwing a 6-iron into Lake Michigan on Whistling Strait's par-3 seventh at last year's PGA Championship (while making a 10) stays in the mind.
On the other hand, the PGA Tour Champions isn't still called the ultimate mulligan for nothing. This year, 26 tournaments will be played for $55 million in prize money. Down-on-their-luck veterans are routinely reborn, Woody Austin being the latest. The shorter holes, wider fairways, slower greens and lesser competition can bring confidence and a reawakening of talent. And, especially for the gregarious Daly, the camaraderie among players from his glory days who are eager to see if he can boost interest in the tour could prove a tonic.
"John Daly is a huge draw," says Bernhard Langer. "Deep down, he's a wonderful guy. He's going to love this tour."
We shall see. Daly has been his own worst enemy for a long time. "Grip and Rip It" and "Wild Thing" quickly went from affectionate taglines to euphemistic code for self-destruction. Yes, Daly won two majors, but he compiled only three other victories on the PGA Tour. In more than 20 seasons, he has had only 32 top-10s. The highest he ever got on the World Ranking was 23rd.
It could be said that Daly's record was impressive, given the baggage he carried. Daly has been to rehab for excessive drinking. He has had major gambling problems in which he claims to have lost more than $55 million. He's been married four times.
The messiness was evident the first time I met Daly, at the Yale University Golf Course during the 1990 New Haven Open in the inaugural season of the Ben Hogan (now Web.com) Tour. He was 24 out of Dardenelle, Ark., and admittedly broke, thankful to have won $500 the previous day in the tournament's long-drive contest with a poke of 340 yards. Twice that year, Daly would be admitted to a hospital for treatment after bouts of drinking.
Still, even as purists blanched at a backswing in which the club was closer to perpendicular than parallel, there was no doubt Daly possessed special talent. More than a year later at Crooked Stick in Indiana, on a wet course with wide fairways and doglegs Pete Dye never envisioned anyone cutting, Daly turned loose the power and blew away the field. With his caddie, the late Jeff (Squeaky) Medlin, quietly urging him with the simple command "Kill," Daly regularly outdrove his playing partners by 50 yards. "It was unbelievable the way he cut that course in half with his driver," said Sam Snead, who in the 1930s had similarly captivated golf fans with his length and unlikely beginnings.
It was as raw, emotional and inspirational a victory as golf has ever seen. When it was over, a teary-eyed Daly put his own spin on the final scene of "Rocky" by paying tribute to his boyhood idol, Jack Nicklaus, crying "I love you, Jack!" into a microphone.
A few months later, the new PGA champion met Nicklaus in person for the first time at the Skins Game. Clearly sensing a lost soul, Nicklaus offered an open invitation to call or visit anytime Daly might want to talk. Daly never took Nicklaus up on the offer, and a few weeks later tore up his home during a drunken rage.
Daly's victory at the 1995 British Open at St. Andrews was as improbable and epic as Crooked Stick, but his future had begun to portend trouble. A month after his win at the Old Course, U.S. Ryder Cup captain Lanny Wadkins left him off the American team.
Daly won once more, turning back the clock at the 2004 Buick Invitational at Torrey Pines. His last real chance of winning came at the 2005 WGC-American Express Championship, when he fell in a playoff to Tiger Woods.
At The Woodlands, Daly will stand out in his Loudmouth clothing, smoke his customary two packs a day and look more grizzled than people remember him. His voice has grown huskier, so that if he chooses to perform his well practiced but always soulful rendition of Bob Dylan's "Knockin' on Heaven's Door", the effect will be all the more moving. And perhaps signal a real fresh start.