News
John Daly hangs on to win for first time on PGA Tour Champions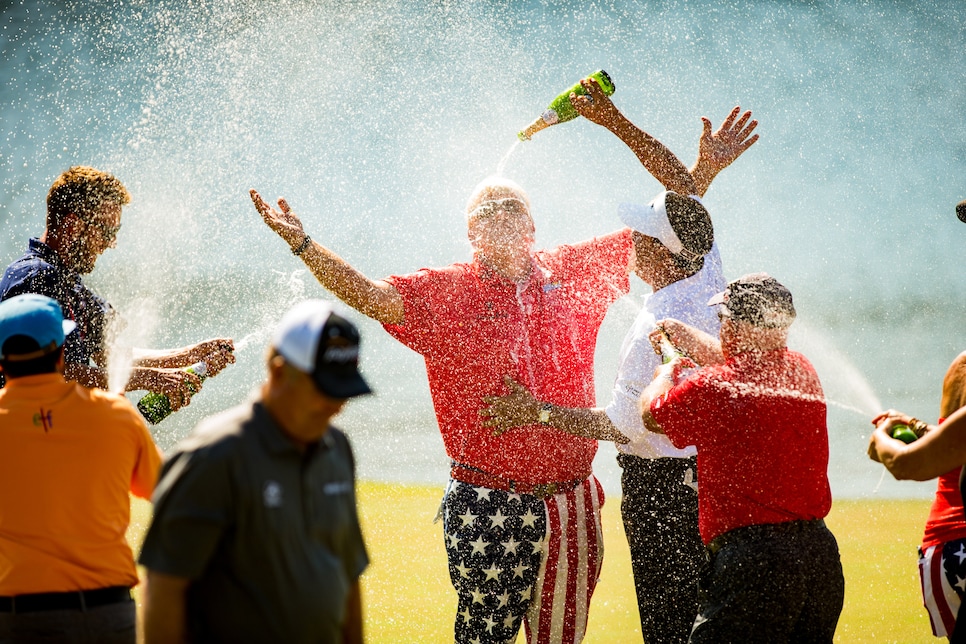 John Daly comes with baggage, some of it apparent, given the expanding girth that has him using a cart in competition these days. Yet for all his off-course failings through the years, his talent still occasionally breaks free from their debilitating grasp.
The Insperity Invitational was one of those occasions, rarer now than ever, but still intriguing. He bogeyed the final three holes at The Woodlands Country Club outside Houston, but hung on to win it by one, his first PGA Tour Champions victory in this his 22nd start.
It also was his first U.S. victory since he won the PGA Tour's Buick Invitational at Torrey Pines in 2004, a 13-year span of hardship interrupted only by a victory in a minor tournament in Turkey in 2014.
For that one, he earned $8,000, or substantially less than his caddie will earn from his percentage of Daly's $322,000 first-prize money for winning the Insperity Invitational.
"It's awesome," he said, moments after Estaban Toledo and others drenched him in champagne on the 18th green. "It wasn't the greatest of finishes. I kind of followed the leader board, but I didn't know TA [Tommy Armour III] was right up there until I saw the board on 16 and I'm going, 'oh, boy.'
"Hey, a win's a win. I didn't think it would come this soon. These guys are so good. And just thanks to Insperity and all these wonderful people and all these people [sponsors] sticking to me. It's pretty cool."
Daly, who closed with a three-under-par 69, had never finished in the top 10 in 21 previous starts on the senior tour, which defined as precarious the one-stroke lead he carried into the final round. Yet he eagled the first hole en route to a three-under-par 33 on the front nine and birdied three of the first six on the back.
But Daly was unable to shake Armour, who was seven under through 16 holes, or Kenny Perry. It was his good fortune that both stumbled in the closing holes, too; Armour bogeyed the final two holes, Perry the 17th, and both tied for second.
"These finishing holes are so hard," Daly said. "I was just coming out of my irons a little bit. I drove the ball tremendously and putted so good. I just kind of hung in there and did the best I could. It wasn't pretty in the end, but I got it done. That's all that matters."
What it means going forward is usually a mystery with Daly, notwithstanding talent that produced two major championship victories early in his career, one of them in the Open Championship at St. Andrews.
Daly nonetheless expressed optimism. "I just need to work on the irons a little bit and get them dialed in a little bit better," he said. "But if I keep driving the ball good and putt the way I'm putting, it makes it a little easier when you do mis-hit some shots."
Straight has not always been an available path for Daly. But when he does access it, results follow, as they did one more time in a long meandering career.