Caddie Chronicles
Joe LaCava is caddieing for Fred Couples this week—and sporting a brand new mustache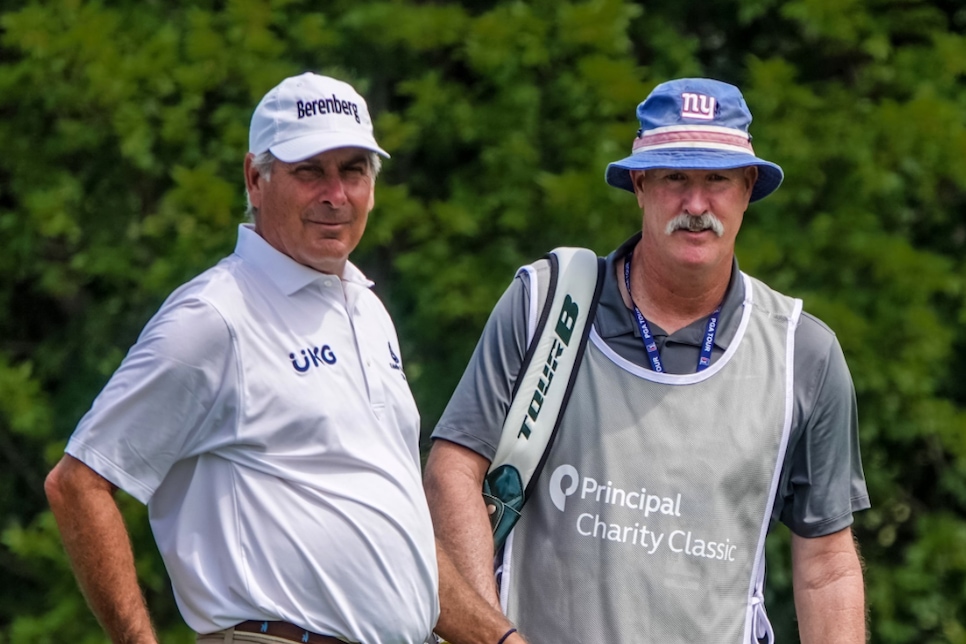 With full-time boss Tiger Woods sidelined for the foreseeable future, Joe LaCava has picked up a pretty solid side gig: loopin' for Boom Boom.
LaCava will guest caddie for Fred Couples in the Principal Charity Classic, this week's PGA Tour Champions event at Wakonda Golf Club in Des Moines, Iowa. It's not a new arrangement—LaCava was on the bag for 12 of Couples' 15 PGA Tour victories, including his lone major championship at the 1992 Masters.
"Yeah, loopin for Fred in Des Moines," LaCava told Golfweek. "Actually eating pasta watching hockey with him right now. Like nothing has changed 10 years later! Would kill to be working for TW in Columbus [Ohio at the Memorial]."
LaCava also made it clear he is working for his old boss on a subsitute-basis only.
The PGA Tour Champions' Twitter account announced the temporary reunion by posting two photos of Couples and LaCava: one from way back when, the other from a practice round this week. The more recent shot showed LaCava rocking a blue New York Giants bucket hat—a noted change from the Nike headgear he wears while working for Woods—and, perhaps more notably, a mustache that nicely matches the 61-year-old Couples' hair color.
LaCava, 66, began working for Woods full-time in 2011, and the two have won 11 PGA Tour events and one major championship together. Prior to his time with Woods, LaCava spent multiple years on Dustin Johnson's bag and also worked for Davis Love III and Justin Leonard.
Couples has eight top-10 finishes in his 12 starts across the PGA Tour Champions wraparound season, which was extended due to the pandemic. His last start on the senior circuit came the week after the Masters, when he tied for sixth at the Chubb Classic.
Woods is recovering from traumatic right-leg injuries he sustained in a car accident outside of Los Angeles on Feb. 23. There is no timetable for a potential return to competition.