The Loop
Still an underdog, Joe Daley embraces chance for redemption at Senior Players
FOX CHAPEL, Pa. -- Joe Daley has spent years on golf's undercard, but Sunday at the Constellation Senior Players he will simply be an underdog.
After plugging away in the third round at Fox Chapel GC Saturday after a poor start to shoot a 68, Daley shares the 54-hole lead with Mark Calcavecchia at 12-under 198, one shot ahead of Fred Couples and Tom Lehman.
That trio has majors and millions. Daley, 51, has two Nationwide Tour wins in 272 starts. He has one top-10 in 59 PGA Tour events.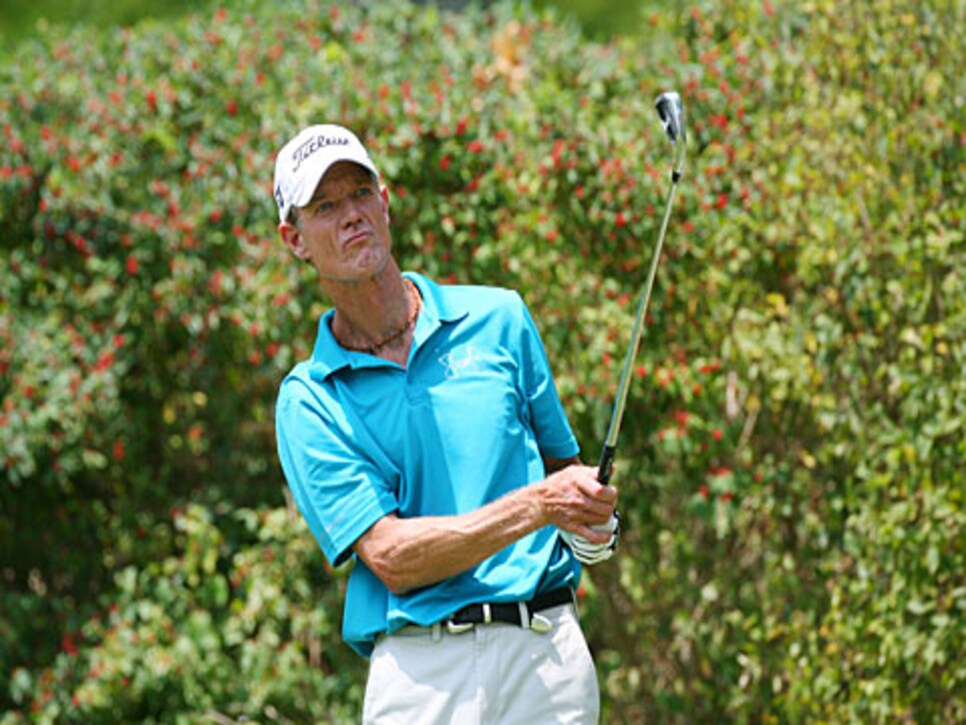 Photo by: Hunter Martin/Getty Images
On the penultimate hole of PGA Tour qualifying school in 2000, Daley got one of the worst breaks in golf history when a four-footer, rolling at perfect speed, somehow hit a raised cup liner just wrong and bounced out. He threw his cap to the ground in disgust and disbelief, and missed getting his card by one stroke.
The thin man -- "I'm swimming in these 32s," he said Friday, tugging at his waistband -- kept grinding. He had worked in offices until he was in his early-30s, and he loves the golf life, vagaries and all.
Bogeys at Nos. 3 and 4 Saturday were just the latest setbacks. "I made some mistakes early, but that's golf," Daley said. "Then I fought back and made some birdies and plugged on from there."
The Fox Chapel course suits his eye, reminding him of rolling layouts around the Philadelphia suburbs, where he grew up. Daley had respectable finishes in the first two Champions Tour events of 2012 after Monday-qualifying. He got into the Senior PGA Championship as a result, and he parlayed a 66-64 close to a T-4 there.
As Roger Chapman, the journeyman from England, proved at the Senior PGA, resumés don't win tournaments, golfers do.
Through three rounds, Daley is poised for his biggest day in golf but he'll try to go through it in increments of a few seconds. Clichés are boring, but they've worked for Daley through 54 holes.
"I'm taking it one shot at a time," he said. "Just being patient in my mind, staying focused on where I'm at and what I'm doing. For me, that's as simple as it gets. It's not complicated for me. When I do that, I control my emotions better and I'm more into what I'm doing. I'm happier too."
Against those names off the senior marquee, the odds won't be with Daley Sunday but then they never have been. A self-taught player, he has long been hooked on the self-reliant angle of professional golf. He will earn what he gets Sunday afternoon, hopefully with a smile on his face.
"This is a great opportunity for me," Daley said. "If I'm on that page of the attitude side, the outcome is always better than going the other way. When you stay on that positive, forward, can-do page, things happen and it's good. I'd rather be there than on the other end. Take the high road, you know?"
If the sport's many journeymen could summon some golf justice for one of their own, Daley's Sunday ride will end in victory with a four-footer on No. 18 that settles safely in the bottom of the cup.