The Loop
Joe Buck says announcing golf "is nuts," explains why it's so difficult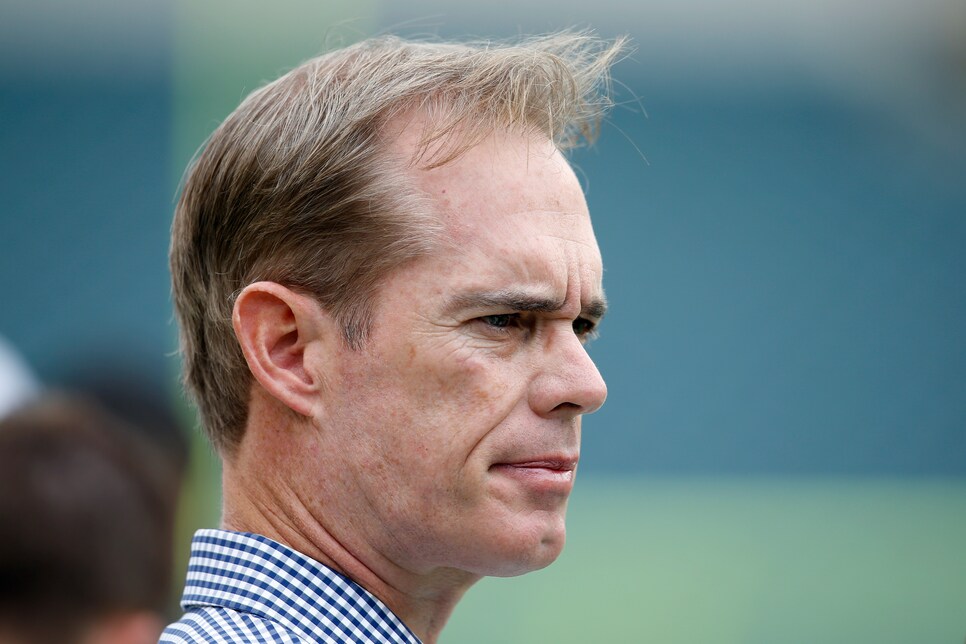 Joe Buck knows Fox's first attempt at televising the U.S. Open wasn't perfect. He also knows he and the rest of the crew were getting better by Sunday at Chambers Bay. What he doesn't know? If they'll be able to pick up where they finished last year when the 2016 U.S. Open rolls around.
In between working the World Series, the longtime play-by-play man did a candid interview with For The Win in which he was especially honest about his first foray into announcing golf.
"Golf is -- golf is nuts," Buck told For The Win. "You would think it'd be the slowest to do, but it's actually the fastest. I mean, I've done college basketball, a horse race, a bunch of different things and they'd blow by but golf has a frenetic pace of bouncing around from shot to shot and green to green and, in essence, acre to acre over this huge plot of land with over 150 players who are their own team."
Buck went on to explain another huge difference between golf and his main sports, baseball and football.
"And I'm not doing any of it live, it's all of monitors. I go from the best seat in the house at Game 3 of the World Series to literally the worst seat with no vantage point when I'm doing a U.S. Open. That's the weird thing. It's more of a television show because you're just piecing information together. If everything went out, I could still do a baseball or football game. If the cameras went out in golf, I'd be sitting there literally not with one clue what's going on."
Buck also said announcing is all about finding a groove, something he felt he, Greg Norman and the rest of the Fox team were doing by the end of the week at Chambers Bay. Not surprisingly, Buck feels the more he announces golf, the better he'll get. But with Fox's limited number of events, that's going to be difficult.
"By the time the Open ended, we were getting a hell of a lot better. You gotta develop a rhyhtm, then by the time you do, it's done. Then you have the Senior Open which doesn't have the eyeballs and the Women's Open which doesn't have the eyeballs. It's a tricky thing and then you're off for months."
When asked how do you get better with such a long layoff, Buck responded by saying he'd watch tapes of himself from this past June -- something he doesn't do anymore for other sports he covers.
"We kind of have to go back over last year's U.S. Open and track where it went from Thursday to Sunday and try and pick up where we left off when we show up at Oakmont next year. I don't know how else to do it because we're not out there doing it."