News
Joaquin Niemann has extra motivation to play well at the Mayakoba Golf Classic—and it's working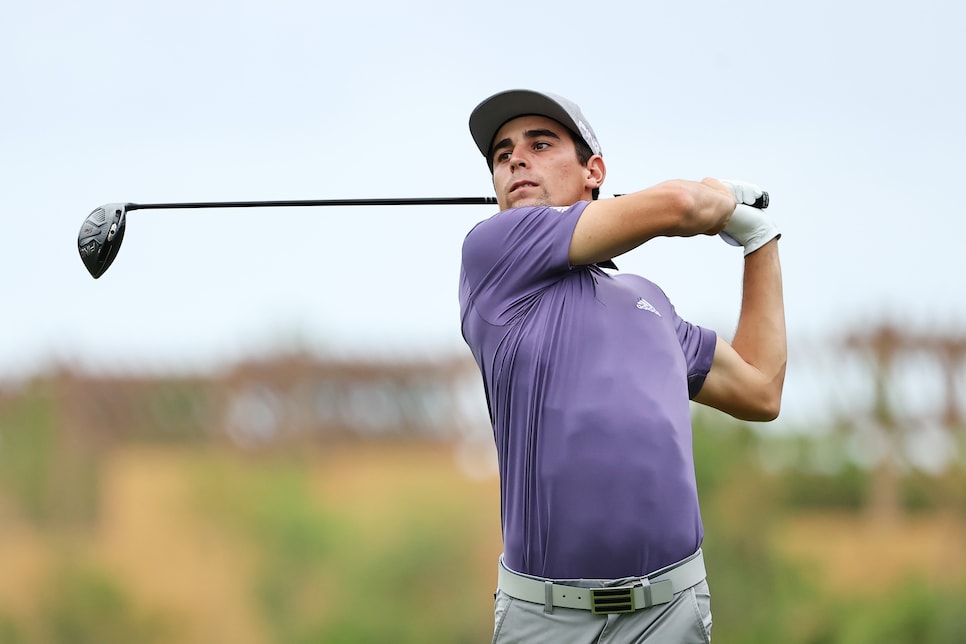 Joaquin Niemann isn't playing just for himself but also his infant cousin this week in Mexico.
Hector Vivas
The final PGA Tour event of this god forsaken year got off to a wet and windy start, with Day 1 of the Mayakoba Golf Classic in Playa del Carmen, Mexico, proving a rather difficult day for scoring. Just 56 of the 132 players in the field broke par at El Camaleón Golf Club, where trouble—and an extremely ominous cave—seem to lurk around every corner.
Russell Knox has the lead after a six-under 65, there four players a shot back at five under, and Tony Finau and Viktor Hovland are part of the group at four under. Here are five takeaways from the final PGA Tour Thursday of 2020.
If you're not rooting for Joaquin Niemann this week …
As objective journalists, we are not supposed to pick favorites. But just like two weeks ago with Camilo Villegas at the RSM Classic, it's impossible not to root for Joaquin Niemann this time in Mexico. First, you had to feel for him after he had to withdraw from last month's Masters when he tested positive for COVID-19. More importantly, the 22-year-old has pledged to donate all his winnings this week to the fight to save his newborn cousin Rafita, who is battling Spinal Muscular Atrophy.
According to Niemann's post on Instagram, the only cure for the disease costs $2.1 million, and Niemann set up a GoFundMe that has already raised more than $121,000. Meanwhile, heaps of players in the field this week are wearing ribbons as a nod to Rafita's battle.
"It's big for me and my family in Chile," Niemann said. "Having all the support from all the people here on tour is really amazing, and also from Mexico. The tournament, they're helping me a lot to tell a little bit more of the story of Rafita, so happy for all the support of the players. We're fighting for him."
Niemann is in good shape to chase the $1.296 million winner's check after an opening 66 that included four birdies and an eagle. There's longer than a long way to go, but a Niemann victory and a fat check going to Rafita's medical costs would be the perfect ending to a year that's punched everyone in the gut; 2020 owes us one.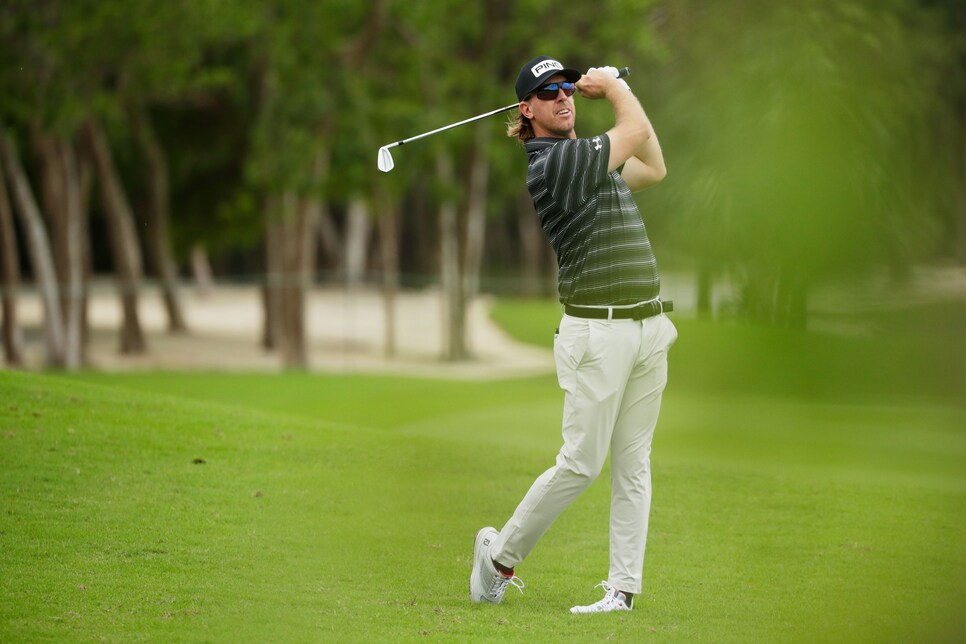 Hunter Mahan plays a shot on the ninth hole during the first round of the 2020 Mayakoba Golf Classic.
Cliff Hawkins
We talk often about Jordan Spieth's prolonged slump, but how about Hunter Mahan, who knows from having his game shockingly disappear. The six-time PGA Tour winner got as high as No. 4 in the world in 2012—he was the highest ranked American at that time—played on seven Ryder Cup/Presidents Cup teams and then totally lost his form. Now ranked No. 1,422, he has just one top 10 since 2015 and has missed the cut in nine of his 12 starts this year.
Mahan posted a three-under 68 on Thursday that included a hole-out eagle at 18. Again, long way to go, but certainly positive signs for a guy who is still only 38 years old.
Brendan Steele with the rarest of shots
OK, maybe a hole-in-one on a par 4 is rarer. But you almost never see albatrosses on the PGA Tour, and Mr. Steele did exactly that on the par-5 13th on Thursday, landing his second shot on the front of the green and watching it ram into the flagstick and drop.
That'll take you from one over for the day to two under, real quick. Unfortunately, Steele bogeyed his last two holes to finish at even-par 71, but the double eagle is still something to celebrate.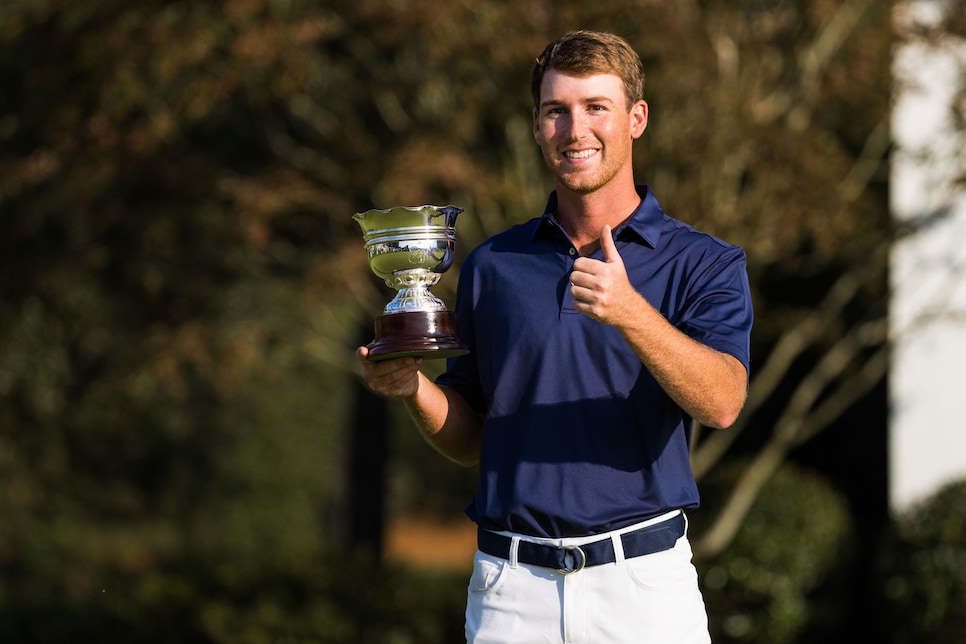 After earning low amateur honors at the Masters, Andy Ogletree made his pro debut at Mayakoba on Thursday, shooting a two-under 69.
Ben Walton
Andy Ogletree gets his pro career off to a solid start
What a ride it's been of late for the 2019 U.S. Amateur champion and Georgia Tech grad Andy Ogletree. Three weeks ago, he played the first two rounds of the Masters with Tiger Woods, made the cut and finished as low amateur. Then he turned professional in the coolest way possible, resurfacing a letter he wrote in third grade that states his goals in life: to become a pro golfer (check) and play with Tiger Woods (check).
Ogletree got a sponsor's invite into the Mayakoba and seems ready to take advantage of the opportunity, shooting a two-under 69 in his first round as a pro. He was asked if there were any nerves.
"No, definitely not." Sounds like a man who played with Tiger Woods at the Masters. "I was pretty focused. It's hard to have jitters when you've got 20-mile per hour wind coming off the left shoulder off the first tee shot."
Maybe Akshay Bhatia made the right call after all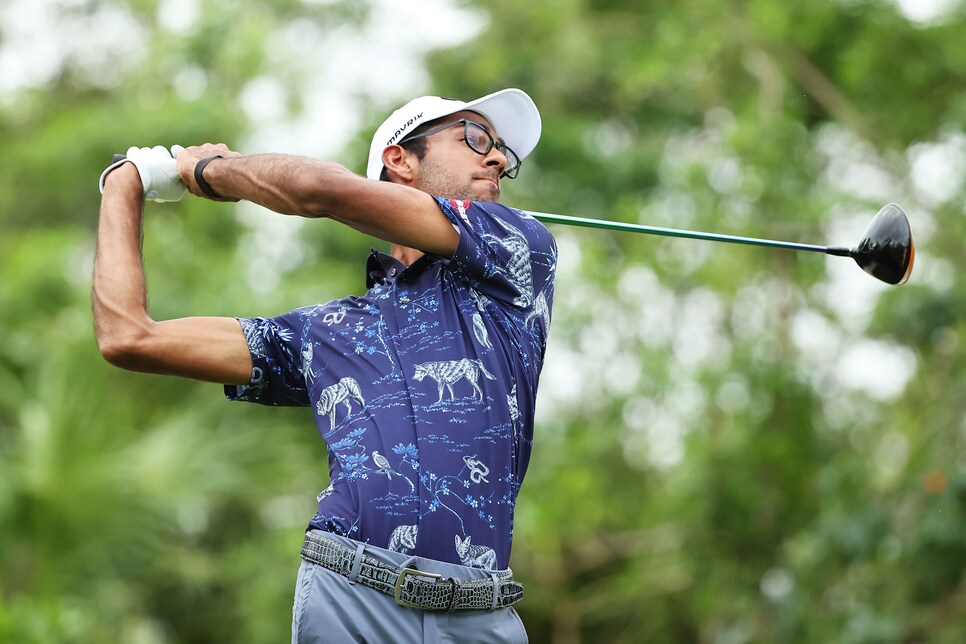 Akshay Bhatia got into Mayakoba after Monday qualifying, then shot a opening 67.
Hector Vivas
Bhatia, who was at one point the top-ranked junior in America, raised some eyebrows when he decided to spurn college golf and turn professional as a 17-year-old. The decision looked even more suspect as he struggled through the first year of his pro career, missing his first eight cuts on the PGA Tour.
But Bhatia, now a grizzled veteran who'll turn 19 in January, picked up his first top 10 on tour in September at the Safeway Open, where a 66-68 finish saw him take T-9 and win $166,650. That was a positive sign. So was Monday qualifying this week into Mayakoba. And after starting his day with back-to-back bogeys, Bhatia battled back to shoot first-round 67. He'll need a big finish this week to get him more starts on the PGA Tour—at least without having to rely on sponsor's exemptions—but again, the kid is still a teenager and has the game to compete on the PGA Tour when he's playing well. Let's wait a little while before we judge the merits of his decision to turn pro.