LPGA
How this LPGA star is trying to bounce back from a year of injuries and doubt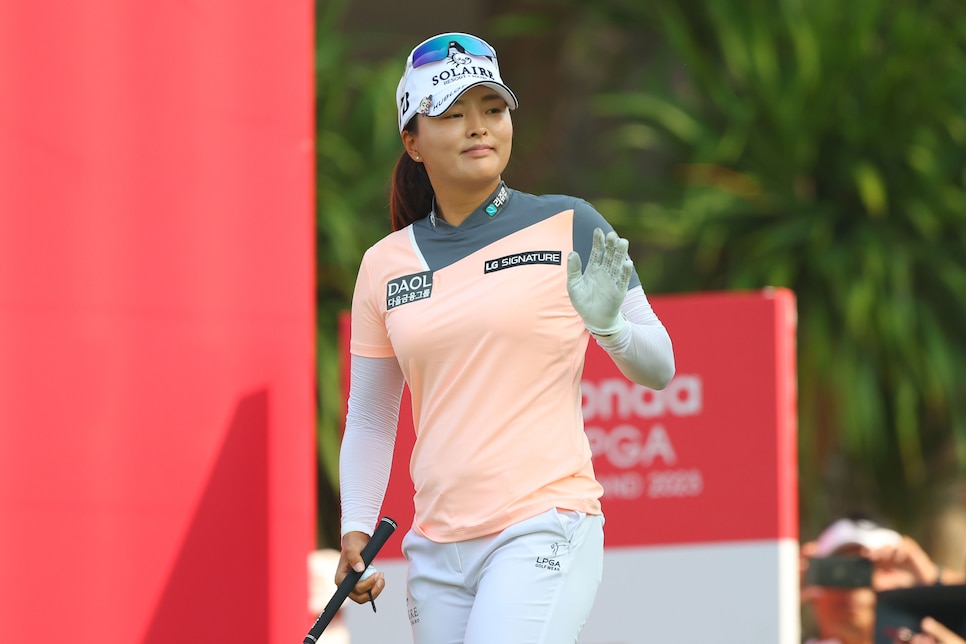 Jin Young Ko acknowledges fans before teeing off during the final round of last week's Honda LPGA Thailand.
Thananuwat Srirasant
When Jin Young Ko claimed the HSBC Women's World Championship title a year ago, she left Singapore on top of women's golf world. With her two-stroke win, it marked the sixth straight year in which she had grabbed an LPGA Tour victory. Her closing-round 66 was her 15th consecutive round in the 60s, a new LPGA record. It was her 29th round in the 60s over her last 30. The then Rolex Women's World Rankings No. 1 seemed primed for another spectacular season, the potential to overtake Lorena Ochoa for the most weeks as the top player in the rankings was within her sights.
In hindsight, that Sunday in Singapore was no springboard, but rather a plateau that Ko is still coming to terms with. In the months to follow, the 27-year-old South Korean star suffered another wrist injury setback that caused her to endure the worst stretch of her tour career, one she's still navigating.
"There were some tough times last year," Ko said Tuesday during a pre-tournament press conference at Sentosa Golf Club. "But because of those times, I learned that I needed to practice the right away, what I needed to do, and what I needed to work on. It was an important year for me."
Ko missed back-to-back cuts for the first time in her six-year career last August at the AIG Women's Open and CP Women's Open. She did not defend her title at the Cambia Portland Classic, resting her wrist instead.
Her return in October continued with wrist pain. Ko's best finish over her last four tournaments came at the limited-field CME Group Tour Championship, a T-33. In the offseason, she returned to her old coach, Si Woo Lee, to find answers as Ko remained physically and mentally tired.
In a text exchange with Golf Digest, Lee noted that Ko's body and rotation patterns "had broken a lot," getting smaller compared to her swing in previous years. The two spent a month working together in Vietnam, emphasizing building stamina and fixing her swing mechanics. "So I keep asking her [to use her] upper and lower body turn rather than use of the wrist and arm."
Ko saw some progress a week ago at the Honda LPGA Thailand, her first start of 2023, where she shot a closing 64 to finish T-6. Ahead of that event she shared that her wrist feels better and that she's working out to protect it more. Her coach more precisely described where her injury is now, stating she's at "70-80 percent free from wrist injuries."
While Lee and Ko have been working together to put a new swing in place, there's also been working rebuilding Ko's mental stamina. Judy Rankin once described the 13-time winner as being as good under pressure "as anybody we've ever watched." To restore that, Lee and Ko have turned to meditation to start solving her mental exhaustion. Ko now meditates every morning and night. The routine alleviates some of the pressures the two-time player of the year has and helps keep her present on the course.
"All the players have high expectation, and that makes it [easy to become] tired," Ko said. "So I don't want to [put] high expectation myself. Just look the ball and just hit it and just walk and then hit again, that's it."
The proof started showing in her final round in Thailand. It's was her lowest round from the now World No. 5 player since last May at the Palos Verdes Championship. The T-6 finish was her first top-10 since the Amundi Evian Championship in July.
"I don't have word to describe what went down on that last round," Ko said. "I feel that I've managed to show true moments and that's all that matters at the end of the day."
Putting more of those moments together can start returning Ko to where she was at the end of last year's HSBC Women's World Championship. Right at the top of her game.