LPGA Tour
Jin Young Ko comes up one round short of breaking this impressive Annika Sorenstam scoring record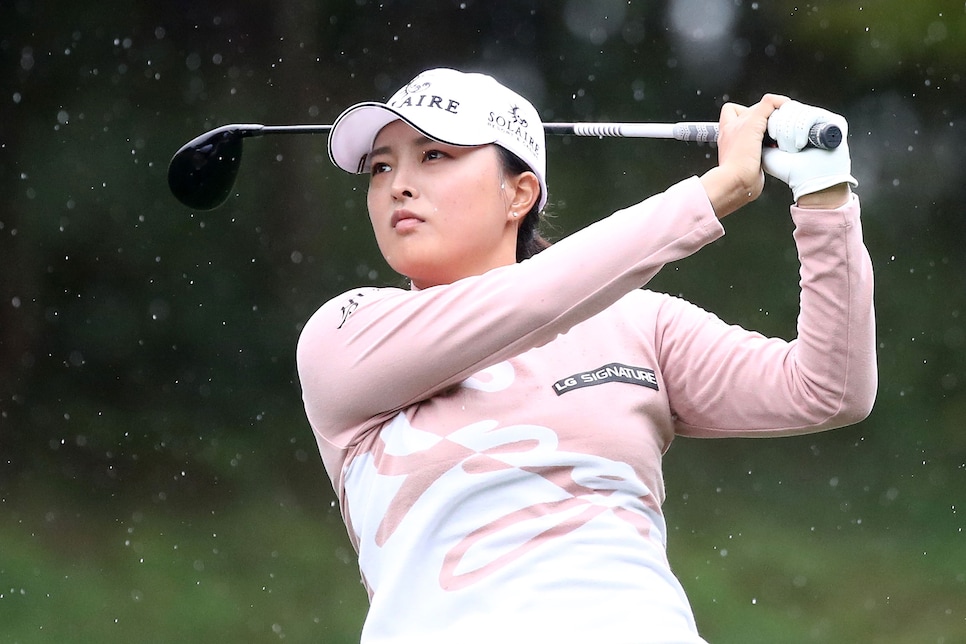 Jin Young Ko tees off on the fifth hole during the first round of the BMW Ladies Championship. She finished the day with a 71, ending her streak of rounds in the 60s on the LPGA Tour at a record tying 14.
Chung Sung-Jun
Jin Young Ko came up two shots short of owning this impressive LPGA scoring record all to herself.
On a chilly, rainy Thursday at LPGA International in Busan, South Korea, Ko was trying to shoot her 15th straight round on tour in the 60s. If she had done it, she'd have broken the mark for most consecutive competitive rounds in the 60s first set by Annika Sorenstam in 2005 and later tied by So Yeon Ryu in 2016-17. But Ko's first-round one-under 71 at the BMW Ladies Championship ended the streak.
"Of course because of this round, I will not break the record for the most consecutive rounds in the 60s, but I think I was able to tie with Annika and So Yeon because I worked hard every moment and I gave it my best every hole and every shot," Ko said afterward. "So I think that this in itself is really meaningful, and really 14 consecutive rounds in the 60s is not easy. I worked hard a lot, and also you need a bit of luck as well."
Ko's first-round 71 puts her seven shots behind leader Na Rin An in a tie for 42nd through the opening 18 holes of the third-to-last tournament on the 2021 LPGA schedule.
The 26-year-old South Korean had broken a record previously held by one of the greatest to ever play the game: In 2019, Ko passed Tiger Woods' record for longest streak without making a bogey. She went an incredible 114 tournament holes without making a bogey (or worse) to Tiger's 110 holes.
Though Ko had to settle for a share of the record rather owning it outright, the No. 2 player in the world remained positive after her round.
"It was raining. It was cold. So it was a tough round," Ko said, having made there birdies and two bogeys. "But I have to say I did my best. And maybe I think I didn't do well, as much as I had expected, because when you play in Korea, there's that extra bit in you that wants to do a little bit better, and there's that extra bit of pressure as well. But I have to say I really did my best today, and I think I wrapped up the round nicely with a birdie."
That birdie serving as a reminder that more rounds in the 60s are likely to come.