News
Jimmy Walker's surprising "backstopping" admission sparks heated debate on (Golf) Twitter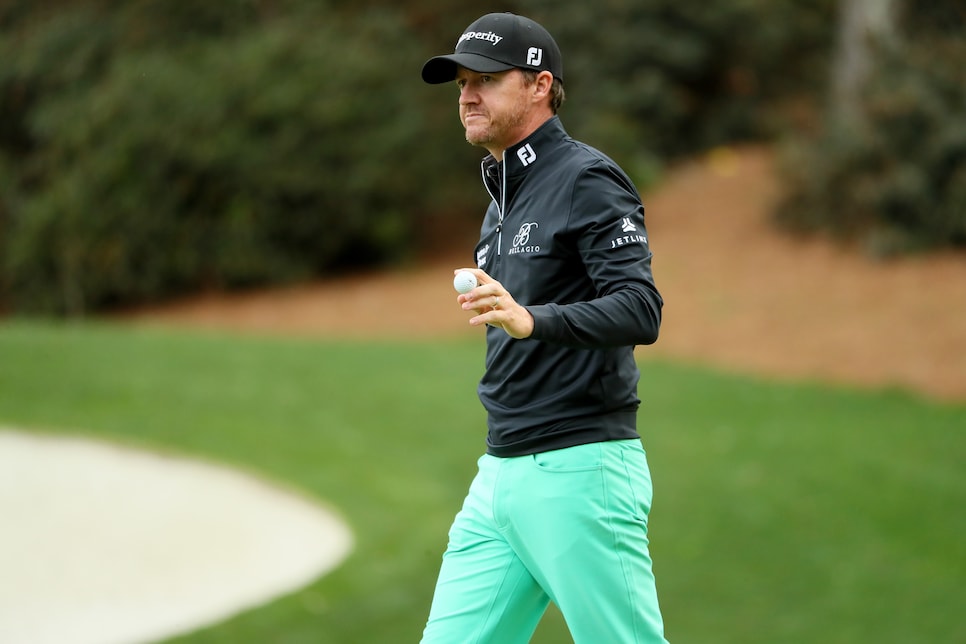 Up until now, "backstopping" has existed as a giant conspiracy theory, a collection of grainy screengrab videos that pop up from time to time on Twitter. In those clips, tour pros appear to purposely not mark their golf balls in order to give opponents a potential advantage, a safety net -- albeit small -- to slow down a shot containing too much pace. But as any lawyer knows, it's hard to prove intent. Unless someone admits to it.
That's exactly what happened on Saturday when Jimmy Walker responded to such a video posted by longtime European and Australian Tour pro Mark Clayton. Clayton called "Ben An and John Huh helping each other" a "joke," but Walker didn't see the big deal and admitted to purposely not marking his ball in certain situations in a series of replies.
Walker was then informed that players purposely doing this are actually in violation of golf's rules.
The rule in question here is 22-1, which says in part that "In stroke play, if the committee determines that competitors have agreed not to lift a ball that might assist any competitor, they are disqualified." Yep, pretty serious.
Of course, there are grey areas here, most notably if it's match play or if marking a ball would cause undue delay in play. But Walker admitted to going as far as asking other players if they wanted him to mark his ball or not -- at least, to those he gives preferential treatment to based on friendship or fortune. On one hand, you could argue that Walker is showing good sportsmanship to his playing partners, but on the other, not protecting the rest of the field isn't fair. Either way, it doesn't seem like Walker was aware of the rule.
Not surprisingly, Walker's surprisingly candid tweets sparked quite a debate. Many feel it's not a big deal, especially because it's rare that a ball left as part of a "blockade" actually serves as a blockade. But as Golf Channel's Will Gray points out, it does happen. And it can have a big affect, especially with big bucks on the line:
In that case, Finau finished one shot ahead of Phil Mickelson and Chesson Hadley, costing them (assuming he wouldn't have made a lengthy par putt had his golf ball not been slowed down by an opponent's ball) more than $100,000 each. It's not hard to envision ramifications like a player earning or not earning their PGA Tour card because of a similar situation. And although video evidence confirms Walker's assertion that "lots of guys do it," several other tour pros strongly disagreed with the six-time PGA Tour winner:
Walker will play with Justin Rose and Louis Oosthuizen in the first two rounds of this week's U.S. Open. Considering the attention his Twitter admission received -- and the fact he's playing in a major run by golf's governing body -- we're guessing Walker will be extra quick marking his golf ball at Shinnecock Hills.
UPDATE: Walker chatted with Golf Channel about the issue on Monday from Shinnecock Hills: