It's 7 p.m., and you'd never know from the bounce in his step and enthusiasm in his voice that Jimmy Fallon is 13 hours into a perfectly normal Wednesday. Gliding down the hallways outside Studio 6B in Rockefeller Center, where "The Tonight Show Starring Jimmy Fallon" is recorded Monday through Friday at 5 p.m., the comedian and late-night ratings leader since taking over for Jay Leno on Feb. 17 insists he's excited to talk golf.
"This will be easy for me," he promises. "I'm loving golf right now."
Born in Brooklyn and raised in Saugerties, N.Y., 100 miles north of New York City, Fallon is every bit as energetic and likable at the end of the day as he was at our 7 a.m. photo shoot the day before.
Fallon began today with a morning golf lesson and workout at Golf & Body NYC, the private game-improvement and fitness center a mile from his co-op in Gramercy Park.
"How do I find time for golf with a wife, an 8-month-old daughter and hosting 'The Tonight Show'?" Fallon says. "I make time for it."
Would you call Jimmy Fallon a golfer or a guy who plays golf?
Jimmy Fallon is trying to be a golfer, but right now he's a guy who plays golf. I'm trying my hardest, and I love to play, but if I'm in front of a crowd, I just want to make them laugh.
You've used golf for laughs during your five years on late-night TV.
We do this thing called "Hallway Golf," and people love it. Played with Samuel L. Jackson, Chris Rock, Will Arnett. Had a chipping contest with Dennis Quaid. I sank an amazing shot to beat Shaquille O'Neal. The bet was whoever loses has to walk a block wearing bikini underwear with the other person's name on his butt. And I won! You should've seen Shaq walking a block with pink underwear and "Jimmy" on his butt. A man of his word.
I beat him at his own Wii golf game in Times Square. That dude does not like to lose or be told what to do. On the second hole he hit the ball, and I said, "Tiger, you know if you just shake the thing and move it forward you can put spin on the ball." He looks at me and says, "Don't tell me how to play my game."
His first late-night TV appearance post-scandal was with you.
When his agent told me before the show that they didn't want me to bring up any stuff, I told him, "I'm a comedian, and I've been telling jokes about this guy for months. Everyone has. I have to bring it up." So Tiger comes out, sits down, and I say, "I know it must have been a painful situation you went through, but from a comedian's standpoint, my monologue writers thank you. We laughed at your pain, and it kind of wrote itself." Then I just listed words: balls, shaft, holes, foursomes, stuff like that. And he cracked up laughing, I broke him. I think it was a pivotal moment for his career. It was like he could finally say to himself, I sat there and took it. Now I can move on.
Did they complain afterward?
Tiger was a really good sport about it. He could have asked us to remove it before it aired, but he didn't want us to cut it.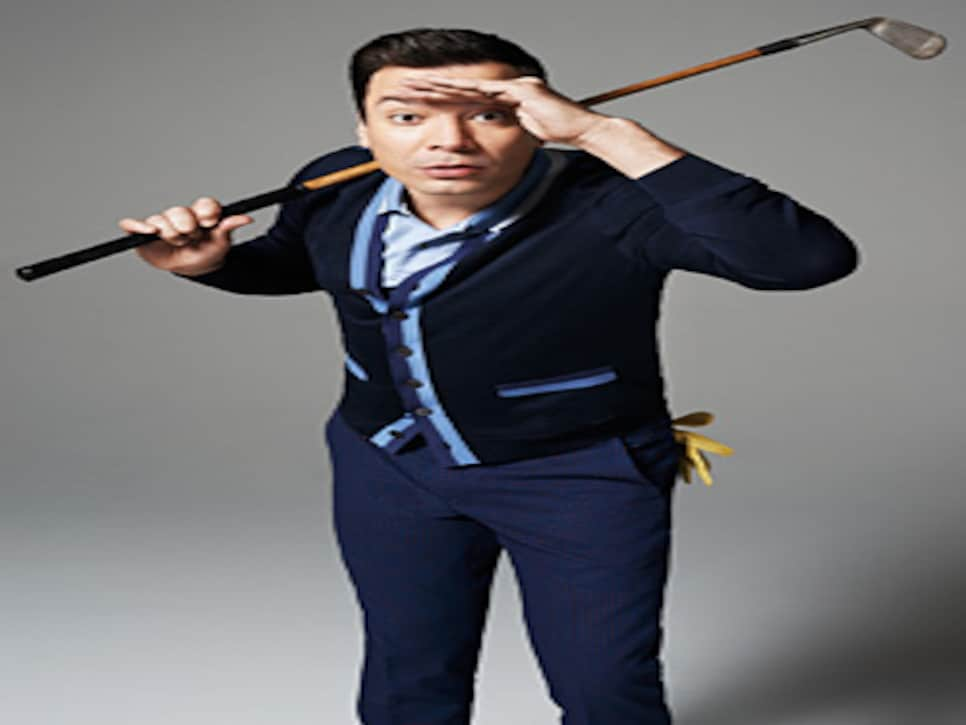 Rory McIlroy was on your show after winning the PGA Championship in 2012.
I think he was a little intimidated by me. He saw how I beat Tiger in Times Square, so he knew not to mess with me.
What about President Obama?
How many rounds of golf has he played as president, 160-something? That's been great for me and my writers. Anytime the president does something people don't approve of, I'm always there. That's my job.
Have you played golf with Justin Bieber?
Does he play golf? ... Mini-golf? ... Putt-putt? Does it involve a windmill? No way that guy plays golf.
If you could choose any golfer to be on your show, who would you want to interview?
Bob Hope. I'd love to have been able to have him on. He was a genius. I'd love to pick his brain and learn from him. I look back at these great comedians who had golf tournaments, like Bob Hope and Bing Crosby. They'd goof off, have fun and make some good memories. I'd love to do that. Maybe we can start something here on the East Coast, whether it be in the Hamptons or just outside the city. We need one of those back here.
You played once in the Hope Classic, back in 2008.
Let me tell you something, that was a workout. There are a bunch of beautiful homes along the courses in Palm Springs, and I dropped by a bunch of them while we played. I'd say hi, have the drink of the house and move on to the next shot. I was wasted by the sixth hole! But I kept doing it for 18. And that was Day One.
It was great. There's something fascinating about seeing people out of their element, which is kind of what we do on our show. When Russell Crowe comes on and plays guitar, people go, I didn't know he played guitar. If you have Julianna Margulies playing Pictionary, how does she do? Can Mitt Romney sing? It's the same at these celebrity tournaments. We want to see people we love react to not doing so well when they're out of their element.
What would make golf easier?
People who say golf is too hard or too stressful haven't played with me. I don't stress about anything. It's not that hard when you stop thinking about the bad stuff. The other thing I don't do is give you tips while we're playing. You play the way you wanna play, and I'll do my thing.
Golf is my meditation. I have a brain that's always thinking of a thousand ideas at a time. But when I'm on a golf course, it's quiet and I'm not really that talkative.
Mario Batali is a golf buddy. Michael J. Fox, too. We don't take golf or ourselves too seriously.
Not really. We'll do closest to the hole on par 3s, and we'll play for a buck or five bucks. But it's totally more about the social. It's almost like therapy. You can complain about stuff, laugh about stuff and clear your head. And you get exercise.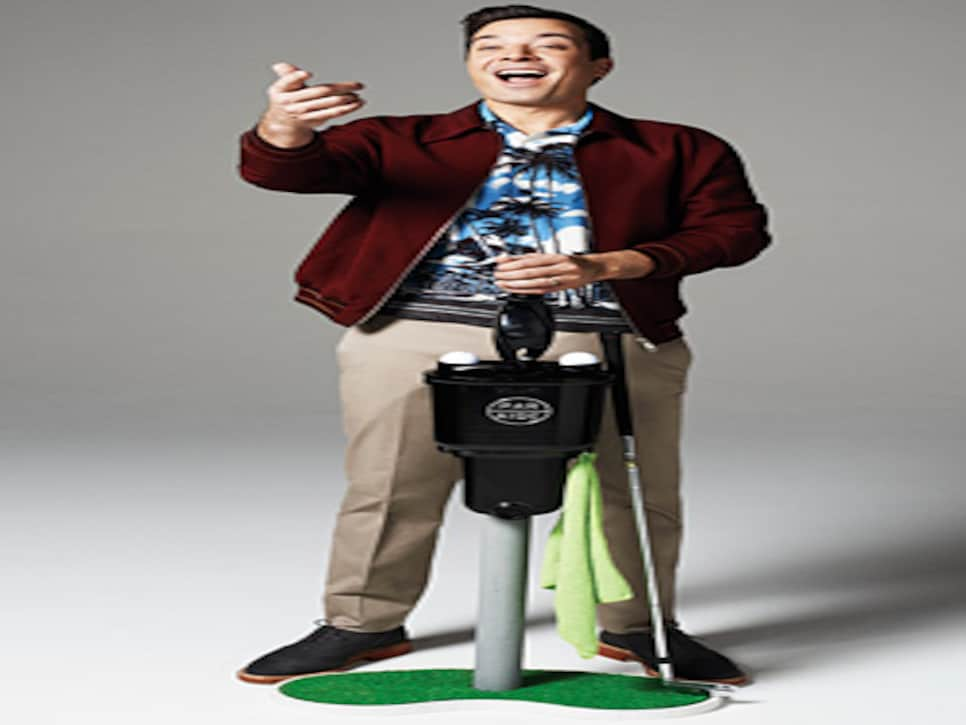 can almost literally wear whatever you like."
How about your buddy Justin Timberlake?
We've played only once, and it wasn't that long ago. Timberlake and I were watching golf at my house in the Hamptons, and I told him there was a pitch-and-putt down the street. "Wanna go do it?" I asked. And he's like, "Let's go!" So we drove over there, even though it's so close we could've ridden our bikes. And we played nine holes in about 35 minutes. We had so much fun.
Did anyone notice that Justin Timberlake and Jimmy Fallon were there [Poxabogue Golf Center in Bridgehampton]?
The owner did, but he didn't make a big deal about it. By the time we were done, there was kind of a crowd waiting for us.
Talk about playing with Justin.
He's a great golfer! We'd see who could get closest to the pin and take mulligans 'cause there was no one there. You know, when it's a par 3 it doesn't matter how great you are. If you can chip, then you're both equal. Timberlake doesn't know this, but I thought of a good bit. You know how you can personalize your golf balls? Well, I ordered some balls that say J. Timberlake. I'm gonna play all the courses that he plays so when I shank them into the woods, people will find them and think he hit them there.
You're also into the fashion of golf, aren't you?
I don't know another sport where you can almost literally wear whatever you like. I went with kind of a '60s look at the Hope. Wore a cardigan, and I had a pipe with nothing in it. My game wasn't good, but I looked good.
Golf wasn't cool when you played for your high school team. Do you get hazed for being a golfer today?
No way! That's gone now. Golf is totally cool. There are a lot of younger, good-looking people in the game, and the way people look at golf has definitely changed.
When was the first time you swung a golf club?
My grandparents and my parents had a garden in our back yard. I was maybe 9 years old when I noticed that some of the tomato plants were being held up by these metal sticks. When I asked my grandfather what they were, he told me they were old golf clubs. That's the first time I learned anything about golf.
How did Grandpa explain it?
He told me that golf was the best thing you can ever invest in, because you can play it for the rest of your life. "Look at me," he said. "I'm playing, and I'm your grandpa." He taught me how to chip, and I saw what golf was all about, but no other kid my age was doing it, so it never took off for me until high school.
You joined your high school team when you heard they needed one more player to field a team.
I didn't have clubs and didn't want to spend a lot on a new set because I didn't know how long I'd stick with the game. There was a thing on our local radio station called "The Garage Sale" where you could call in and tell people what you were selling or what you were looking to buy. I left my number, saying I was looking for golf clubs, and pretty quickly a guy called and sold me some Wilson Pro Staff irons for about 50 bucks. When my coach saw my clubs, he said I'd need a driver and 3-wood, so my dad and I found some Wilson Pro Staff woods at our local sporting-goods store. I love technology, so when the sales guy showed us the driver that said "perimeter weighting" on the side, I was like, "Dad, I've got to have that." I didn't even know what perimeter weighting was, but I needed it.
After high school, golf disappeared.
I'm relearning the game now, which is fascinating because I'm 39, and it's like: Can you relearn the game at 40 years old? And the truth is, you can totally do it.
Ever been on a buddies golf trip?
I went with Batali and some other guys to Ireland back in 2007, and we played a lot of great courses. Portmarnock, The K Club, Lahinch, Waterville and a few others. The caddies over there are amazing. You've got to aim where they tell you even when you think it makes no sense. Trust me, they know where the ball will end up. We had this one crazy, profane caddie at Killarney who kept ribbing us, and I remember thinking, I'm paying this guy for this? So I started ribbing him back, and it became fun again.
Have you ever thrown a club or cursed while playing?
Oh, no. I just think about my grandfather. I know If he ever saw me throw a club, he'd take it and stick it back in the garden. When I see people snapping clubs and stuff, that's so not my style.
Golfers are always looking for "the secret" to better golf. Have you found it?
The secret for me is to approach the entire 18 holes knowing that all you're after is one great shot. Just one. You get all these tries, and all you're looking for is that one great chip, or a good drive, a great putt, anything. Just give me one that I can talk about when we're done.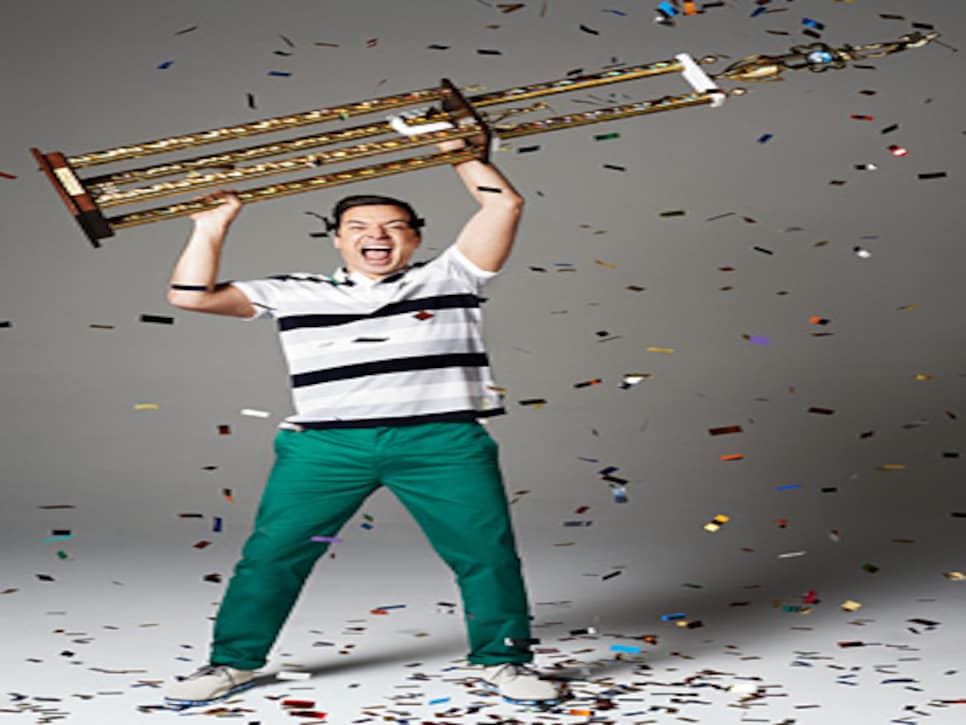 Have you had many of those yet?
Well, I've never made a hole-in-one, but I've hit some that for a few seconds looked like maybe, just maybe. Batali has chipped in from the sand a bunch of times, and that makes me mad. [Laughs.] Then, finally, I did it myself.
And you had video of it for "The Tonight Show" that same evening.
It was unbelievable! We were on the fourth hole at Bayonne. It was me, Batali and Michael J. Fox, and Mario got the whole thing on video. He probably was shooting me thinking I'd be in that giant sand trap for days. When I drained it, everyone was happy for me because this never happens. There we were, freezing and getting rained on, windy as Ireland, and I lucked out on a magical bunker shot.
Let's end with some rapid fire.
I'm a giant Tiger fan. Right now he's hurting, and America loves an underdog. But all of us want to witness history. Besides, Phil had a green in his back yard growing up, and I was jealous of that. I didn't have that.
Oh, it's gotta be a cart, right? Driving a cart is so much fun, but I'm a bad driver. My parents are from Brooklyn, so they don't know how to drive. They took cabs and subways everywhere, and they taught me how to drive. As a driver, I'm second-generation terrible.
Favorite scene in a golf movie.
"Pool and a pond. ... Pond'd be good for you."
All these Baba Booey shout outs at PGA Tour events: good or bad for golf?
It's the new Freebird! Remember at concerts when it was quiet, some guy would yell out, "Freebird!" That used to get a giant laugh. Now it's kinda corny. And I think that's what's happening with all of these Baba Booeys.
Complete this sentence: Your friends would play a lot more golf if ... My friends would play a lot more if Kate Upton was in our foursome.