The Loop
Jim Tressel daggers Michigan fan on the golf course, adding to his impeccable record against the Wolverines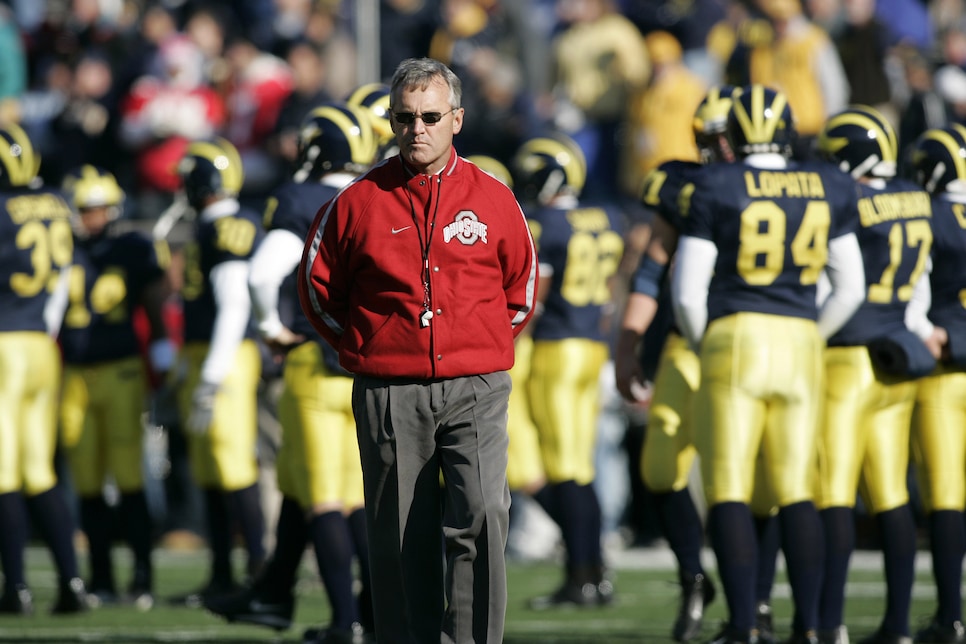 In 10 games against Michigan, legendary Ohio State football coach Jim Tressel went 9-1, outscoring the Wolverines 279-172 along the way (yes, I am counting the 37-7 drubbing that was "vacated" in 2010). The only blemish came in 2003, a 35-21 defeat against a strong Michigan squad that featured running back Chris Perry, who ran for 154 yards and rushed for two touchdowns in the game. It's one of two victories the Wolverines have had in "The Game" since 2001, and Tressel may have avenged it on Monday with an all-time dagger on a Michigan fan.
According to the Instagram of James Laurinaitis, the one-liner in question came at the William White Golf Event, which raises funds to benefit ALS research in honor of White, the former Buckeye captain who was diagnosed with ALS in 2016. Laurinaitis, a standout linebacker who played for Tressel from 2005 to 2008 and went on to have a fine NFL career, ran into his old coach at the outing and posted a picture of the duo together. But it's the caption that reveals Tressel's dig at a U of M fan that needs to work on his golf game:
Owned. And the worst part is that there's really nothing to say back. Not only did the guy come up short, but Tressel dominated his team for a freaking decade. "Hey, remember we beat you 35-21 that one time 15 years ago!?" doesn't exactly pass as good smack-talk.
Even worse, Michigan is currently going through a six-year winless drought against Ohio State, the worst in school history in "The Game." So much for not thinking about that during the off-season. First, Urban Meyer threw shade at Jim Harbaugh right in his face, now Tressel is delivering low blows to random fans at golf outings. It's only June, but we're going to have to throw the #MustWin tag on the November 24th matchup against the Bucks for Michigan, just for their own fanbase's sanity.