Jim Nantz on an exclusive Cypress Point gathering of U.S. Open champs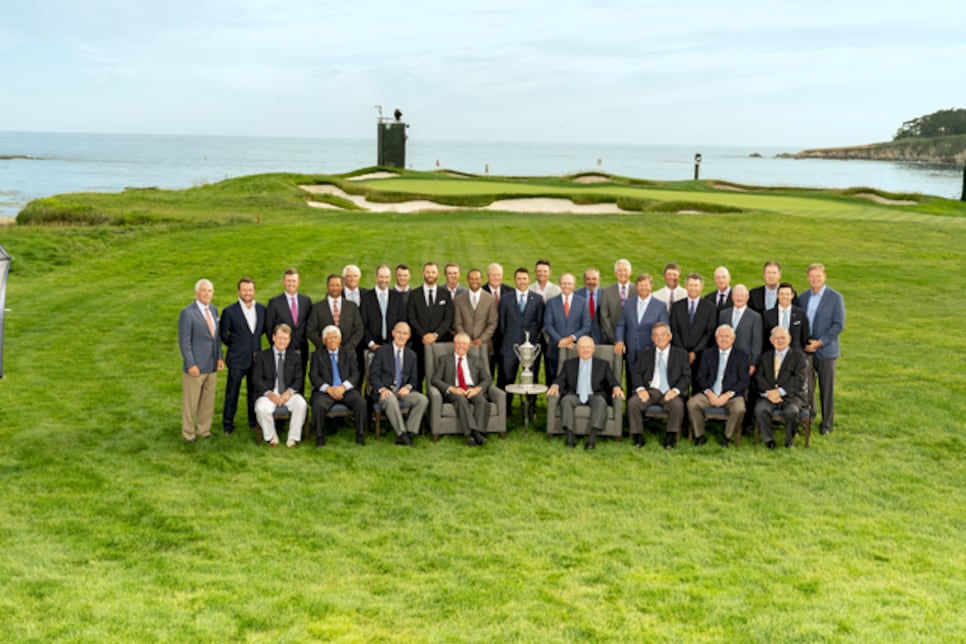 On rare occasions, golf offers up historic moments that receive so little fanfare, we don't realize at the time how significant they really are. Such an event occurred at Cypress Point Club on Tuesday, June 11, during the week of the U.S. Open at Pebble Beach. In the long shadows cast by a rising sun, 16 past winners of the U.S. Open gathered to challenge what is arguably the greatest course in the world.
Invited by Cypress' consummate head professional, Casey Reamer, to serve as starter, I introduced the first of four foursomes at 7:15 a.m. There was no need for a microphone to make myself heard for a small gallery of club members. They had come to witness a group of guys who share a common love for the game and who happen to have their names engraved on the U.S. Open trophy.
The players were Jack Nicklaus, Gary Player, Lee Trevino, Tom Watson, Geoff Ogilvy, Tony Jacklin, Hale Irwin, Tom Kite, Steve Jones, Andy North, Lee Janzen, Angel Cabrera, Retief Goosen, David Graham, Jerry Pate and Michael Campbell. There was a lot of banter and good-natured kidding. As they took their places for a group photo, Nicklaus glanced over his right shoulder and joked, "What are you doing here, Pate? You never won the U.S. Open." Pate answered, "I believe I won in 1976. Not for nothing, but I also won the U.S. Amateur in 1974." As Jerry playfully rolled his eyes, he and the other men—Jack included—had a good laugh.
Trevino, never at a loss for words, recounted the conversation with his wife that led to being there. "Claudia got a phone call asking if we wanted to attend several festivities at Pebble the week of the championship," he said. "I told her, I ain't going.' Claudia said, 'But there's a Tuesday-morning round at Cypress Point.' I said, 'We're going.' "
The last time I'd served in such a capacity was at the 1979 All-American Intercollegiate, in its day the most important college event outside of the NCAA Championship. The tournament was created by my beloved golf coach at the University of Houston, Dave Williams, who was well aware that my goal was to broadcast PGA Tour events, not play in them. He figured that working the first tee at Atascocita Country Club with a microphone in hand would be valuable experience.
For three days I introduced each group on the first tee, including the top collegian at the time, BYU's Bobby Clampett, who the previous summer had contended in the U.S. Open at Cherry Hills. Even now I recall the anxiousness I felt just being in Bobby's company. I spent a couple of days awkwardly trying to make small talk with him. ("Hey, I hear the quarterbacks at your school are something special; have you ever met Marc Wilson, Jim McMahon and Gifford Nielsen?") Introducing Bobby was so intimidating that I felt and heard my voice quivering.
As fate would have it, Bobby and I would later become teammates at CBS, where I soon discovered there wasn't a gentler guy in the game.
I felt the old butterflies return as I began the introductions at Cypress. Nicklaus, leading off the first foursome with Player, Irwin and Pate, remarked innocuously, "I'm first?" which drew another laugh.
While introducing the third foursome, I mentioned Tom Watson's famous chip-in at Pebble Beach in the 1982 Open.
"Lucky shot," Watson said.
"Where were you aiming?" Trevino asked.
"Left of the hole," Watson replied.
"You hit it right where you aimed," Trevino said.
"Yes, I did," Watson said.
Said Lee: "That wasn't luck."
I couldn't help but feel nostalgic. Nicklaus, Player, Trevino, Graham and Jacklin had been boyhood heroes. Others—Watson, Irwin, Pate, Kite and North—I had covered in the twilight of their careers. Still others—Goosen, Campbell, Cabrera, Janzen, Ogilvy and Jones—I had documented their prime years. Seeing my old friend Steve Jones brought things full circle, as he was among the players I announced off the first tee at that All-American Intercollegiate 40 years ago.
But in the end it was 16 legends, all giddy to be playing an iconic course. There were no appearance fees. No sponsor obligations. Not even a competition. Just golf in its purest form. Playing for the camaraderie. For the friendship. For the love of the game. I wasn't the only one feeling like a 19-year-old that glorious morning.