The View from Pebble Beach
Jim Nantz remembers Tom Weiskopf, a hero of his youth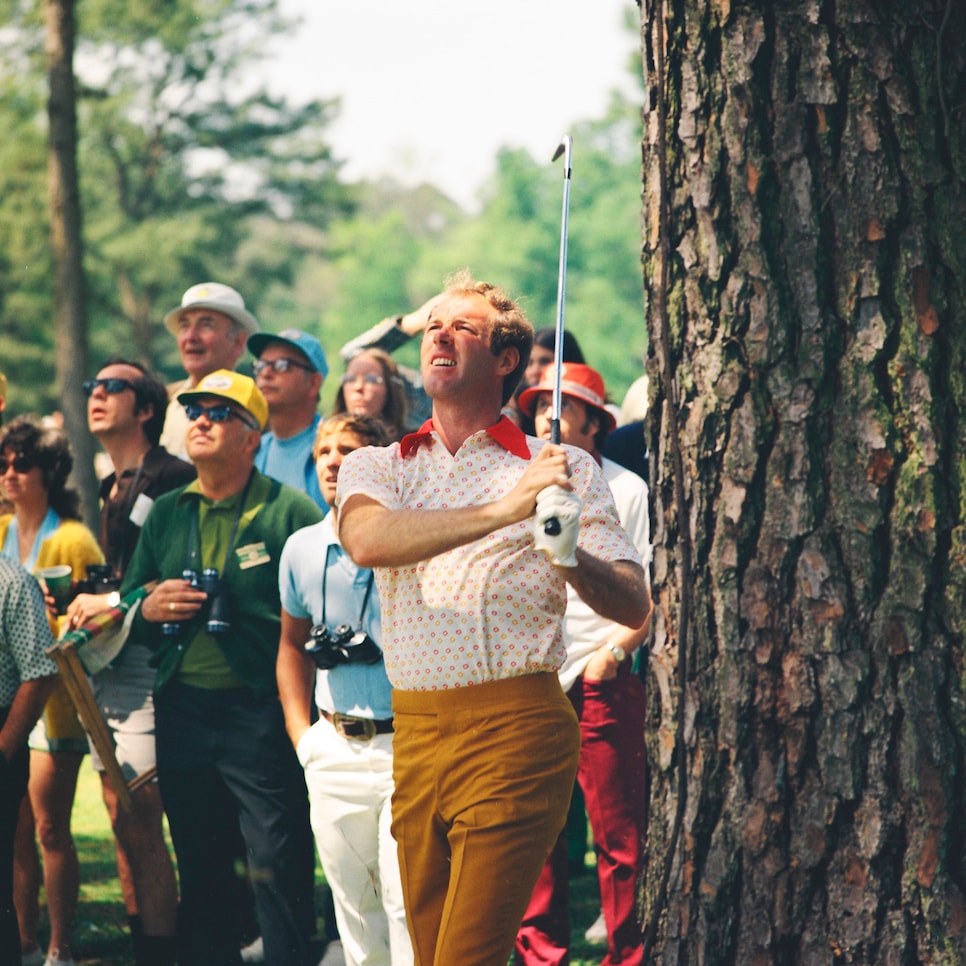 OH, SO CLOSE Tom Weiskopf finished second at the Masters four times, including here in 1974. Photograph courtesy of Getty Images
Augusta National
It's never too late to tell someone you love them. Perhaps it has something to do with turning 60, but for several years now I've lived by that mantra. I've voiced the sentiment often, in cards, letters, and when possible, face to face. I say it not just to family members but to special friends. "I love you" might be the most powerful expression in the human vocabulary. It is the ultimate way to convey appreciation to those who have made a difference in our lives.
The sentiment came to mind this summer as Tom Weiskopf was in the final stages of his battle with the pancreatic cancer that took his life. When I was a young boy, Tom was one of my biggest golfing heroes. He had a towering presence with a regal and proud posture, his stately bearing accompanied by one of the most gorgeous golf swings we've ever seen. He dressed with fastidious perfection, his clothing tailored to the millimeter—nobody wore a cashmere sweater better. Tom looked the part of hero and played it beautifully. When he had a club in his hands, it was hard to take your eyes off him.
During my teenage years, my folks enabled my fanaticism for the PGA Tour in general and Weiskopf in particular. Every year during spring break, my dad would load our family in the car at our New Jersey home and make a beeline to Florida. Two days down and two days back, with five exquisite days in between. The vacation coincided with wherever the tour was that week. Doral, Inverrary and the Jacksonville Open were favored destinations. My mother and sister would spend the day at the beach, while Dad and I went to the tournament to walk in Weiskopf 's gallery, start to finish. Tom at 6-foot-3 was taller than most players, and I was tall as a kid, so golf-wise he was a natural role model. One year he glanced at me and nodded as if to say, "I remember you." It was a thrill, and my dad got a kick out of it, too. Our in-person fandom was not exclusive to the month of March. Every summer we would visit Whitemarsh Valley outside of Philadelphia and the old IVB Classic for more marching. The 1974 U.S. Open at Winged Foot? I was there and was standing a few feet away from Tom on the fourth hole when he hit a tree root on his second shot left of the fairway, worsening a wrist injury that had slowed the brilliant play he had displayed in 1973, his best year. He won five times that season—a victory at Whitemarsh Valley among them—and I still have on audio tape Chris Schenkel's call of Tom's victory walk up the 18th at Troon, where he won the 1973 Open Championship by three strokes over Johnny Miller and Neil Coles. Tom led start to finish. When he was in top form, golf never looked so easy.
You can imagine the thrill I felt when, a decade later, I became one of Tom's broadcasting teammates at CBS. One of the high-water marks of Tom's career—and one of mine—occurred during the final round of the 1986 Masters, as Jack Nicklaus prepared to hit his tee shot at the par-3 16th hole. Jack was in the midst of charging toward his sixth green jacket, and Tom was the ultimate Augusta bridesmaid, with four runner-up finishes, tied with Nicklaus and Ben Hogan for most in Masters history. One of those defeats was to Jack at the 1975 Masters, when Tom's putt to tie on the 18th hole grazed the edge of the cup but failed to drop. Tom idolized Jack, and on the 16th hole that day in 1986, he really felt the power of the moment. When Jack paused briefly to re-tee his ball, I asked Tom what was going on in Jack's mind. Tom's reply was classic. "If I knew the way he thought, I would've won this tournament," he said. He then added, as though it were Jack talking to himself, "Make a good golf swing. Your destiny is right here." Jack very nearly aced the hole, scoring a 2, and the memory of that exchange in the tower alongside Tom gives me chills to this day.
After Tom passed away on Aug. 20, tributes flowed with generous praise for his accomplished life as a player, course architect and TV analyst. His record in every area is exceptional: 16 tour wins, 75 brilliant course designs and more than a decade, all told, as an announcer. Many stories suggested his credentials were Hall of Fame-worthy and indeed, many of us had been championing his cause for years, arguing that the sum of the parts was just too rich to be ignored. Knowing that Tom was on borrowed time, there was discussion that perhaps an emergency vote could be conducted to get him in the class of 2022 at St. Andrews. Alas, it didn't happen.
But I'm hearing now that Tom is on the short list for the Hall's next class of 2024. I can't imagine he won't be inducted. When he's ushered in, the game will make clear that it's never too late to tell someone you love them.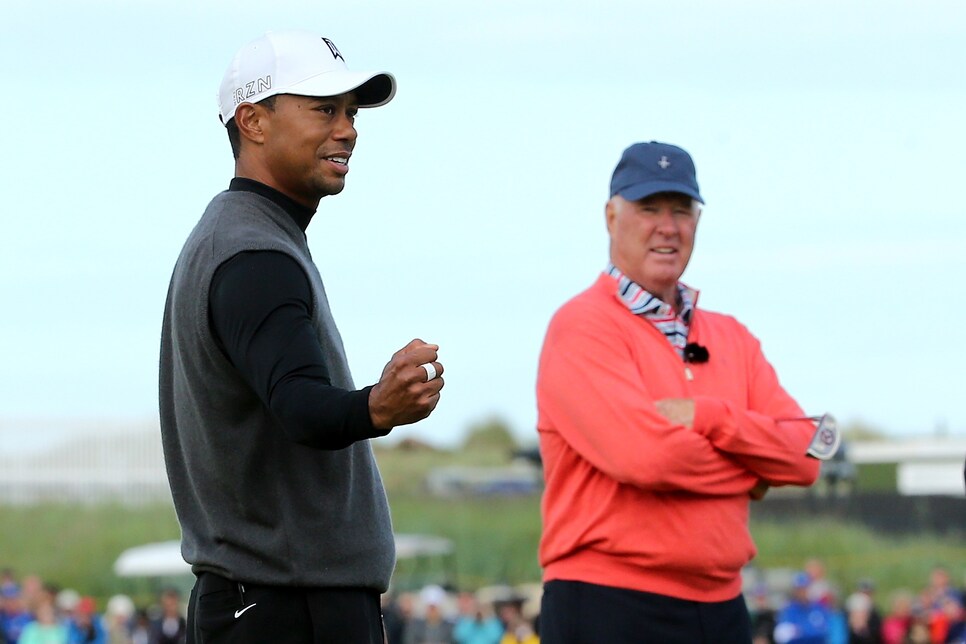 On Christmas Eve of 2021, I received a phone call just as our family was heading to a church service. The caller ID showed up as Laurie and Tom Weiskopf. I was stunned and elated to hear Tom's voice, gleefully telling me he was calling a few friends with news he had just been told by his doctors that he was cancer free. It was a Christmas miracle. There was nothing more meaningful to me that holiday season than that call. Then, in the spring, the evil course of cancer reversed and returned. We all knew it was only a matter of time. News of his relapse was not widespread. It was so like Tom not to call attention to himself. His stoicism, courage and optimism in those dire moments was awesome to behold.
On the eve of Tom's passing, Laurie texted to say that his life cycle was winding down. The next morning I wrote back saying, "If there is an appropriate time, please whisper in his ear that I love him and thank him for being a hero who became a treasured friend."
That evening she called with the news. Her first words were "I whispered in his ear. And he heard it."