The Loop
Jim Nantz got the idea for his odd Final Four tradition by playing golf with Bill Clinton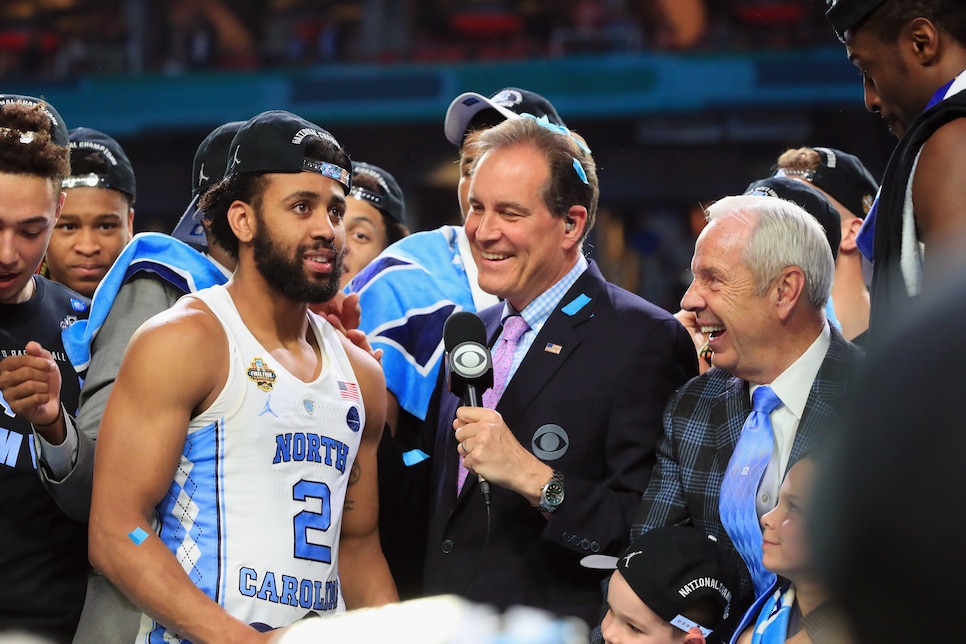 The, um, interesting custom began in 2006 when the CBS announcer gave his tie to Corey Brewer following Florida's win, according to a recent story on The Ringer.
"I told him I mentioned his father on the air, and he was so excited," Nantz said. "So I told him, 'You're a special young man and I can't thank you enough for the time you gave me yesterday,' and I gave him my tie. I didn't think anything of it."
Nantz has done it every year since, including giving his pink tie to some senior on UNC following the Tar Heels' win over Gonzaga. At the time of this post, that lucky(?) senior's identity isn't known. In fact, no one really picked up on this tradition until Nantz did an interview with a Houston TV station in 2016 after a curious reporter spotted him giving his tie to Villanova's Ryan Arcidiacano.
"The tie symbolizes a lot to me; my father, who taught me how to tie a tie," Nantz said at the time. "I just felt years ago that I wanted to do something to honor a senior on the team that wins the title, to give them something to take home."
OK. . . so what does this have to do with golf? Well, Nantz told The Ringer he got the idea while playing golf with former President Bill Clinton. At times, Clinton after being introduced to someone would give away his cuff links as a memento of their meeting. Nantz also mentioned how impressed he always was with Arnold Palmer signing autographs and giving away pens with his umbrella logos.
"It's impressive," Nantz told The Ringer, "and I saw the impression it made on people."
Anyway, somewhere, some UNC basketball player has Jim Nantz's pink tie. And in addition to Jim, he has a couple guys named Arnie and Bill to thank for it.