Editor's Note: Jim Nantz, Darius Rucker and Davis Love III are the latest winners of The Arnie Award, an honor given by Golf Digest in association with the AT&T Pebble Beach Pro-Am and Monterey Peninsula Foundation to celebrate Golfers Who Give Back. The trio will be recognized during a special ceremony in February during the week of the PGA Tour event in Pebble Beach.
Sept. 23 was the first full day of autumn. Summer had officially passed, and my mood was matching the melancholy of Mother Nature's final cycle of the seasons. It was the third NFL Sunday of the year, and my family had joined me in Minnesota for the weekend. While covering the Vikings-Bills game, I opened our broadcast as usual with, "Hello, friends." Tony Romo and I covered Buffalo's surprising victory and rejoiced during commercial breaks as we watched Justin Rose take the FedEx Cup at East Lake and Tiger complete his remarkable comeback with a parade down the 18th fairway. But this day was different.
It marked what would have been my beloved father's 90th birthday. He's been gone 10 years now, after a 13-year unwinnable battle with Alzheimer's. They say time heals all wounds, but sometimes you wonder. It wasn't supposed to end this way for Dad. He was an athletic, strapping, fit, bright and brilliant man who easily could still be with us. We had plans to experience the road together. There would be football weekends, basketball boondoggles and countless golf trips. Always golf.
Even now, one of my favorite memories is attending the final round of the 1974 U.S. Open at Winged Foot. Dad surprised me with tickets, and together we watched Hale Irwin hit his tee shot at the 72nd hole. I recall how we took off running to watch Hale close it out. Life was never sweeter, a 45-year-old father and his 15-year-old son, bonded, the wind at our backs, running side by side, laughing all the way.
In 1995, before the turning point, there had been a sign that something was short-circuiting inside his head. We were playing together at Falcon Point, outside of Houston. Dad belted his drive deep down the middle of the first fairway. Over his second shot, for some inexplicable reason, he took his stance and aimed back toward the tee. Alarmed, I gently turned him around to play the proper shot. It was at that moment I feared something was seriously wrong. How could one suddenly forget the opening hole, which he had played hundreds of times?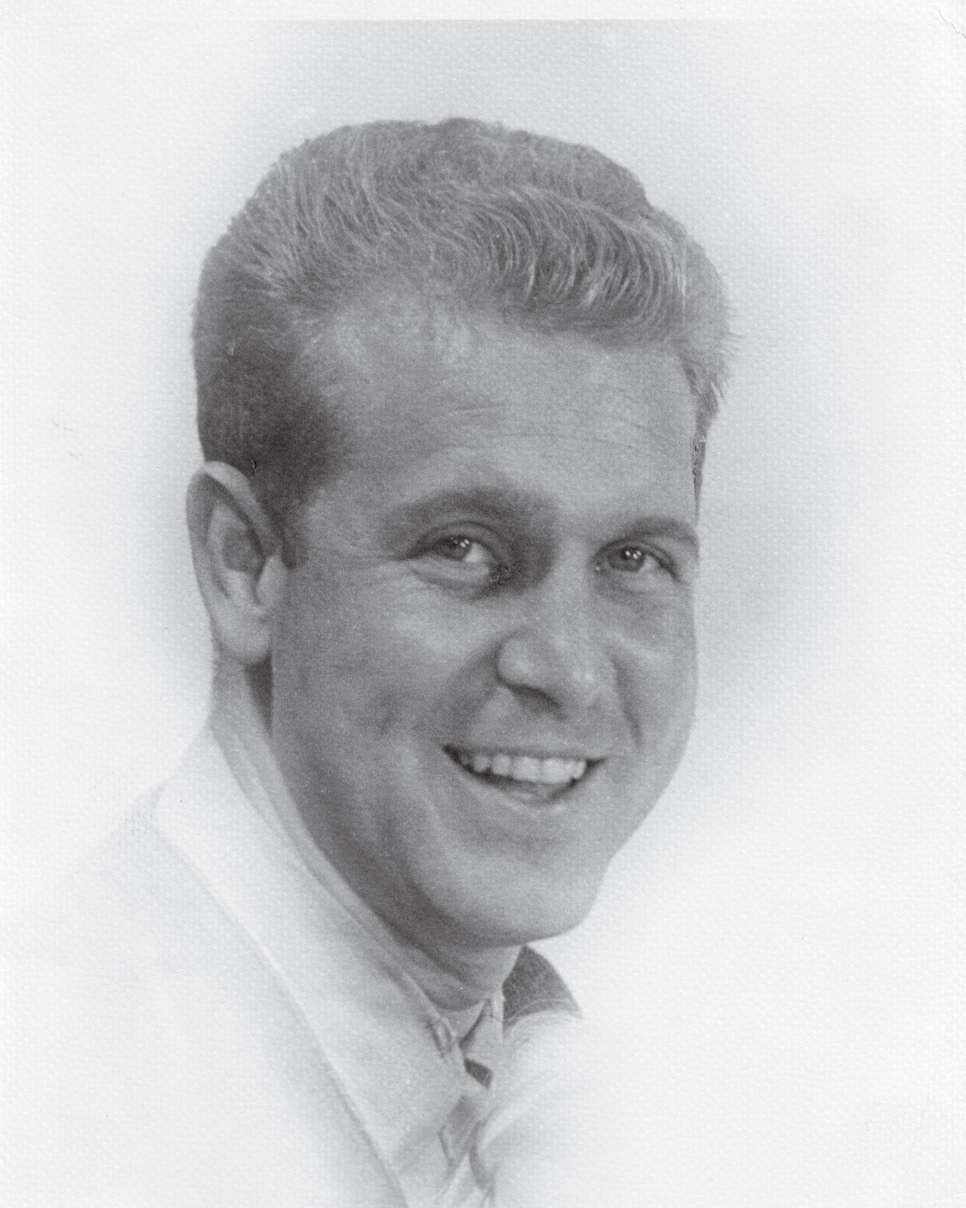 A few months later, he joined me at Colonial for what promised to be a fun father-son weekend, like the ones we dreamed we would regularly share for years to come. I hadn't given much thought to Dad leaving our 18th-hole broadcast booth early to head for the clubhouse. It was one of those humid Texas afternoons, and he merely seemed overheated. Upon signing off the broadcast with Ken Venturi, we learned Dad had passed out at the base of the tower. He had suffered a TIA—a transient ischemic attack—better known as a mini-stroke.
From that day in Fort Worth until we held hands while he took his last breath on June 28, 2008, my father was never the same. I lost my hero and best friend when he died, but in many ways I'd lost him all those years earlier at Colonial.
In the last year of his life, I wrote a book about him titled, Always By My Side. His story seemed to galvanize the Alzheimer's community and the often-forgotten caregivers who every day take on the thankless task of looking after their ailing loved ones.
I was inspired by the outpouring from tens of thousands who lifted the book to a seven-week run on The New York Times Best Seller list. In 2011, my wife, Courtney, and I, with my amazing mother and sister, opened the Nantz National Alzheimer Center at Houston Methodist Hospital. Together, we made a lifetime commitment to raise money and awareness to fight this insidious disease. We are proud to have our clinical care and research institute named for Dad. We are honored that some of the most innovative research in the world is taking place at the NNAC, which you can read more about at nantzfriends.org. Earlier this year, we hosted a symposium that gathered more than 200 of the top scientists and physicians in the world, including a Nobel Prize winner.
Still, I awaken every day seeking answers to where we are and where we are going in this race against the clock. We are committed to finding a treatment and, ultimately, a cure. Among other trials, we have initiated a first-in-man, groundbreaking study to suppress the immune/inflammatory process and thereby slow progression of Alzheimer's disease.
I'm often asked with a curious look by those who don't know me, what is the real story behind "Hello, friends"? Fittingly, like that recent day this past September, it begins with Minnesota, golf and Dad. Back in 2002, his memory was down to barely faint recognition. Days before I departed for the PGA Championship at Hazeltine, I told him, "Just listen this weekend. I'm going to be talking to you when I come on the air. I'm going to say, 'Hello, friends,' because you have nothing but friends in your life. It's my secret code to tell you I'm thinking of you and that I love you."
Only a few days later, from the CBS tower, I looked into the lens and recited the line for the first time. I've done it every show since. The late, great ABC golf anchor Jim McKay once advised me, "When you look into the camera, imagine you are talking to one person on the other end." The next time you hear "Hello, friends" at the start of a broadcast, just know that I'm channeling my father at that very moment. I see him on the other side of that camera, smiling right back. He remains, always by my side. Wind at our backs.