News
Jim Knous: A mountain man with a civil engineering degree and now a PGA Tour card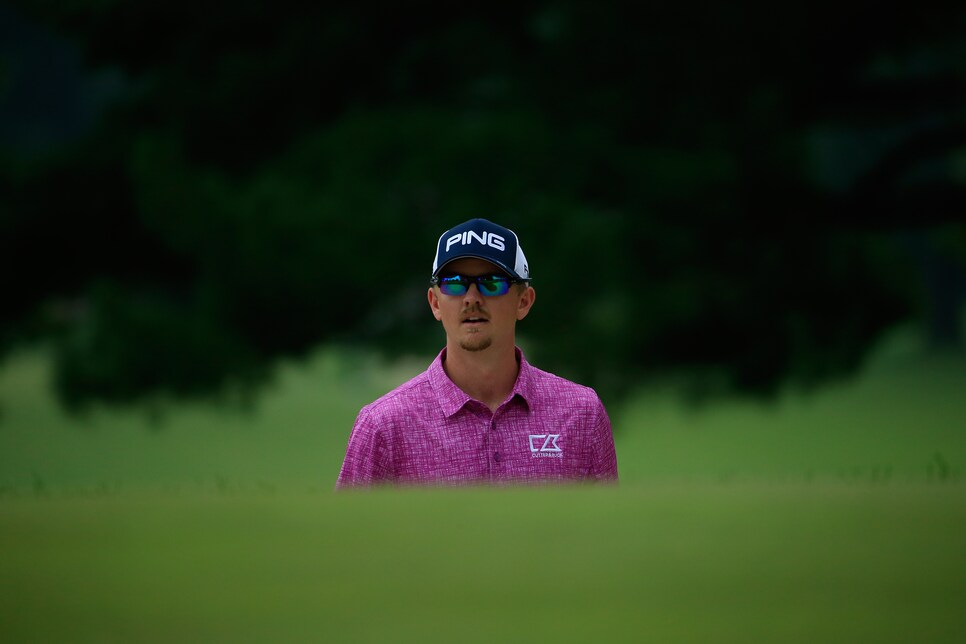 Jim Knous' route to the PGA Tour was neither an easy one nor a typical one, beginning as it did on roads that often require snow tires in a tiny town renowned for its fly fishing on the Frying Pan River, in a region with a longer ski season than golf season.
Home, growing up, was Basalt, Colo., in the middle of the Rocky Mountains, 18 miles northwest of Aspen and a million miles, any direction, from a professional golf career. NCAA Division I coaches couldn't find it with GPS, a tour guide and a St. Bernard, not that they were inclined to look there.
Yet there he was on Sunday, birdieing the 18th hole in the Safeway Open in Napa, Calif., to tie for 10th in his debut as a PGA Tour member, only a few weeks after securing the 50th and last available PGA Tour card via the Web.com Tour.
How to explain this? Well, Knous, 28, is an expert skier—"probably a plus-two handicap if I compared it to golf," he said—and as such is not intimidated by unfamiliar terrain, whatever its degree of difficulty.
He had proved this early on, when in pursuit of golf he chose a double black diamond educational path more difficult than playing Oakmont in the wind. A stellar high school student, notably in math and science, Knous enrolled at the Colorado School of Mines, a prestigious engineering school in Golden, Colo., where his classes included Electromagnetism and Optics and Fluid Mechanics for Civil and Environmental Engineering.
"I didn't know yet that I'd try to play professional golf," he said. "I just knew I wanted to play college golf. I had no scholarship offers from Division I schools."
The Colorado School of Mines is a Division II school that had hired a full-time golf coach for the first time, Tyler Kimble. "We were his first recruiting class, eight freshmen coming in," Knous' teammate Cory Bacon, now a Ping Golf engineer, said. "Jim was by far the best golfer from our class. He was the best golfer on the team the entire four years. Jim was a stud."
The civil engineering degree he earned was not from a desire to build anything other than a golf resume. Before or after graduating, he never gave too much thought to an engineering career.
"I wouldn't say I really was looking into jobs just yet," he said. "With a civil engineering degree, specializing in structural engineering, I probably would have gone into construction—roads, tunnels, buildings. They had a career fair every year. I got a couple interviews that way. But I wasn't fully committed to the process."
He was sidetracked by the progress he was making in golf, especially in his final two years in school. "I won a lot of tournaments," he said. "We got to the national championship my senior year, and I tied for first, though I lost in a playoff. It was a good sign for me after winning the conference and the regionals. I thought, 'let's give this pro golf thing a shot.'"
A long shot, Bacon reckoned at the time. "In my wildest dreams I never envisioned Jim on the PGA Tour."
But here's the thing with engineers: They figure out a way to make things work. As the author James Michener wrote, "Scientists dream about doing great things. Engineers do them."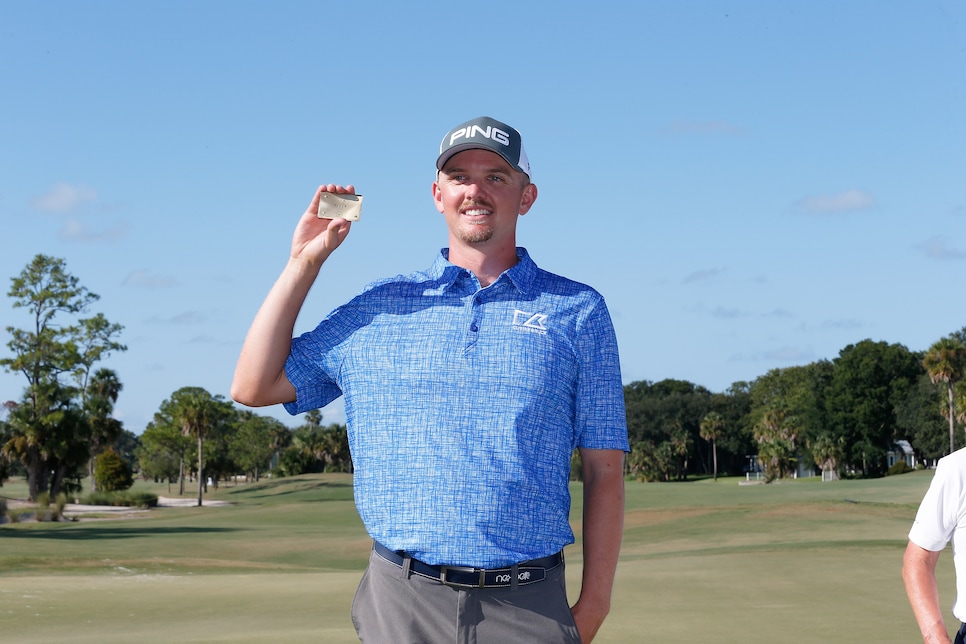 They do them, too, with as few moving parts as necessary. This generally is important to whatever one is engineering, even an efficient golf swing, Jim Furyk's Rube Goldberg move notwithstanding.
"[Knous'] swing, is, in one word, effortless," Bacon said. A former Arizona Amateur champion, Bacon also serves as Knous' swing coach to the extent that he has one. "It's not very much. Once a year he sends me a couple videos in the off season. I don't tell him anything. I say, 'Jim, your swing is awesome.'
"He's one of the most naturally gifted golfers I ever met. Given the limited amount of teaching he's had it's incredible how good his swing is. He's a smart kid, a student of the game. He approaches it the way he did school. If you watch Jim, the first thing you notice is his tempo. It looks effortless even though he's swinging the club 115 miles per hour."
The journey itself is more laborious than effortless, and Knous' bid was a six-year work in progress. "He worked so hard from the time he graduated until now," Bacon said. "It was six years of improving every year. He grinded on the mini tours. He grinded a long time. He went to Q school every year and never made it to the final stage. When he finally got his Web status two years ago, that was a breakthrough for his career. As soon as you do that, it unlocks a lot of things in professional golf."
He earned a Web.com Tour card for the first time in 2017 and returned in 2018. He had not played well enough to qualify for the Web.com Tour playoffs until he tied for fourth in the final regular-season event, the WinCo Foods Portland Classic in August.
"I knew I was playing well," he said, "though it hadn't crossed my mind that I was playing well enough to get my PGA Tour card. I was thinking at worst I would be playing the Web.com Tour [in 2019]."
Then he made the cut in each of the four playoff events, finishing in the top 25 in three of them and gamely hanging on in the Tour Championship to secure the last available PGA Tour card.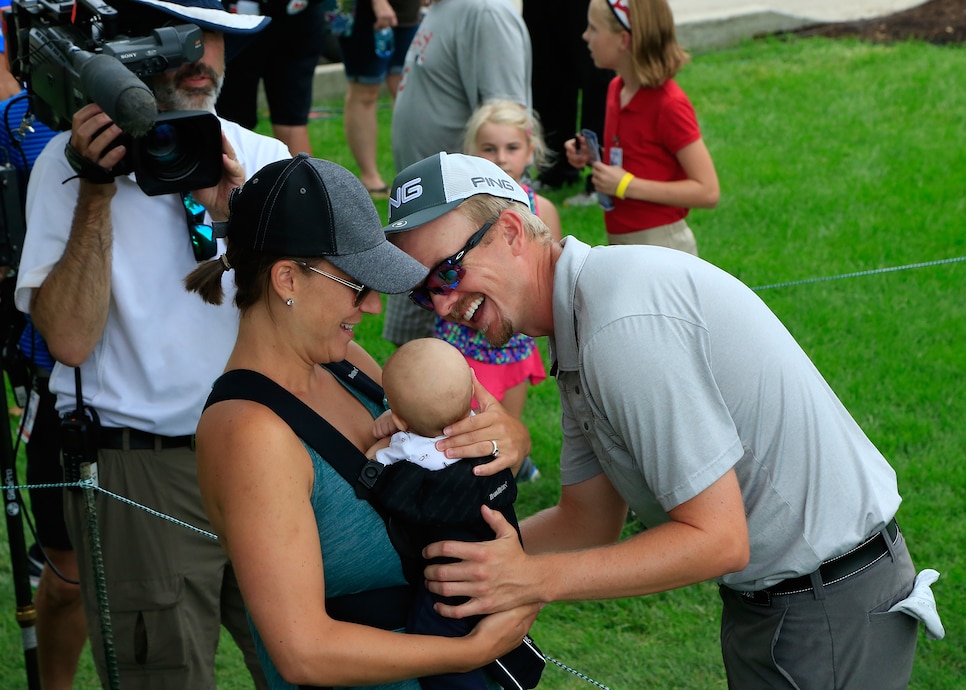 Credit for his late-season surge included a putter and driver change and a new addition to the family. His wife, Heidi, gave birth of a baby boy, Brady, in June. "It's a cliche to say, but it gives you perspective," he said. "It really did. We were so happy. They traveled with me and honestly we were just having a great time on the road together."
The momentum with which he closed the Web.com Tour season carried into the start of the PGA Tour season. He shot a five-under-par 67 in the second round to make the cut, posted a three-under 69 on Saturday, then woke up to strong winds on Sunday.
"If you got the right attitude where it's just going to be a grind, say 30 percent or 40 percent of the field has a bad attitude, you've got them beat," he said. "It was brutally windy. For me it was the perfect situation. It offered a great way to climb up the leader board if you play consistent golf and make a lot of pars without having to shoot a seven or eight-under round. I turned in two under and knew I was probably moving up the board."
His calculations were correct, not surprisingly for a ramblin' wreck from Golden Tech, as the school fight song goes, and a helluva engineer.